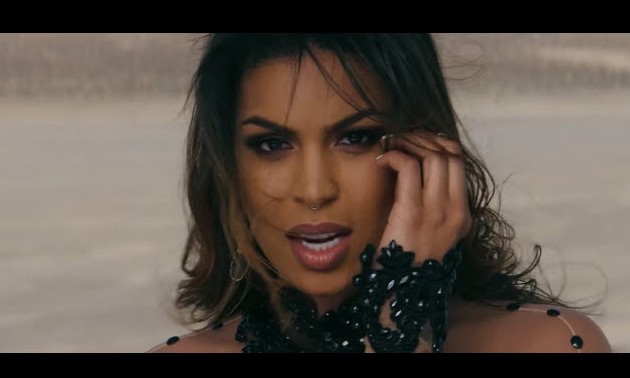 Jordin Sparks was on hand Thursday night to see her name in lights! The new music video, for her latest single, "Right Here Right Now" debuted on the big screen in Times Square.
"Walking to Times Square right now!! Eeeeee so excited!!!!," tweeted the American Idol season six winner. The singer posed for selfies with fans as the crowd awaited the big premiere.
After the video screened, one of the first to offer congratulations, was Jordin's boyfriend, rapper, Sage The Gemini.  Clearly, the singer is more than back on her feet after last fall's messy break up with Jason Derulo.
Thank you baby!!!! ???? https://t.co/0FZVsDJnyg

— Jordin Sparks (@JordinSparks) July 10, 2015
"Right Here Right Now" is the title track of Jordin's long awaited 3rd studio album, which is set to drop on August 21. Earlier on Thursday, the singer  also unveiled the album cover art.
In the new video, Jordin plays the Desert Queen, with requisite hot male attendants and an exquisite belly dancer. The clip plays off the song's middle eastern beat. The strong hook in the chorus makes "Right Here Right Now" my favorite of the three singles–including "It Ain't You" and "Double Tap" feat 2 Chainz–released ahead of the album drop. And did I mention that Jordin looks gorgeous? She does.
It's been nearly six years since Battlefield, Jordin's second album after her platinum selling debut, Jordin Sparks. The singer is taking big risks by reinventing herself. We'll see if the risk pays off.
In the meantime, watch Jordin Sparks' new "Right Here Right Now" Music Video.