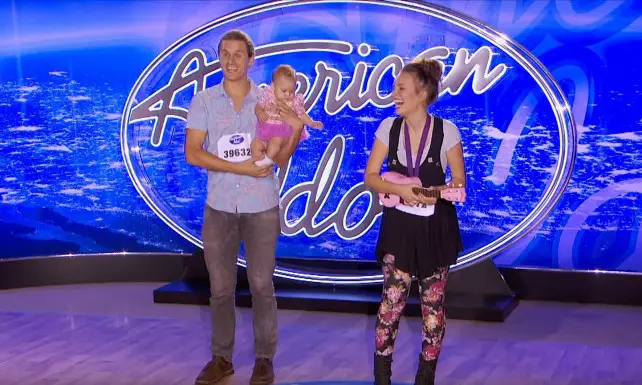 Jordan Sasser American Idol 2016 Season 15 Top 24
Jordan Sasser
is a 27-year-old singer and worship leader from Raleigh, North Carolina, who says on his Facebook that he can't imagine his life without music. Coming from a family where he is the only person who does anything music related, Jordan is very strong in his faith and belief in God. According to his Facebook biography, after he gave "my life to the Lord in middle school," Jordan became aware of his musical talents and "fully stepped into my identity as a Son of God and as a passionate singer and performer." Regarding his influences, in addition to being "the biggest
Celine Dion
fan on the planet," Jordan lists
Whitney Houston
,
Kelly Clarkson
,
Beyonce
,
Usher
,
OneRepublic
,
Gavin Degraw
and
MercyMe
among others as who he is inspired by.
Click to see the FULL LIST of American Idol 15 Top 24 Contestants!
American Idol 15 Top 24 Video Sneak Peek
In 2010, Jordan proposed to Alexandra Bowers a while after the two met while working together on a stage production of High School Musical 2. In an adorable write up of the moment of the proposal, Jordan and Alex walk their readers through the event and give all the glory to God. The write up ends saying, "It was the perfect day. God had blessed Jordan with a flawless engagement, and a flawless fiancée." Since their marriage, the two have a daughter together named Westlund Joy Sasser, who they describe as "the mascot of our lives."
Over this past summer, Jordan auditioned for American Idol along with Alex. Both advanced to the celebrity audition round, where Jordan performed It's All Coming Back To Me Now, by Celine Dion. After his audition, the judges gave him strong praise for his voice and Harry Connick Jr. called him "smart." In the end, Jordan received a golden ticket to Hollywood while his wife was cut. According to The Idol Pad, Jordan survived Hollywood Week and performed Love Runs Out, by One Republic for his Showcase performance. Giving a strong enough performance, Jordan then was admitted into the top 24.
Instruments Jordan Plays: Piano, Ukelele
Links:
Overall Thoughts: Of all the guys this season, based on his stuff on Youtube, Jordan has the most powerful belting voice. Before I saw his audition in all the pre-season hype, I actually ranked Jordan among my top 5 contestants this season, but now with how his audition went down and how he was portrayed I'm not so sure anymore. However, if there is one contestant that I think can rebound when we get to the live shows it is Jordan. Some of his covers online are truly incredible and among the best of the guys, so I think he could still wow us with a stellar performance. That said, my advice to Jordan this season is to not come across as old fashioned. I can tell that Jordan loves those big ol' diva ballads, but there are still a lot of current songs out there that he can show off his big voice with. Sam Smith, Adele and Katy Perry are artists I would suggest he cover that would both show off his voice and make him seem very current. I know a lot of people aren't, but I still am rooting for Jordan this season.
Song Suggestions:
Like I Can, by Sam Smith.
Take Me To Church, by Hozier
Oh Sherrie, by Steve Perry. Save this one for 80s week if there is one. I just think he could kill this song.
Jordan Sasser sang "It's All Coming Back To Me Now," by Celine Dion at his Atlanta GA audition. Click to check out his FULL AUDITION
More American Idol Performances:
Showcase Round – Love Runs Out by OneRepublic – Click to Watch VIDEO