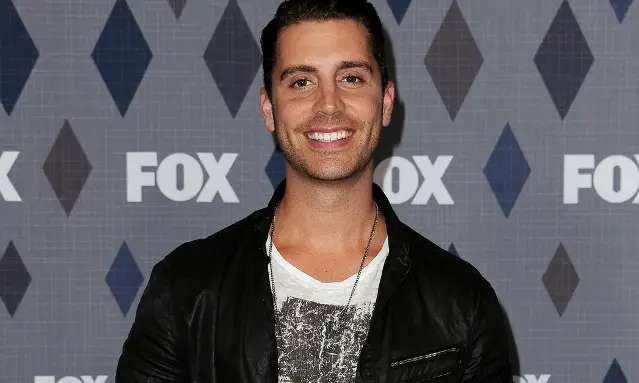 It means something when Page 6 is dishing gossip about you, right? I mean, American Idol winner, Nick Fradiani can't be too mad the NY Post is basically accusing him of stealing Rob Gronkowski's girlfriend, right? The Gronk's fans may not be happy about it (and believe, best not to mess with a Patriots fan!) but so what!
High profile hookups keep an artist's name in the news.  Just ask The Voice coaches, Gwen Stefani and Blake Shelton.  After they divorced their spouses last summer,  the two became love bugs on the set of The Voice. Now, barely a day goes by when US, People or E  isn't breathlessly reporting on the couple's PDA and what not. I'm already super sick of it, but obviously, the masses aren't.
But I digress! Here's what the Post had to say about that girlfriend grabber, Nick Fradiani:
New England Patriots playboy Rob Gronkowski may have lost his main cheerleader, Camille Kostek.

A source told Page Six that Gronk's girlfriend, Kostek, has been on-and-off with "American Idol" winner Nick Fradiani since last May.

"Nick met Camille when he was doing 'Idol' promos last year. She was even seen with him at the tapings last May. They have seen each other several times during the past year," said the insider.

We hear Kostek, a former NFL cheerleader, and Fradiani spent New Year's Eve together, even though there were reports still linking her to Gronkowski.
Camille was supposed to attend the TCA press tour with Nick, according to Page 6. Were there any sightings? Did she attend the FOX party? Do tell.
The former cheerleader attended the Pats vs Kansas City game over the weekend. You know, the one where S10 winner, Scotty McCreery sang the National Anthem. Check out her Instagram.
PSA: This is a super-snarky post SUPER SUPER SNARKY. As in, I'm not accusing anyone of girlfriend stealing, or grabbing, or nabbing. I posted because the item was amusing. smallvoiceanditsclickbaitsmallvoice.