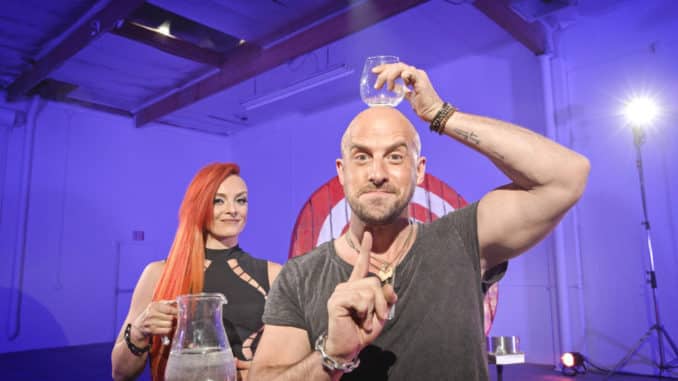 Jonathan Goodwin, the escape artist who barely survived a horrific accident that occured while rehearsing a stunt for America's Got Talent: Extreme will be paralyzed for life.
His partner, actress Amanda Abbington said that Jonathan "nearly died twice" following the October 2021 accident. The daredevil was left in critical condition after plunging to the ground during a stunt involving two cars suspended in mid-air at Atlanta Motor Speedway in Georgia.
Jonathan spent four months in the hospital, and will be paralyzed for life
Jonathan spent four months in the hospital recovering from his injuries with included broken and shattered bones and severe burns. "He fell 30ft and lost a kidney, broke both shoulder blades, shattered both legs," she said to Jay Rayner on his Out to Lunch podcast. "Third degree burns, broke his spine and severed his spinal cord and nearly died. Then on the operating table, he nearly died again."
She continued: "He's paralysed now he's in a wheelchair. Unless there's a kind of stem cell surgery or that thing that Elon Musk is designing with the little chip, he'll be like that forever."
Jonathan posts a photo in his "cool wheels"
Jonathan posted a photo and message on Instagram today (May 3). Despite all the hardship, he's keeping a positive attitude and is very happy to be reunited with his furry best friend. "6 months ago I went to rehearse something and left this little hairy monkey waiting patiently for me," Jonathan wrote. "He didn't see his dad again until just a couple of weeks ago and when he finally did, dad had new cool wheels. A lot has changed in the last 6 months, but love is a constant and I'm very very loved. Looking forward to my next chapters and being a role model."
 

 

 

View this post on Instagram

 

 
He first appeared on Britain's Got Talent
In April, 2019, Jonathan auditioned for Britain's Got Talent making it to the finals performing a "buried alive" stunt for the first time anywhere. On America's Got Talent 2020, he performed a dangerous stunt involving cross bows. "I'm amazed to see you alive," judge Simon Cowell said at the time.
In 2021, Jonathan was preparing a stunt for America's Got Talent:Extreme, a competition featuring big, dangerous stunts. NBC taped the show at th speedway with Simon Cowell, Travis Pastrana and Nikki Bella on the panel.
Something went terribly wrong
Reports from the set said that Goodwin was suspended in the air in a straitjacket hanging by his feet from a wire. Two cars were suspended on either side of him, swinging back and forth. The stunt was for Jonathan to free himself from the restraints and then fall on an air mattress, and avoid getting crushed by the cars as they swung in the air.
Something went terribly wrong and the cars smashed together, sandwiching Jonathan in between them. The impact caused the cars to explode, erupting in a gigantic fireball. The stuntman fell to the ground and hit his head.
After the accident, NBC paused filming for three months  in order to conduct an investigation. The show began filming again at a California Speedway in January, and a four week season of the show aired in February and March.
"My life took a complete left turn"
Shortly after the accident, Jonathan spoke to his fans from his hospital bed. "You can't say you don't get out what you put in," Jonathan writes on Instagram. "I've tried my hardest over the years to be kind, thoughtful, honest supportive and good. A couple of days ago my life took a complete left turn… and the outpouring of love from all the corners of the world; from people I didn't even think would know or remember me… has just been astonishing. Truly incredible…Thank you to everyone who has reached out and sent their love and support. It literally has been a lifesaver."