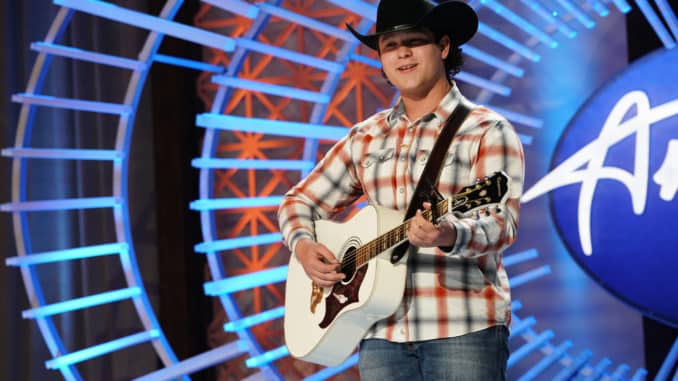 Last Thursday Caleb Kennedy appeared before a South Carolina judge seeking bond. The former American Idol contestant has been jailed since February, accused of hitting and killing a man in Spartansburg, SC with his car after using a marijuana vaping device. Judge Grace Gilchrist Knie said she would deliberate before sending her decision by email to 7th Circuit Court Solicitor Barry Barnette and Caleb's attorney Ryan Beasley.
Caleb Kennedy's bond denied for a fourth time
On Friday, Judge Knie informed the parties that she would be denying Caleb's bond. That means that the teen will remain in jail. The judge ruled that Caleb would present a danger to himself and the community if he was released from jail. Knie said she might reconsider bond for him following a psychiatric evaluation in 45 days.
Prosecutors on Thursday sought bond denial and referred to a toxicology report showing Caleb had marijuana and Prozac in his system at the time of the crash. Beasley had asked the judge to set a $20,000 bond, citing Caleb's remorse and cooperation with law enforcement. He said that Caleb was not a flight risk or danger to the community, adding that he remained on the scene after the crash and was holding the victim and crying when first responders arrived.
Beasley told news outlets he was disappointed in the judge's decision. "A 17-year-old's mental health is much better at home than in a jail," he said.
Caleb is charged with DUI in the crash killing 54-year-old Larry Parris on Feb. 8. Officials say he traveled 175 yards off the road to a garage where Parris was working when he ran him over. Caleb crashed the truck into a garage while the vehicle continued dragging the man. Parris later died from his injuries.
Caleb was disqualified from American Idol after racist video surfaced
Caleb Kennedy made it to the Top 5 on American Idol 19 last year based on the strength of his songwriting ability. But before the Top 5 took to the Idol stage to compete, a video surfaced of Caleb sitting next to a male wearing what looked like a white K-K-K hood. Producers disqualified him immediately, and erased all traces of the country singer from their site, including video performances. An original song he recorded never dropped. But He later recorded and released the song, "Raised on Dirt" on his own.
Despite the setback on Idol, Kennedy was lining up Nashville songwriters who were collaborating with the young singer on his next record. His hometown never stopped believing in him, as fans lined up to attend his first concert after leaving the show.