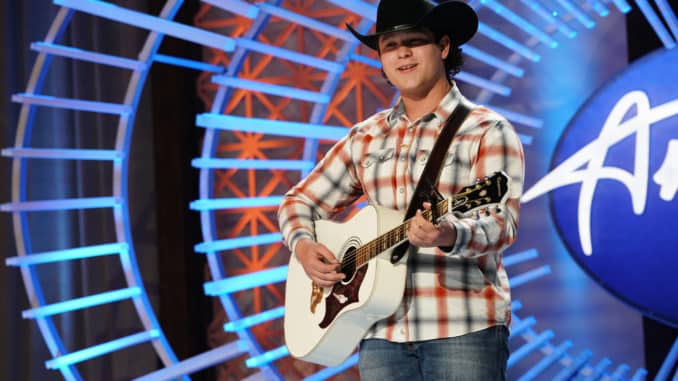 While American Idol disqualified season 19 Top 5 contestant Caleb Kennedy after a video surfaced of him sitting alongside a man wearing a Klu Klux Klan type hood, his hometown people from Spartansburg, South Carolina, have NOT "canceled" their guy.
Caleb Kennedy's hometown embraces their hero
On the contrary, the Herald-Journal reports that the young country singer has emerged after laying low post-controversy. In fact, when Caleb finally surfaced on Friday night (June 11) to perform for a hometown crowd at local joint, Wings Etc., hundreds came out to see him.
It may have been a stormy, rainy evening, but the weather didn't keep away the hundreds of fans and supporters that came out to Wings Etc. to hear Kennedy play his first gig after American Idol.

"It feels good to be back, but different and little more nerve-wracking with so many more people," Kennedy said when asked about returning to stage.

The band held a meet and greet from 6-7:30 p.m., and fans were lined up as early 4:30 p.m. hoping to meet the young crooner.
Caleb picked one of his youngest fans, Paisleeigh Sims, out of the crowd to sit up on stage with him while he sang his original song "Nowhere."
Caleb played his winners single "Raised on Dirt"
While still on the show, Caleb recorded an original song, "Raised on Dirt," with producer Ross Copperman. Idol never released the song. But Caleb debuted the self-penned tune live on stage for his hometown fans.
Caleb also played covers, including "Free Bird," "Simple Man" and "Midnight Rider." But according to the Press-Herald, "a hush fell over the rowdy crowd as Kennedy played without the band, singing one of his original songs, "I Miss My Buddies" while strumming his guitar."
American Idol: Chayce Beckham Hits No. 1, Caleb Kennedy Charts Despite Controversy
"When I write songs, I want to make somebody feel something," Caleb said.
Shortly after the racist video surfaced, Caleb confirmed that American Idol disqualified him, alongside an apology. "Hey y'all this is going to be a bit of a surprise, but I am no longer going to be on American Idol," Caleb wrote. There was a video that surfaced on the internet and it displayed actions that were not meant to be taken in that way." The singer added, "I was younger and did not think about the actions, but that's not an excuse. I want to say sorry to all my fans and everyone who I have let down."