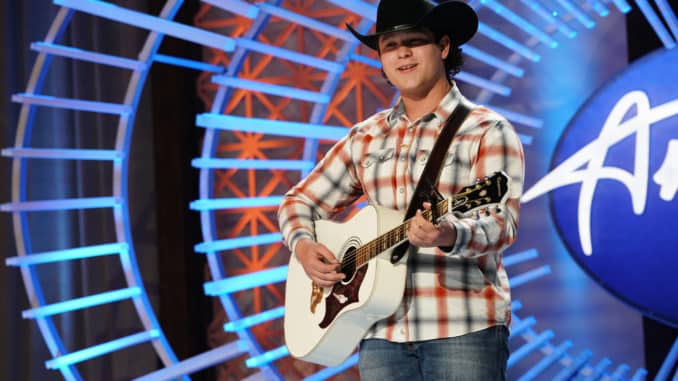 How is teen country singer Caleb Kennedy doing after American Idol disqualified him from competition after a racist video of him surfaced? Pretty well, as it turns out.
Back in May, while Caleb prepared to compete in the Top 5, a Snapchat video surfaced of him sitting next to a person wearing what looked like a K*K*K hood. After the clip went viral, American Idol dropped him. Every video disappeared from the show's youtube channel. An original song he recorded with top notch producers did not come out. He left for home.
American Idol: Chayce Beckham Hits No. 1, Caleb Kennedy Charts Despite Controversy
Caleb Kennedy's Hometown Fans Come Out Despite Racial Controversy
Caleb Kennedy 'Wasn't Ready' for American Idol 'That Wasn't Me'
But now, back home in Spartansburg, South Carolina, Caleb is getting his music career back on track. Known on American Idol for his songwriting talent, Caleb is already meeting with folks who can help him while continuing to write original songs.
During a Nashville visit, Caleb co-wrote a song with songwriter Brandon Kinney
Caleb, his his family, and Brad Phillips, owner of Studio 101 in Woodruff, South Carolina where Caleb records his songs, recently spent some time in Nashville, reports the Herald-Journal. Caleb spent some time with country music singer and songwriter Brandon Kinney, who has had several number one hits. The two wrote "That's the One" during a four-hour songwriting session while in Nashville. 
"Getting in a room with different writers with new ideas, I know I'll be able to learn from them," Caleb said.
Caleb also hung out with fellow American Idol contestants Chayce Beckham and Hannah Everhart
While in Nashville, Caleb also hung out with winner Chayce Beckham and top 24 singer Hannah Everhart. "We actually ran into Hannah while we were in Nashville and all decided to hang out, play some music," Caleb told the Herald-Journal.
Clark Beckham Produces Hannah Everhart Allen Stone Cover (Video)
Caleb and Hannah each played a song at the famous Station Inn, which is a listening room in The Gulch area of Nashville, which features mostly Americana music like bluegrass, roots and classic country. Iconic artists such as Ricky Skaggs, Jerry Douglas, Alison Krauss and Peter Rowan have all played at Station Inn.
"It felt like Hank Williams Jr. was going to walk through the door," Caleb said. "It was funny because there were all these skyscrapers around the place and this was just a little house, no bigger than this (referring to Studio 101 in Woodruff) but so many country music legends played there."
"He went from local, small acoustic gigs straight to Hollywood," Phillips said. "Put on a Hollywood stage with voice training, the lights, the show. It was 0 to 60 in a really fast amount of time. All of the work, stress and effort you have to put in to get to that moment of performing onstage is pretty intense. And Caleb just progressively got better and better each week."