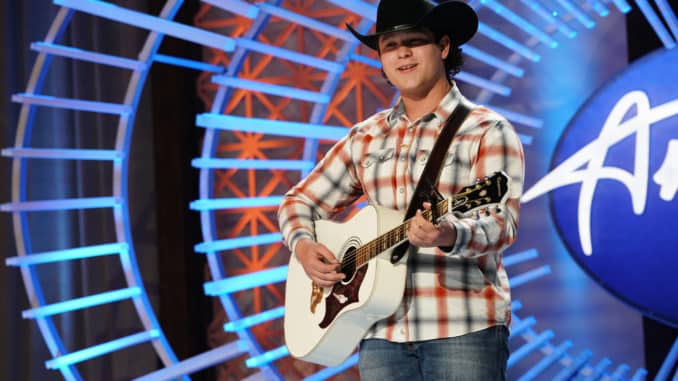 Teen country singer Caleb Kennedy shares about his American Idol experience for the first time since being disqualified from the competition after a racist video surfaced on social media.
The singer was all set to compete in the Top 5 when a clip showing Caleb sitting next to a male wearing a KKK-like  hood went viral. Within a few days, he was back home in Spartansburg, South Carolina.
"You think it's all going to be fun, and a lot of it is, but it will slap you in the face really quickly," Caleb told local paper, the Herald-Journal. "I wasn't ready for it."
"There's no way to emotionally prepare for Idol," the 16 year old singer continued. "Because no one is ready for it, no matter how you prepare. But I don't regret it, and I did love it."
Caleb claims that he was not himself on American Idol.
"On Idol, that wasn't me," Caleb said. "That world is so different. Now that I'm home, I try to be me, but I'm also scared of someone videoing me when I go to Academy or Wal-Mart. You have to worry about things like that now."
Known on the show for his songwriting, Caleb has continued writing music. Recently, he began writing about his experiences on American Idol. He recently posted a small clip of a song on his Instagram called "May to June." He shared his next verse with the Herald-Journal.
*
 

 

 

View this post on Instagram

 

 

*
"Living like a rock star over on the west coast. Crazy how people change that claim to love you the most." Recently, Caleb performed a hometown show in front of an enthusiastic audience.
America's Got Talent alum Ansley Burns gets ready for American Idol audition
Caleb's interview is part of a larger story about another local teen singer, Ansley Burns, who competed on America's Got Talent season 14 in 2019 when she was only 11. The show eliminated her at the semi-finals after performing Carrie Underwood's "So Small." During her audition of Aretha Franklin's "Think" judge Simon Cowell stopped her mid-song and asked her to finish a'cappella.
Now 15, and old enough to audition for American Idol, she's is about to do just that. Virtual auditions are happening state-by-state right now. But as a former AGT contestant, Ansley, Idol probably recruited her to sing in front of the judges later on this year. There seems to be a pipeline for AGT's kid singer to eventually audition for American Idol. (Amanda Mena S19, Makayla Phillips S18, 19 comeback)
Ansley feels ready for the competition.
"I don't think 15 is too young," Ansley told the outlet. "I feel like everybody wants to express themselves, but obviously everyone has their own opinions on it. You have to do what feels right for you and your family."