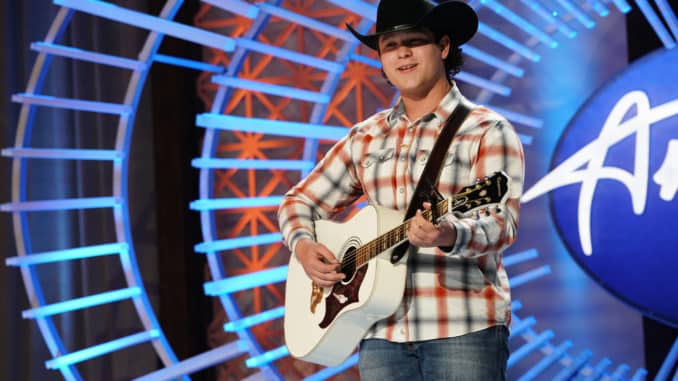 Fans asked for it, and now they have it. Caleb Kennedy finally released his American Idol winners single "Raised on Dirt."
Back in May, while competing on American Idol, the singer recorded "Raised on Dirt" with country hit maker Ross Copperman at the helm. If he had won the show, the song would have served as his winners single. The entire Top 7 dropped singles ahead of the Top 5 performance show.
However, just a few days before the song's release, Caleb became embroiled in a racist scandal, a video surfaced of Caleb sitting alongside a person wearing what looked like a K*K*K hood. Days after the contestant advanced t0 the Top 5, American Idol disqualified him from competition. The song never came out, and the show erased all vestiges of Caleb, including video performances, from their social media.
Caleb recorded and independent version of the song
Now, months later, Caleb has released a newly recorded version of the song. Written by Caleb and Mason Douglas Horn, the singer recorded the new version at Studio101 and released it independently.
On the recording studio's official Instagram they wrote, "New single from @calebkennedyofficial is out now! Many thanks to all the guys behind the scenes that made this one possible @benjamincphillips @katlinowen @the_chrisknight @jeremymedkiff @daverosscohen @brentandersonmusic @mikejohnsonproductions @masonhorneofficial @bradpraisely." These are musicians and producers Caleb worked with on his 2021 self-titled EP released during his run on Idol.
It appears that the Ross Copperman produced track will never see the light of day. However, this new version is actually pretty good. Setting aside all the controversy, Caleb is a talented songwriter. It's good that he got a version of the song out for his fans.
Since leaving American Idol, Caleb has been c0-writing songs in Nashville and playing venues around his South Carolina home town. On Friday September 10, Caleb performed at the Greenville Country musicfest. 
Listen to Caleb Kennedy's "Raised on Dirt"