Skylar Laine had dinner with an NSyncer – Skylar had some special dinner plans yesterday. "Can't wait to have dinner with @LanceBass tonight! My hometown boy!" She tweeted.
Elise Testone and Hollie Cavanagh interview with FOX San Diego 5. Watch it HERE.  They are rehearsing solo, duets, trios and group numbers for the tour.
Phillip Phillips, back on his feet!
LOOK WHO MADE IT TO REHEARSALS YESTERDAY! Hollie tweeted the photo. Erika Van Pelt tweeted, "Next time you want to mess with Elise and I, try not to look like a predator creeping behind a four door sedan in a dark lot ;-)". Phil must be feeling better. Heh.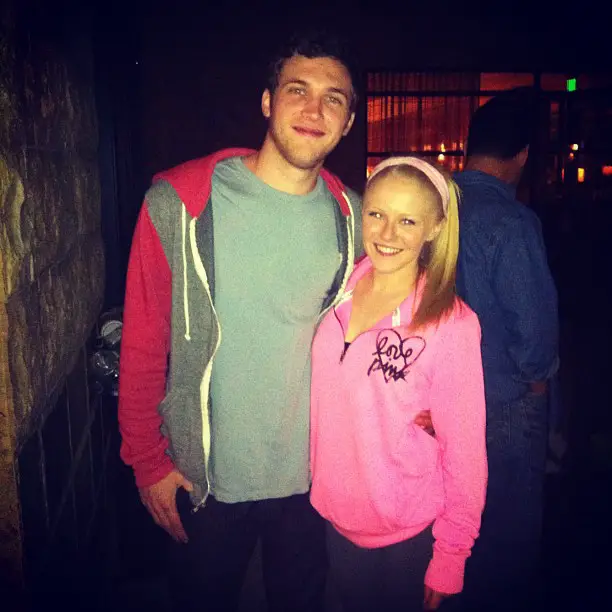 American Idol winner Scotty McCreery performs at CityPlace – Garner Magnet High School graduated a platinum artist when country crooner Scotty McCreery walked across the stage to receive his diploma, with honors, just over a week ago. It was a huge week for the 18-year old who won the 10th season of American Idol in May, 2011. The boy with a man's voice won his third major music award when he took home the 'buckle' for Breakthrough Video of the Year from CMT, and right after the show he jetted back to his North Carolina hometown to don a royal blue mortar board and gown and graduate with his class. – Read more at Palm Beach Post
American Idol star Hollie Cavanagh on being a Scouser, going on tour and what she misses about Liverpool – She said: "I remember saying to [fellow contestant] Deandre [Brackensick] that we would go back next year and get into the top 10 and we did. "The top 10 was my goal so each week I was surprised. "I just kept pushing myself and then I got into the top five and then the top four. I never expected it so to get to the top four was pretty good. My dad Peter always says 'you can do this, you're a Scouser'." Hollie, 18, who now lives in Texas, said she was "excited" about joining her Idol pals on the road and hopes it could lead to a record contract. She said: "We've been told a lot of people come and see the shows so I'll get to show who I am as an artist." – Read more at Liverpool Echo
Kelly Clarkson – eTalk Interview – 06-19-2012
Kelly talks about her boyfriend, Brandon. She's not in a hurry to have kids.
James Durbin succeeds despite challenges
Exclusive: How Britney Spears, Demi Lovato Are Bonding at X Factor – At the Kansas City, Missouri auditions June 8, X Factor UK judge Louis Walsh, 59, filled in for an ill Simon Cowell, 52, and taught the two pop stars a funny game he likes to play on the European version of the reality hit, Us Weekly has learned. According to a source, the judges secretly chose a word before each contestant performed and then tried to use it during their critiques. The more difficult the word, the better. "Every time one of them said the word, they all started giggling like naughty school children." – Read more at UsMagazine
Nick & Drew Lachey Announce 98 Degrees Will Reunite For One Performance! [AUDIO] – Nick Lachey may have denied a tour a couple months ago when he tweeted: "So psyched to see all the excitement for a 98 degree tour, but the only tour I'll be doing this summer is at baby's 'r us!" But on Wednesday Nick and Drew Lachey called in to "On Air with Ryan Seacrest" to announce that 98 Degrees will be reuniting for one performance at the Summer Mixtape Festival in Hershey, PA. The two also chatted about fatherhood and the possibility of Drew being part of the "Dancing with the Stars" All-Star cast. – Listen to the interview at RyanSeacrest.com