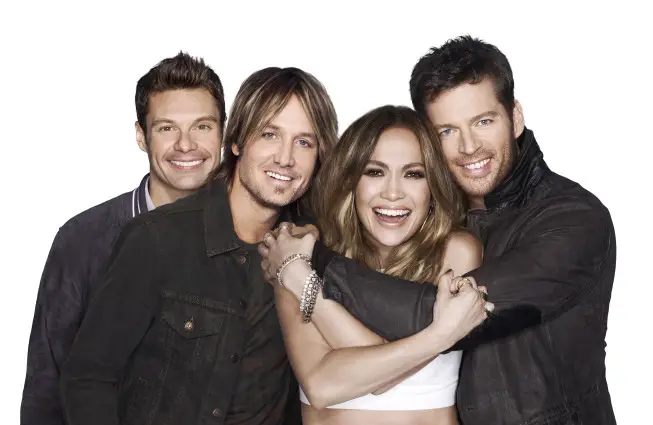 American Idol XIII Hollywood Week is upon us! And here's a round up of media. EW was on the scene for the first day of auditions. Plus Keith Urban and Harry Connick Jr. sat for interviews with reporters.
Entertainment Weekly was at the Dolby theater in Hollywood on Monday to sit in on the first day auditions.  Here are a few highlights.  According to EW, the judges have a "warmer, different vibe" than last year's "duelling divas," Mariah and Nicki.
As for the competition itself, each contestant had to sing a song of their choice a cappella on stage at the Dolby Theatre in Hollywood, home of the Academy Awards, in front of the judges, their fellow competitors, and family and friends. Each contestant is allowed to bring two people to cheer them on sitting up in the front mezzanine. When it was the contestant's turn to sing, their family moved to the edge of the balcony so they could see them. The family and friends are also there to console and take eliminated contestants home right away. And I mean right away — their luggage is waiting (organized alphabetically) in the lobby of the theater.

Before singing, each contestant introduced him or herself by sharing their name, age, and why they believe they are the next American Idol. Some favorite introductions we overheard:
"My name is Marguerite and I'm an alcoholic," was Harry Connick, Jr, goofing on the Idol intros. He said the intros "made everyone sound like they were in a dating service." Another contestant asked Jennifer Lopez for a hug.
And just because you walk in with a guitar, does not mean you get to play it, as Keith Urban demonstrated:
Of the first four groups of the day, nine contestants accompanied themselves on guitar and one on keyboard. However, one guitar wasn't sitting well with Urban who claimed the out-of-tune sounds were too distracting for him and made the contestant sing again without it. Luckily, it wasn't the same contestant who actually sang one of Urban's songs in this round of the auditions.
EW wouldn't reveal Harry's greatest bon mots, but the magazine notes that he "has a way with words." Jlo takes on a motherly role, asking about their families and soothing nervous contestants.
Some song highlights included a soulful, gospel rendition of Miley Cyrus' "The Climb" and an acoustic, folk version of Britney Spears' "Scream and Shout" as well as one contestant claiming she had been preparing to audition for American Idol since she was 3 years old. This was her first year of eligibility.
Read more at Entertainment Weekly
Yesterday, Harry and Keith did a mini-media tour. Here's a roundup.
From USA Today:
Harry Connick Jr. compares the upcoming overhaul of American Idol to remodeling a house. "The bones are there, they're just going to put a new face on some of the elements, figuratively and literally," says the singer, who joins Keith Urban and Jennifer Lopez as judges on the show's 13th season, which will premiere Jan. 15 (8 p.m. ET/PT, FOX).

"The producers are smart; they're making changes proportional to the times. It's like a beautiful, classic house that's perfect but just needed some new paint and rewiring. Now it's the prettiest house on the block."
Harry told the newspaper that the judges "refamiliarized themselves with the contestants by reviewing audition footage the way football teams watch game tape." Says Harry, "We've been off for a few weeks. We wanted to make sure we knew who we were seeing."
Harry and Keith discuss the new season with Access Hollywood
The duo insist we'll be blown away with the talent. Keith says "We're being much more direct on what we're looking for. Not a ton of novelty people and that sort of thing. We're trying to find really good artistry."
Harry and Keith were joking about the people who played instruments, but shouldn't. "Maybe you should put that thing down," says Harry, who notes that some of the hopefuls who come from small towns are in over their heads. Arriving at Idol is the first time some of these kids hear the truth, but "we're trying to deliver it in an honest way to help them. Not to crush their spirits."
Keith Urban & Harry Connick Jr. On Rivaling the Blake Shelton and Adam Levine Bromance
Harry and Keith both hate the term "Bromance." Harry says, "We'll leave THAT for THEM to play with." Harry continues, "What we have is a LOMANCE. We are in love with Jennifer Lopez." Harry says he sees a lot of himself in Keith.  Also, Harry insists that viewers last season did not get to see how brilliantly funny Keith is.  HARRY DOES A LOT OF THE TALKING. Heh.