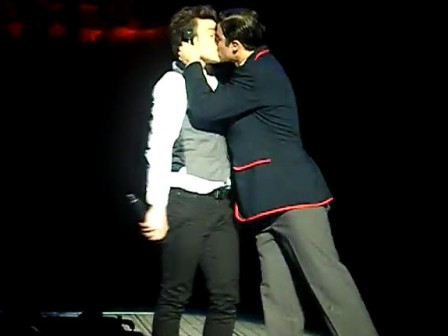 The Glee tour 2011 came to an end after 40 cities across North America and the UK, in Dublin Ireland on Sunday. The final show of tour often brings on the hijinks, and the Glee kids were no different. There were kisses all around!
Watch Darren Criss plant a big kiss on Chris Colfer during their mid-show "Klaine skit." Chris reads a poem that pokes fun at Glee plot inconsistencies. He also manages to throw in an Emmy plug. Before the kiss, Darren says, "You had me at Emmy!"
(Poem & Kiss – Better video)
http://www.youtube.com/watch?v=_Cr2fDfh0nU
Naya Rivera pops in at the beginning of the skit to give Heather Morris a quick smooch.
"They Kissed" trended this afternoon!
The "Klaine Skit" became something of a running joke, with Chris changing it up in each city.  Today's matinee featured  a "Likes Irish Boys" t-shirt that Chris eventually gives to a little girl in the audience.
http://www.youtube.com/watch?v=WbtQJ68pA-A
More Klaine skits: Commemorative plates! If you were king…what  would that officially make me?
Watch this space for updates
After the show, the cast tweeted their tour-end thoughts, and it looks like there were plenty of tears, too: Dianna Agron posted hers yesterday.
@ChrisColfer: Well, the Glee Live 2011 tour has come to an end! There have been some laughs, there have been some tears, there have been some kisses…
@DarrenCriss: What was I doing a year ago from today? Definitely not closing a 40-date show after playing to nearly a half a million people. #OneCrazyYear
@frankenteen (Cory Monteith): "Tonight's show was one of the best, most intense experiences of my life. Thank you for being part of it, Dublin!"
@iharryshum (Harry Shum Jr.): "Last show for @thelxd and @GLEEonFOX in Dublin. Thank you to all who came out to the shows!! It's been FUN!"
@Ashley_Fink: "Its so surreal that there is only 1 show left. Doing the show for yall with these fantastic 13 people has been more than a dream come true…I'm probably gonna cry tonight so Dublin help me out and let's get rowdy so all yall don't hear the sounds of my tears. LETS GO HARD!!!"
@Mark_Salling: "just had 1 of those cosmic moments where i suddenly realized where i was, what i was doing and who i was with. grateful is an understatement"
@MsLeaMichele (Lea Michele): I can't believe 2day is our last day of tour! It's been so fun seeing the world & meeting our fans & getting to perform w/ my best friends…I feel so incredibly lucky to work with the hardest working, most talented cast. We've been through so much together and had so many…amazing experiences together. I feel so blessed to have you all in my life. I no longer feel like an only child cause I have 13…brothers and sisters now:) I'll miss my fremps this summer:( But it'll be August before we know it and time to shoot season 3!