GLEE: Elliot "Starchild" (guest star Adam Lambert, L) and Santana (Naya Rivera, R) perform in the "A Katy or a Gaga" episode of GLEE airing Thursday, Nov. 7 (9:00-10:00 PM ET/PT) on FOX. ©2013 Fox Broadcasting Co. CR: Adam Rose/FOX

GLEE: Adam Lambert guest-stars in the "A Katy or a Gaga" episode of GLEE airing Thursday, Nov. 7 (9:00-10:00 PM ET/PT) on FOX. ©2013 Fox Broadcasting Co. CR: Adam Rose/FOX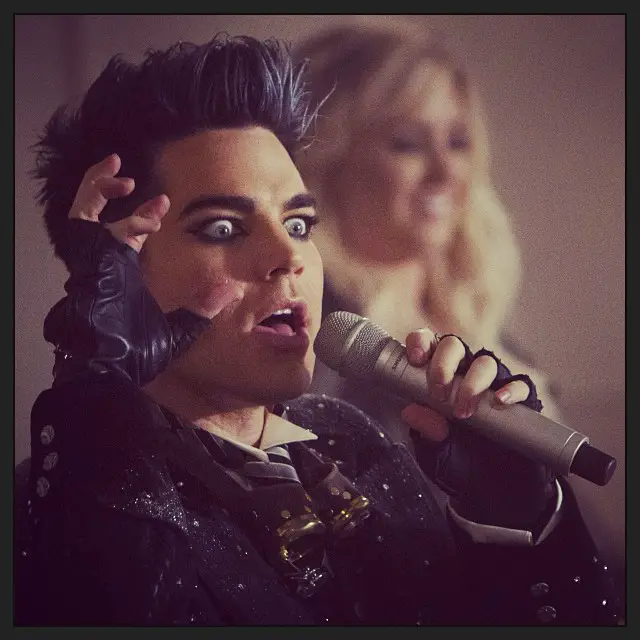 Adam instagramed this photo: "#Starchild #Glee #Gaga #Marry The Night premieres Nov 7 on Fox"
UPDATE:  Adam is filming TODAY (Oct 30) for Episode 7 titled "Puppet Master" according to a reliable spoiler.
For NYC they're doing 5.07. The scene is set at a hipster bar in NYC. It's a nice piano bar and the extras are instructed to dress very hipster-y. There's a specific group of hipsters who are booked as "hot guys" and told to dress nice and have their hair done up like they are "every man or woman's fantasy guy."

The interesting part: The idea of the scene is that it's Kurt's fantasy. It is noted specifically that since Kurt is all about the fashion, and this is a nice, hipster piano bar club, they want the extras to come looking very nice.

(ETA: Demi, Adam, Naya, Chris, and Lea are all filming for the NYC scenes.)
Yesterday, Lea Michele tweeted this:
Gettin our groove on at dance rehearsal today with the NYC crew for #Glee! Any guesses? There's a hint in there… :) #GleeSeason5

— Lea Michele (@msleamichele) October 30, 2013
It's pretty clear the gang is filming Madonna's "Into the Groove".
Check out new stills of Adam Lambert in next week's Glee titled "A Katy or a Gaga," airing on November 7 on FOX at 9 pm.
Adam will play an "overly bold performer" who auditions for Kurt's (Chris Colfer) Madonna cover band, that also includes Rachel (Lea Michele), Santana (Naya Rivera) and her new girlfriend Dani (Demi Lovato). But, will Kurt block Starchild from the band due to his own worries that he'll be overshadowed by the dazzling performer?
Read More:
Glee Spoilers – Adam Lambert Plays Starchild on Glee – First Look Photo
Glee Spoilers – A Katy or a Gaga Press Release! (More on Adam Lambert)
Glee Spoilers – "A Katy or a Gaga" feat. Adam Lambert
Glee Spoilers – A Katy or a Gaga Promo Feat Adam Lambert (VIDEO)
See the FULL gallery from the episode here: