Adam Lambert, will make his debut on Glee November 7. The singer spilled details about his character, Starchild aka Elliot Gilbert, on the episode titled "A Katy or a Gaga," during a recent red carpet interview.
We reported that Starchild will meet Kurt (Chris Colfer), Dani (Demi Lovato)  and Santana (Naya Rivera) when he auditions for the band Kurt is putting together. That scenario was confirmed in the first promo released last Thursday featuring Adam in costume singing Lady Gaga's "Marry The Night" while swinging from a chandelier–much to the shock of the Glee gang.
You're probably thinking the golden-throated singer was a shoe in for the band. Well, think again!
"I'm playing a kid with with big dreams," explained Adam about his Glee role, "He comes to the audition in a full costume and makeup, and REALLY over the top, and gets cut! Because he's told that it's too much."
Did you catch that? Adam doesn't make the cut. Because he's too much. As if Kurt Hummel is one to know how to dial it back. Hmpf.
Check out the interview below.

Lambert's glee at guest role by PressAssociation
Watch Adam sing "Marry The Night" in the promo below. "We are not naming the band the apocalipsticks!" says Kurt sternly to an eye rolling Santana.
The episode finds Will Schuster and Sue Sylvester at war once more. And what better way to settle a beef than to perform songs that pit diva against diva? The episode will feature  tunes from two pop stars who have been fighting it out on the Billboard charts recently–Lady Gaga and Katy Perry.
Ryan Murphy said recently that the episode is about the kids "trying to figure out who they are as artists" and will be light-hearted to offset the emotional Cory Monteith tribute.
Check out the set list below:
Song Spoilers
"Roar" by Katy Perry – Unique, Jake, Sam, Marley, Tina, Artie, Ryder, Kitty, Blaine, Kurt, Rachel, Santana, Dani (Demi Lovato) and Starchild (Adam Lambert)
"Applause" by Lady Gaga – Sam, Marley, Artie, Ryder and Blaine
"Wide Awake" by Katy Perry- Tina, Unique, Jake and Kitty
"Marry The Night" by Lady Gaga – Starchild (Adam Lambert}
Plus, some photos from the episode. Note Chord Overstreet, shirtless,  and winged like a Gaga angel. There's also a photo of an elaborate set that pays homage to Katy Perry's "Roar" jungle-themed music video.  And maybe Starchild is eventually asked to join the band–two photos feature him, Kurt, Rachel, Santana and Dani singing with a backing band in the Bushwick loft where the kids live.  Bonus: Chris Colfer shows off his chandelier swinging abilities…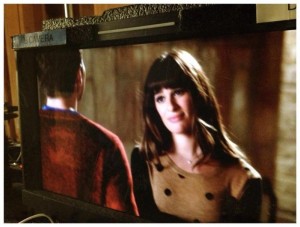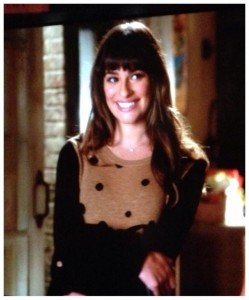 Read More:
Adam Lambert Begins Filming Glee Debut
Adam Lambert Song + Character Name
"A Katy or a Gaga" Adam Lambert/Starchild Details
A Katy or a Gaga Promo Feat Adam Lambert