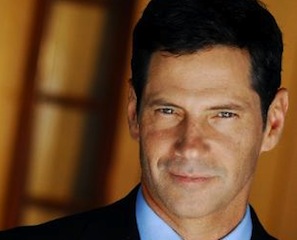 Melrose Place vet Thomas Calabro has been cast to play the estranged father of Puck (Mark Salling) on Glee, TV Line is reporting. The mohawked-one's estranged dad will be introduced on Episode 18, set to air in April.
We've met a slew of parental units on Glee season 3, including Rachel's gay dads, Mike's strict parents, Emma's crazy ginger supremacist parents and Sam's struggling mom and dad. Matt Bomer will guest star on the spring premiere, set to air April 10th, as Blaine's older brother,  Cooper.
E Online reported that the show was casting for a man in his 40s, a high school drop out, whose life is in shambles, who hasn't paid child support in "a real long time". and that "word on the street is he might stick around on Glee." It's a safe bet that little blind item has been solved.