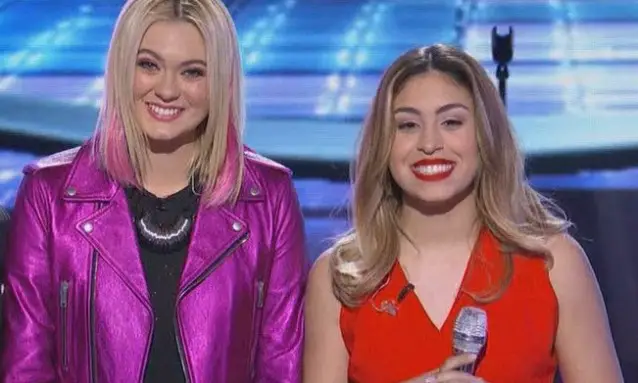 Olivia Rox and Gianna Isabella were eliminated from the American Idol 15 Top 10 this week. Gianna performed "If I Ain't Got You" by Alicia Keys and Olivia sang "Trouble" by Pink. But their performances weren't enough to keep them in the competition, as the judges saved Avalon Young from the bottom 3 after she delivered an emotional rendition of The Weeknd's "Earned It."
Both eliminated singers sat down to speak with reporters via conference call on Friday. Here's what they both had to say about their run on Idol. Notably, Olivia was set to sing "Killing Me Softly" this week, until TPTB suggested she sing something "upbeat." She came back with "Trouble,"–a song choice which judge Harry Connick Jr. criticized as not being vulnerable enough.
What was the biggest learning experience as far as the entertainment industry that you hadn't already had before American Idol?
G: Say  somebody buys tickets for your concert and you're sick. You have to give a performance [anyway]. My problem was that I only sang [before Idol], I didn't really perform. For solo rounds for Hollywood week…I actually lost my voice and I got through because I gave a performance and tried to do the best that I could under the circumstances.
What did she learn that helped her sing through sickness?
G: I tried to have fun with it and put all the sickness aside and acted as if it were a regular performance. I tried to have more stage presence…not really take away from my voice, but help them focus…I [learned} I could still be a performer and be an entertainer [even while sick].
Since both of you are minors, you had your parents with you. How are your mothers and your families taking the news of your eliminations?
O: We're taking it rather well. It's obviously a disappointment to be eliminated but I think that it's what you do after the fact that shows character. For me I love writing music so much. That's my number one passion–before singing of course. To be able to possibly write my own record would just be my dream of all time [and] they are very supportive in that as well. We're doing pretty good. Thank you for asking.
G: My mom's taking it really well…as well as my dad. In their eyes I'm already a winner because making it to Top 10 for me and Olivia is just a winner on its own. Passing all of these thousands of people, no matter whether we would have won American Idol or whether we would have gotten kicked off when we were Top 50–like she said it's what happens after the show and you just want to keep pushing your career. I expect me and Olivia will be doing a lot in our future.
How do you handle something so big (as American Idol) when you're both 15 years old.
G: With the help of our parents.  They are always by our side. They keep us grounded, tell us to remain humble. Whenever we feel too stressed out, we'll take a break. Whether it has to be a year or 2 weeks–we just have to take a break from everything to calm down. Sometimes  writing songs, like Olivia says, cause I'm a writer too, sometimes that helps with stress.
O: I have a saying on the back of my phone, a little sticker that says "stay humble and remain positive." It's those words that help me get through.
What was it like singing in the Top 24 with former contestants? What was that experience like?
O: It was absolutely phenomenal. To get to work with David Cook was a dream come true. Seeing him on the show was inspirational for me. To actually get to work with him, to get to meet him, and talk backstage–he was helping me with my in-ears because I had never used in-ear monitors before. It was really interesting, because he was helping me through that transition. He's a great guy, and it was such an amazing experience to get to share the stage with a legend like that.
G: It was an amazing privilege when I got to sing with Nick Fradiani not only because he was last year's winner. He's fresh out of the Idol scene so he knew a lot of what was going through my head. Last year there were a lot of younger contestants. They were like his little brother and his little sisters. He know how to handle minors, which is really cool. He definitely was a great mentor. He really helped me let loose and have fun. I personally feel like the duet was the most fun I've had on Idol the entire time I've been on it.
What was your favorite moment on Idol?
O: My favorite on camera moment was when the judges started talking about my merchandise for touring and they said that it should say "Olivia Rox! Yes she does."  I really wanted to get a T shirt out of that, cause I think it's the coolest thing anyone said.
G: My favorite memory of an on camera moment was definitely when I got to sing with Demi. Although it was the same night I got eliminated, I feel like that's a night to remember. I'm really luck to have been there that night. Not every 15 year old gets to say that they performed with Demi Lovato. I'm a huge fan of hers. All my friends actually paid money to go to VIP to go see her and I didn't have that kind of money and couldn't go. To find out that I was performing with her was extremely insane.
What is Gianna looking forward to when she gets back to New Jersey?
G: I'm looking forward to doing some more originals–writing. Going back to school and seeing all my friends and my cousins and everybody.  Before I was going to miss my cousin's sweet 16 and I was really upset about it.  But now I get to go and see her, which I'm really pumped about. I'm going to sign up for some acting and dancing classes.  I want to get into musical theater and stuff to do with television. I want to get better at my stage presence. I feel dancing could help me with that. I'm going to brush up on some new languages. It would be awesome if I could sing in a couple of new languages.
What was the most difficult part of your journey on American Idol?
O: The most difficult part was getting eliminated. You're up there and you're standing there–you have no idea what the judges are thinking. You cannot read their faces. You have to prepare yourself and you  have to realize "this could happen anytime. You have to give your best performance every single time and know that it could be your last. That was the most difficult–to say goodbye to everyone and have to go.
G: Getting out of my comfort zone and trying to have a little bit more stage presence and feel the songs. Being 15 I haven't gone through a lot of this stuff that some of the songs that I sing about went through–whether it's divorce, or somebody dies. It's a little bit harder for me to connect. I feel like you shouldn't just sing words, you should sing a story and make the crowd feel something as if you had written the song. For the stage presence–I feel like I was super shy before.  For me to have a sassier side, as some people had seen when I sang "I Put a Spell on You" it was just insane.
What will you miss the most about American Idol
G:  The critiques that the judges gave us. That made me get better in just a matter of a couple weeks. For me not to be able to hear them say "that was an amazing performance" or "that was pitchy" is going to be a little bit harder for me. I'm going to continue with vocal lessons and hopefully get better and better each week.
O: I'm going to miss all of my friends. We made really good friendships on the show, with the other contestants but also with the crew. You're constantly together and you become like a family. I think it's going to be hard to go back and leave everyone.
Both have had parents successful in the music business.  Olivia's father is smooth jazz musician, Warren Hill and Gianna's mom is singer Brenda K. Starr. What has been some of the best advice they have given about pursuing a career in the music industry?
O: The best advice I have gotten is to stay true to yourself because everyone has opinions. The most important thing to do is to come in with your true artistry and know who you are and stay with that.
G: Always have fun up there. Always be yourself and never shy away your main personality from the cameras. Sometimes people would say on line "Oh you're too bubbly, you're too excited." Then some people would be "I love how you don't care what people think. I love how you're just yourself on television." Definitely always to stay true to yourself and always perform like it's your last performance.
What was one specific thing they learned from the Idol mentors?
O: One important thing that I learned [from David Cook] was to make sure you look in the cameras when you're singing and keep your eyes open. For me whenever I'm singing a song, I get very into the lyrics, very into the melody. I kind of forget everything else that's happening. [It's] is a good thing when you're singing at home for yourself–not so much when you're singing for millions of people at home. That was probably the best advice I got–to open up to everyone.
G: Just to push myself hard. I couldn't hit some of the notes at first, then Nick was "you have to push yourself past your comfort zone." I actually hit some notes I didn't know I could hit. Definitely pushing myself to be better than I was yesterday, on and on, so I can be the best that I can be.
Did waiting to be called on Thursday night to sing affect your performances in a negative way?
O: I don't think it affected the way we perform. It may have actually improved our performances. We had something to live for. We had something at the end of the tunnel–we have to be better than [the other singers who came before]. It was definitely intense waiting in the chairs waiting for our names to be called because you just sit there and start counting the faces and you're like–"They're really good! OK their performances were amazing last week…" It's definitely intense, but it did not affect the performance. It may have just improved upon it.
G: I prepared myself to be in the bottom 3 because I know I could have done way better performances last week. I always want to prepare myself for the worst because last week I got really emotional when I saw some friends go home. Then I was happy, then I was nervous–all these emotions combined which caused for a shaky performance. I prepare myself for the worst thing to happen. I didn't want to go into the bottom 3 crying and unprepared. Whether I was right away into the Top 8 or in the bottom 3 like I was, I would have given the same performance, with every piece of my being.
What did Olivia think of the criticism she got for her performance of "Trouble" –that she needed to show a vulnerable side of herself and that the song didn't "come together."
O: I feel like the song that I ended up choosing, is definitely not a vulnerable song! It's funny, because I went in this week with a very vulnerable song, I was going to do "Killing Me Softly" by Roberta Flack. They were kind of like "Oh, I don't know…I think maybe you should do a more upbeat song." Then I came back with "Trouble."  I probably should have done more of a mellow song to showcase more of my voice and to maybe sit on a stool, or something, and just really focus on the emotion of the song. For "Trouble" it was really fun for me, because I just let everything go. Any thoughts that were in my mind honestly just fell away when I started the song. That was really refreshing for me. In this competition, you're always stressed, "Oh my gosh, was I better than this person, or that person." I felt like this last performance, I wasn't doing that. It was really nice to just let go.
Gianna Isabella – Official Exit Interview
https://youtu.be/gL0GA6vK5Ig
After the Show – Top 8 Revealed