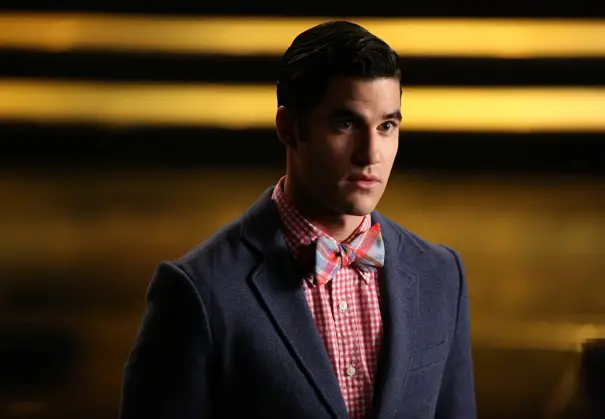 It's a Glee first!  A cast member, Darren Criss who plays dapper gay, Blaine Anderson, has written and co-written TWO songs for the FOX musical comedy, now in it's final season.
Darren penned "This Time," which Lea Michele, as Rachel Berry, will sing as one of her last songs during the two hour series finale, airing on Friday March 20.
But that's not all. Next week's Glee features "Rise," co-written with Theo Katzman, Sam Hollander, Andrew Thielk, Eddie Montilla and Korey Richmond. The episode, "The Rise and Fall of Sue Sylvester," airs Friday March 6. (Theo Katzman served as Darren's musical director on his 2014 tour AND he co-produced Face the Fire, for The Voice alum, Michelle Chamuel.)
Lucky for us, the song has leaked, and you can listen right here:
According to the Hollywood Reporter, "Rise" had been written with Glee in mind, but not a specific episode. That changed when Darren realized how perfectly the song fit within the storyline. The title even matches an actual line of dialogue earlier in the episode about "rising from the ashes."
If you want more context about how the song will be used, check out our "The Rise and Fall of Sue Sylvester" spoiler post.  In a nutshell, one of the clubs faces a huge setback, and the song which will be sung at the end of the episode, will bring the people together in very unexpected ways.
Darren is finished filming Glee, which wrapped up production last weekend. Now, it's time to move on to a new project! The singer/actor will star in Hedwig and the Angry Inch on Broadway beginning at the end of April.