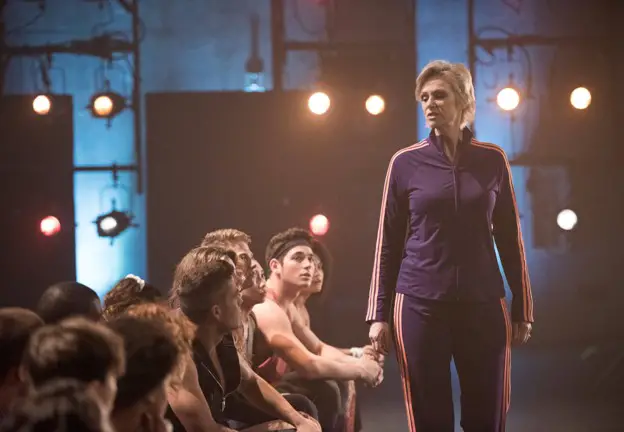 Glee Season 6 Spoilers Episode 10 – The Rise and Fall of Sue Sylvester
Glee Season 6 episode 10, "The Rise and Fall of Sue Sylvester," set to air March 6, features an all star cast and some very surprising developments!  The Fox studios episode description and cast list includes the following guest stars: Whoopi Goldberg (Carmen Tibideaux), Michael Bolton (Himself),  Geraldo Rivera (Himself), Carnie Wilson (Herself), Carol Burnett (returning as Sue's mom), and Samuel Larsen (the long lost Joe Hart).
UPDATE: Geraldo is sporting a huge gash on his face, while Jane balls her hand up in a fist. (source). Think a fight will be breaking out!
UPDATE: Spoilers for 6×11 indicate that Rachel, does indeed talk her way back into NYADA.
UPDATE: Jane Lynch told TV Line: "Unfortunately, I don't actually don't have any scenes with Michael Bolton. There's an exposé done on Sue Sylvester, and he pops up on the screen to basically just say he has no idea who I am. That's the father of my child!"
UPDATE:  Via the promo posted below, Artie and Mercedes are back! Plus, the new glee clubbers, Myron (13 year old Bar Mitzvah kid) and Alistair (Spencer's new boyfriend)!
Also, Justin Prentice, who plays Becky Jackson's boyfriend, Darrell is on the cast list. It seems that we'll get more on the Becky/Darrell subplot begun in "Jagged Little Tapestry," although it's not mentioned in the official episode summary:
Blaine and Kurt's honeymoon is unexpectedly cut short when they learn of a fire at Dalton Academy, and that the entire school has burned to the ground. In light of the tragic news, Will, Kurt and Blaine decide to merge the now homeless Warblers with the undermanned New Directions and form a new show choir supergroup… one that may take some getting used to for all the students. While almost everyone else is on board with the recent developments, Sue is not. She commits herself to seeing that the new union of the former rival school's teams does not stand, and discovers she faces opposition from the least expected of sources. As Sue proceeds to try and undo the merger of the two show choirs, her darkest secrets – some even she didn't know about – become exposed to the unforgiving light of day, leaving her to accede to one unfathomable decision while simultaneously creating a surprising – but not unwelcome – opportunity for her. Meanwhile, Rachel returns to New York, to try and get herself re-admitted to NYADA with surprising results that could either change everything or precipitate another all-too familiar experience, and Will and the others get potentially devastating news that concerns them all.
YES THAT'S RIGHT. Poor Kurt and Blaine have to cut their fabulous Provincetown honeymoon short because Dalton burns down.  Merging the Warblers and New Directions into a supergroup is also a fix that solves McKinley's problem meeting the 12 member requirement AND alleviates any unnecessary rivalry between newlyweds, Kurt and Blaine. Their clubs will no longer be competing against each other.
The appearance of Geraldo and Carnie (local newsies, Rod and Andrea figure into the plot as well)  indicate that whatever Sue's secrets are, cause some kind of media storm. Does the gossip mongering have something to do with Sue's supposed baby daddy, Michael Bolton? And how does Sue's Nazi-hunting mom figure into it?  Will Madame Thibodaux cut Rachel another break?  AND JOE HART WHAT THE HECK. If I find the answers to these questions, I will certainly post them here.
Also, if you take a good look at the production stills below, it appears that Sue leaves McKinley to take over Vocal Adrenaline at Carmel. It's a configuration that would pit Sue against Will, Blaine, Kurt and Rachel.  Basically, the FINAL showdown between Good and Evil. Mwahahah.
Check out the song list.
ETA: Rise is an original song composed by Darren Criss! Click to listen to clips of all the songs.
"The Rise and Fall of Sue Sylvester" Song List
Rather Be by Clean Bandit sung by New Directions solos Kitty and Jane
The Trolley Song by Judy Garland sung by Sue and Mom (Carol Burnett)
Far From Over by Frank Stallone sung by Max George and Vocal Adrenaline
The Final Countdown by Europe sung by Sue and Will
Rise by (Composed by Darren Criss!)
"The Rise and Fall of Sue Sylvester" Production Stills
Glee 610 Promo
http://youtu.be/XmUlU6SiX3I