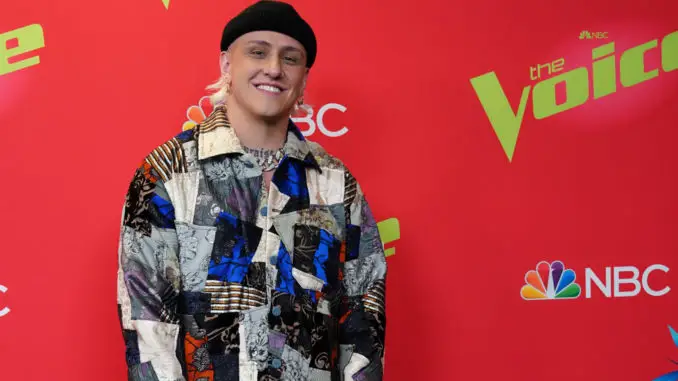 Bodie The Voice 2022 runner-up seems happy that he didn't win
Team Blake Shelton's bodie The Voice 2022 Runner-up seems happy about losing, congratulating winner Bryce Leatherwood in an Instagram clip recorded right after Tuesday's finale wrapped.
So many fans, pundits and polls predicted that the eclectic pop singer would win it all. But instead, country music fans won out–as they often do–and gave the crown to Bryce, a 22 year old Georgia native.
The results on Tuesday's Finale didn't even go smoothly. Host Carson Daly announced that Team Blake's Brayden Lape finished fifth, and Team John Legend's Omar Jose Cardona finished fourth. When the show came back from commercial, Carson immediately announced the winner. It took an Instagram reel from bodie himself to confirm he finished as the runner-up, which left Team Camilla Cabello's Morgan Myles in third place. Did the show run out of time? Or did producers not want to spoil Team Blake's win? We'll probably never know.
In any case, Bodie immediately went live on Instagram after the show. He didn't even need time to decompress. And he seemed very very happy to finish exactly where he did.
"I'm finally free," says Bodie. "This is what we prayed for"
"Let's go guys!" bodie said with a big smile on his face. "I'm SO excited, first of all for Bryce, congratulations." He continued in the video message, "Second of all? Second place ain't so bad! I'm so excited to FINALLY BE FREE and make music, and do the things I want to do."
He teased his fans with what's to come "You guys are about to see some of the coolest stuff I've ever done happen this year." He finishes with, "I love you all so much. Thank you so much from the bottom of my heart for rocking with me! Please continue to rock with me, and I'll continue to make music that makes you feel something."
He captioned the reel, "This is what we prayed for. Let's Go! Congrats to Bryce and the rest of the fam." Did bodie pray for second place?
The Republic winners package is a VERY mixed bag
A record deal with Republic Records is part of the winner's prize package. Artists may or may not wind up releasing music on the label after the show. Last year's winner, Girl Named Tom released a Christmas EP on Republic. The Voice 20 winner Cam Anthony dropped a single via the label, as did season 19 champ Carter Rubin.
But winners often find a way to ditch the contract entirely. With coach Kelly's help, season 14 winner Brynn Cartelli signed with Elektra records. Season 15 winner Chevel Shepherd made the decision to go independent, and after meeting with the label, Season 12's Sundance Head split with them amicably.
The problem is that Republic will drop a single or EP for the winner. But there is very little follow up in the way of promotion. The label doesn't seem at all interested in artist development. In Girl Named Tom's case, they have toured relentlessly since winning last year, and recently came off a huge stadium tour with Pentatonix. They're doing OK without Republic's help.
"I am finally free" and "This is what we prayed for" don't seem to be words coming from a place of disappointment. So take heart bodie fans. I wouldn't be surprised if a Christian label scooped the worship leader right up. Or maybe he can do the tik tok thing and a major pop label will sign him. Either way, bodie seems super excited and not at all sad.
I am so relieved, so honored, so proud
In another post, bodie wrote, "ONE LAST VOICE POST We did it. i am so relieved. so honored. so proud. this has been the most incredible experience… so much love for the cast, the crew, the coaches, and YOU GUYS. I am blown away by the love and support y'all have shown me through this process. if you loved what i did on the show, just wait until you see/hear what I have planned. See y'all around."
A four chair turn!
Bodie made his mark with a cover of The Fray's "You Found Me" which earned the singer a four chair turn. After choosing Team Blake Shelton, the singer went on to perform "As Long as You Love Me" in the Battles and Post Malone's "Better Now" which won him the three way Knockout. His cover of Joji's "Glimpse of Us" cemented his place in the Top 13 via America's vote.
The singer went on to cover The Proclaimer's "500 Miles," Jvke's "Golden Hour" and Halsey's Without Me" in the live finals. His finale performances included Harry Style's "Late Night Talking, and he brought the house down with Brandon Lake's "Gratitude."
The California native is married and the father of three children.