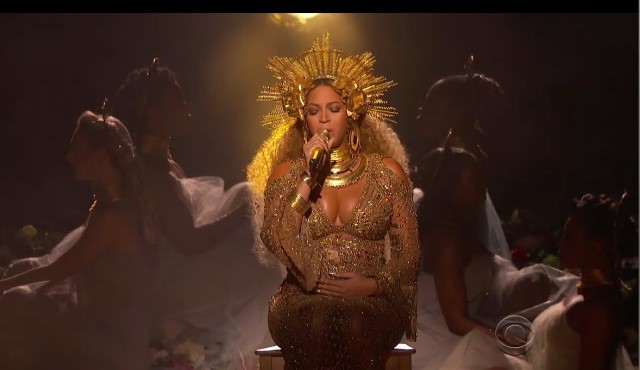 What could be more appropriate than Tina Knowles introducing her heavily pregnant daughter Beyonce on the 2017 Grammy Awards?
Queen Bey, whom the world knows is carrying twin babies, went full on earth mother, her pregnant belly on display. She is the goddess of fertility here, children and acolytes multiplying amid garlands of flowers.
Bey seemingly floats while sitting in a chair, larger than life. She performs "Love Drought" first, followed by "Sand Castles." Folks were wondering how she'd handle performing while heavily pregnant. She's freaking Beyonce! Who would even doubt she'd do it. Even Adele wanted to give the singer all of her awards…
As it was, after Adele swept the big categories, Beyonce was left with Contemporary R&B Album for Lemonade and Best Video for "Formation."
Watch Beyonce perform "Love Drought" and "Sand Castles" at the 2017 Grammy Awards right here.
Beyonce's full performance RT to save a life #GRAMMYs pic.twitter.com/0xtYLEC6xD

— S (@rivrslut) February 13, 2017