The 2017 Grammy Awards which broadcast live from the Staples Center in Los Angeles featured powerful performances.
2017 Grammy Awards Full Winners List
Click to check out performances from Carrie Underwood & Keith Urban, Adele, Lady Gaga & Metallica and Beyonce.
2017 Grammy Awards Live Blog and Recap (PHOTOS)
Check out even MORE performances below from Katy Perry, Anderson .Paak, Busta Rhymes & A Tribe Called Quest, Bruno Mars & The Time's Prince Tribute, Demi Lovato, Tori Kelly, Little Big Town and Andra Day's Bee Gees Tribute and a moving gospel/rap performance from Chance the Rapper and Kirk Franklin.
The night's most political performances came from Katy Perry and a tribute to A Tribe Called Quest's Phife Dawg.
Katy Perry who is performed her brand new single "Chained to the Rhythm" wearing a glittery "Resist" arm band.  Did an F bomb slip by the censors? "No hate!" Katy shouted in front of a US Constitution covered video screen. Click the Photo for Video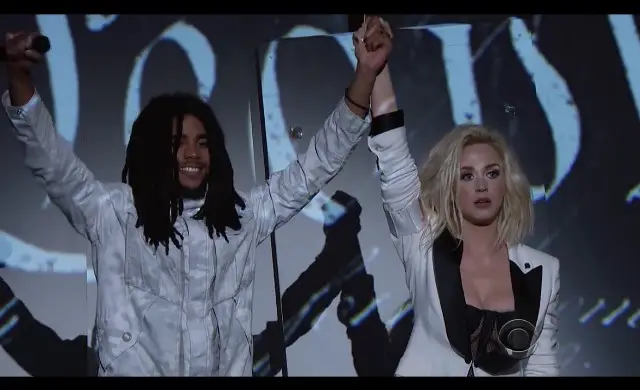 Anderson .Paak, Busta Rhymes and a Tribe Called Quest paid tribute to the late Phife Dawg. They launch into "Can I Kick It."  Busta Rhymes  thanks "President Agent Orange" for spreading evil. Or in other words…f*ck the Muslim Ban. It's the most nakedly political moment of the night. A group of immigrants from different parts of the world join the rappers on stage. FISTS RAISED. They end shouting RESIST RESIST RESIST. Click the Photo for Video
There were no shortage of artist tributes at the Grammys. Bruno Mars and The Time clad in purple threads sang a rousing "Let's Go Crazy." Bruno channeling  the late great Prince! Click the Photo for Video 
Andra Day, Tori Kelly, Demi Lovato and Little Big Town raised their voices in a Bee Gees tribute as brother Barry watched from the audience. Demi took the stage first to perform "Stayin' Alive." Next, Tori Kelly sang "Tragedy," electric guitar in hand. Little Big Town performed "How Deep is Your Love." And then Andra Day sang "Night Fever." The entire group finished with "Stayin' Alive."  Click the Photo for Video
Pentatonix also performed a tribute–a sweet little rendition of the Jackson 5 song "ABC," which was recently added to the Grammy Hall of Fame.  First, they gave a shout out to Al Jarreau who passed away on Sunday (Feb 12).  Click the Photo for Video
The last full performance of the evening was a powerful meld of rap and gospel from Chance the Rapper (Best New Artist, Rap Album winner) and gospel singer Kirk Franklin. Plus a full on gospel choir. What a way to end the show. Click the Photo for Video