The 59th Annual Grammy Awards live broadcast from the Staples Center in Los Angeles, Sunday, Feb. 12 (8:00-11:30 PM, live ET/5:00-8:30 PM, live PT; 6:00-9:30 PM, live MT) on the CBS Television Network. Award-winning host and performer James Corden is set to host Music's Biggest Night for the first time.
As always, we'll be live blogging the marathon, which includes a 3-4 hour pre-Grammy ceremony immediately preceding the prime time event. 
Click for a Full list of 2017 Grammy Winners
This year's presenters include  Camila Cabello,  The Chainsmokers,Laverne Cox,Jason Derulo,Celine Dion,DNCE,Halsey,Taraji P. Henson,Paris Jackson,Nick Jonas,Jennifer Lopez,Tim McGraw and Faith Hill,Katharine McPhee,Pentatonix,Thomas Rhett,Gina Rodriguez,Ryan Seacrest,Solange, and John Travolta.
Previously announced performers include Adele, Kelsea Ballerini, William Bell, Chance The Rapper, Gary Clark Jr., Daft Punk, Andra Day, Cynthia Erivo, Tori Kelly, Alicia Keys, Lady Gaga, John Legend, Little Big Town, Demi Lovato, Lukas Graham, Bruno Mars, Lady Gaga and Metallica, Maren Morris, Anderson .Paak, Katy Perry, Sturgill Simpson, A Tribe Called Quest, Carrie Underwood, Keith Urban, The Weeknd and Beyonce.
BTW, Kelly Clarkson WILL NOT be presenting tonight, as previously reported by CBS PR.
Congrats @Adele on Pop Solo Performance #grammys2017 ….and sorry fans, I'm recording and not in LA for Grammy's! Next year ?#newalbum2017

— Kelly Clarkson (@kelly_clarkson) February 12, 2017
Adele kicks off the night with a performance of her massive hit, "Hello." She's in fine vocal form. And a GODESS!
Host James Corden takes the stage next. OMG He's having a mechanical problem. Is this real? It's a bit. The hydraulic lift breaks and he tumbles down the stairs. And dances badly. He shoos the dancers off the stage. He's lost a shoe. He fake-chastises the crew. Then he launches into a Hamilton-like rap about the folks in the audience. FIRST TRUMP JOKE.
Jennifer Lopez takes the stage in a beautiful pink dress. She gives a pep talk for tough times. "There's no room for fear," she says. She hands out Best New Artist to Chance the Rapper! The music plays him off and he's all NOPE NOT LEAVING THE STAGE. He thanks the Lord Jesus Christ several times before finally taking leave.
Next it's Paris Jackson #NoDAPL she says. Michael Jackson's daughter is here to introduce a performance from The Weeknd. The Daft Punk dudes are alongside to perform "I Feel it Coming."
John Travolta is next. He's wearing bling. Oops. He can't read the prompter. Really. Too vain to bring your glasses? He reads off cards instead. Oh. He introduces Keith Urban and Carrie Underwood as the "most dynamic pair since Sandy and Danny." Alright then. The duo perform their new single "The Fighter." Nice job guys! Carrie is shimmering tonight.
Nick Jonas is here to hand out a statue for the Best Pop Duo or Group. And the winner is…"Stressed Out" by Twenty-One Pilots. Hm. They pull off their pants. Alrighty. They tell the story of their beginnings in Ohio. OH They were watching the Grammys in their underwear when they were nobodies…so.
After the break, Ed Sheeran takes the stage to perform one of his new singles, the rhythmic and sexy "Shape of You."
Katharine McPhee and the Chainsmokers hand out the Best Rock Song to Black Star by David Bowie. It's his third Grammy tonight. Oddly, unlike the pre-ceremony, nobody from his team was there to pick the award up.
Ryan Seacrest is the Grammy Academy honorary chairman and he announces the Music Educator Award Recipient. Then, he introduces Kelsea Ballerini and Lucas Graham to sing a mashup of that annoying song "7 Years" and the non-annoying "Peter Pan."  If we could just pull Graham off the stage…
Tina Knowles is onstage. She waxes poetic about her Grammy winning daughters Solange and Beyonce. She introduces the super preggo Bey. Oh boy, she's gone all earth mother. Her full belly on display. OK we're a couple of minutes into this and there's no singing–just Beyonce reciting her mommy poetry while looking beatific. She finally sings "Love Drought." The chair she's sitting in appears to be floating.  Next is "Sandcastles." 
Camila Cabello and Thomas Rhett hand out the Best Solo Country Performance Award to…Maren Morris for "My Church."
It's time for a bit! Because he's famous for Car Pool Karaoke, James is wearing a silly car prop. He grabs as many artists as possible to gather round the car. They sing "Sweet Caroline" Heh. You got two former American Idol judges–Keith Urban and Jlo in there. 
The always fun and entertaining Bruno Mars is next, singing "That's What I Like."  Oooh. Sexy. Bruno wandered into the audience to flirt with the "ladies."
Little Big Town take the stage with an acoustic version of "Teenage Dream." It's an introduction to Katy Perry who is performing her brand new single "Chained to the Rhythm."  She's wearing a glittery "Resist" arm band.  Did an F bomb slip by the censors? "No hate!" Katy shouts in front of a screen of the US Constitution.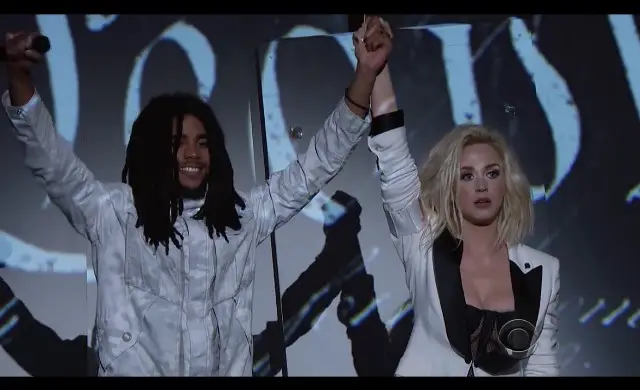 Now, James is joking about "Fake Tweets." Any negative tweets are fake! He insists. Heh. 
Blues musicians William Bell and Gary Clark Jr. perform "If it Wasn't for Bad Luck (I Wouldn't Have No Luck at All) next. TASTY!
Best Urban Contemporary Album is next. And the award goes to…Beyonce's Lemonade. No surprise there. She thanks the academy for recognizing a work that celebrates deep southern culture. She hopes for a culture that her children can see themselves reflected. 
Gina Rodriguez introduces Maren Morris and Alicia Keys. They perform the song "Once."  Plunging necklines for the win! A teeny bit pitchy, but the two blend beautifully.
James introduces a tribute to the late George Michael. It's Adele singing a new arrangement of "Fast Love." Hoo boy. She messes up. Swears and starts the song over. She apologizes to producer Ken Ehrlich. "I'm sorry for swearing, I'm sorry for staring again…I'm sorry, I can't mess this up for him." TEARS. She makes it through the second time around.
#GRAMMYs: @Adele starts her George Michael tribute over, says "I can't mess this up for him." https://t.co/g0DflCvEzK pic.twitter.com/ByvdZO7722

— Hollywood Reporter (@THR) February 13, 2017
Taraji P. Henson is next. She's on hand to hand out Rap Album of the Year. Fitting! Chance the Rapper takes the award. Uh oh. Kanye lost.
Laverne Cox introduces Lady Gaga and Metallica. Oh no. Metallica dude is having mic problems during their performance of "Moth to a Flame." Despite the tech issues,  Gaga is killing it here. She can really do it all. Gotta hand it to her. She's pulling off the metal. Eventually the mic problems are solved. She jumps into the crowd to body surf. She's hotter than the cheesy stage pyro!
Dwight Yoakam is next. He announces that Greg Kurstin won Producer of the Year earlier. He nods to the late Sharon Jones of the Dap Kings. Then, he introduces Sturgill Simpson with the Dap King horns.
DNCE are on stage to introduce the Bee Gees tribute: Andra Day, Tori Kelly, Demi Lovato and Little Big Town perform. Demi takes the stage first to perform "Stayin' Alive." Tori Kelly is next. She sings "Tragedy," electric guitar in hand. Little Big Town performs "How Deep is Your Love." And then Andra Day sings "Night Fever." The entire group sings "Stayin' Alive." 
Celine Dion reminisces about her late husband Rene, when she won Record of the Year 18 years ago for "My Heart Goes On." She hands out Song of the Year to…Adele and G. Kurstin for "Hello"! She apologizes for swearing earlier. As Greg tries to thank people…he's cut off. Boos from the audience!
Anderson .Paak, Busta Rhymes and a Tribe Called Quest are next to pay tribute to the late Phife Dawg. "Tonight we represent you!" They launch into "Can I Kick It."  They thank "President Agent Orange" for spreading evil. And basically f*ck the Muslim Ban. It's the most nakedly political moment yet. Ohh….A group of immigrants from different parts of the world join the rappers on stage. FISTS RAISED. They end shouting RESIST RESIST RESIST.
Next it's The Time performing "Jungle Love." Back to the 80s. And "The Bird." Next it's Bruno Mars and The Time in purple threads singing "Let's Go Crazy." AWESOME. Bruno channeling Prince. That was incredible. 
Pentatonix is next, with ABC, a tribute to the Jackson 5. The song was recently admitted to the Grammy Hall of Fame. But first, they shout out to Al Jarreau who passed away today. 
Loving @PTXofficial is easy as 1, 2, 3… #GRAMMYs pic.twitter.com/bSN3PEP6ML

— Sony Music Global (@SonyMusicGlobal) February 13, 2017
Next Chance the Rapper performs with a gospel choir. We're full on Praise God Gospel Rap right here. A powerful performance. 
James acts like he's introducing Kanye…but NOPE it's the Portnoy dude from the Academy. He introduces a woman who plays a bit of "America the Beautiful" on horn. "We will be one people from sea to shining sea." Then he launches into a thing about copyright protection, which he does pretty much every year.
He introduces the In Memoriam segment. John Legend sings the Beach Boys "God Only Knows" with Cynthia Erivo. Yeah. A lot of artists died this past year. 
Slain The Voice contestant Christina Grimmie was not mentioned. Her fans were not happy.
Thank you #teamgrimmie for always remembering our superstar! #CGForever #GrammyForGrimmie #GRAMMYs pic.twitter.com/U78y0BBwZY

— Christina Grimmie (@TheRealGrimmie) February 13, 2017
Tim McGraw and Faith Hill present the last two awards. Record of the Year goes to "Hello" by Adele. She lets Greg Kurstin speak first "You cut him off last time!" She shouts out to "Queen B" She says, "I adore you…will you be my mommy." Heh. Album of the year goes to Adele! She's crying now. Another shout out to Beyonce. It's like Adele feels a little guilty for sweeping. 
Tonight's categories:
Album Of The Year
25 — Adele – WINNER
Lemonade — Beyoncé
Purpose — Justin Bieber
Views — Drake
A Sailor's Guide To Earth — Sturgill Simpson
Record Of The Year
"Hello" — Adele – WINNER
"Formation" — Beyoncé
"7 Years" — Lukas Graham
"Work" — Rihanna Featuring Drake
"Stressed Out" — Twenty One Pilots
Song Of The Year
"Formation" — Khalif Brown, Asheton Hogan, Beyoncé Knowles & Michael L. Williams II, songwriters (Beyoncé)
"Hello" — Adele Adkins & Greg Kurstin, songwriters (Adele) – WINNER
"I Took A Pill In Ibiza" — Mike Posner, songwriter (Mike Posner)
"Love Yourself" — Justin Bieber, Benjamin Levin & Ed Sheeran, songwriters (Justin Bieber)
"7 Years" — Lukas Forchhammer, Stefan Forrest, Morten Pilegaard & Morten Ristorp, songwriters (Lukas Graham)
Best New Artist
Kelsea Ballerini
The Chainsmokers
Chance The Rapper – WINNER
Maren Morris
Anderson .Paak
Best Pop Duo/Group Performance
Closer by The Chainsmokers featuring Halsey
7 Years by Lukas Graham
Work by Rihanna featuring Drake
Cheap Thrills by Sia featuring Sean Paul
Stressed Out by Twenty One Pilots – WINNER
Best Rock Song
Blackstar by David Bowie, songwriter (David Bowie) – WINNER
Burn the Witch by Radiohead songwriters (Radiohead)
Hardwired by James Hetfield & Lars Ulrich, songwriters (Metallica)
Heathens by Tyler Joseph, songwriter (Twenty One Pilots)
My Name is Human by Rich Meyer, Ryan Meyer & Johnny Stevens, songwriters (Highly Suspect)
Best Urban Contemporary Album
Ology by Gallant
We Are King by King
Malibu by Anderson .Paak
Anti by Rihanna
Lemonade by Beyonce – WINNER
Best Rap Album
Coloring Book by Chance the Rapper – WINNER
And the Anonymous Nobody by De La Soul
Major Key by DJ Khaled
Views by Drake
Blank Face LP by ScHoolboy Q
The Life of Pablo by Kanye West
Best Country Solo Performance
Love Can Go to Hell by Brandy Clark
Vice by Miranda Lambert
My Church by Maren Morris – WINNER
Church Bells by Carrie Underwood
Blue Ain't Your Color by Keith Urban