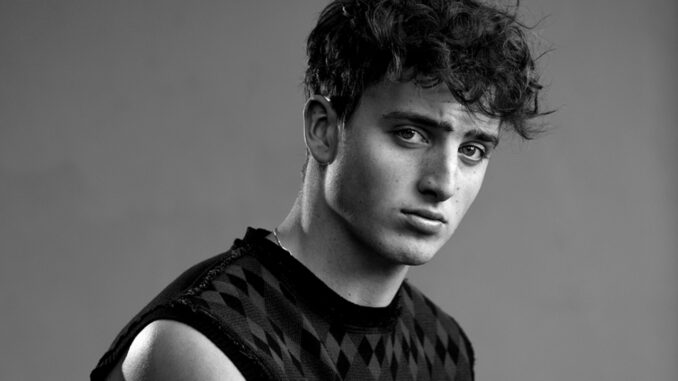 Breakout pop and Tik Tok star Benson Boone releases the tender new single "Better Alone," out now via Night Street Records/Warner Records, ahead of his debut EP Walk Me Home….
The former American Idol contestant kicks off "Better Alone" by recounting moments from a doomed relationship. "My heart drops dead every time that I see her, run upstairs so I can get the picture clearer," he continues, with his heart on his sleeve, "Maybe one day, suddenly, you will look up and notice me right there — but I'm too scared, maybe I'm better alone."
Regarding the track's heartfelt tone, Benson explains it's about the healing power of solitude. "I wrote this song about people who have relationship struggles, we all experience it from time to time," he says. "Sometimes, when things aren't working out it truly is better to be alone. Loving someone is so important but being independent and loving yourself is equally important."
Watch the accompanying Sophie Muller (Rihanna, No Doubt, Maroon 5) directed-video below. Walk Me Home… is out Friday, July 29 and can be pre-saved now.
"Better Alone follows the emotional tribute to his grandmother, "In The Stars," "Room for 2" and his international hit debut single "Ghost Town." Inspired by a friend's toxic relationship, "Ghost Town" was an instant streaming hit. The soaring single charted in countries as widespread as Australia, Canada, Denmark, the UK, Sweden, and Norway, where it reached #1. 
In the US, it became Benson's first entry on the Billboard Hot 100 and entered Top 25 at both Top 40 and Hot AC radio. The song recently achieved RIAA Gold certification (500K units). 
Benson has garnered nearly 500M global streams to date, and over 1 billion Tik Tok views. 
The singer/songwriter—who was signed and mentored by Imagine Dragons' Dan Reynolds to Night Street Records in partnership with Warner Records—has previously delivered live renditions of "Ghost Town" on The Ellen DeGeneres Show, The Kelly Clarkson Show, and Late Night with Seth Meyers.
Why Benson quit American Idol: "I didn't want to show the world someone I'm not."
Benson auditioned for American Idol in 2021. Not only did he make it to Hollywood, but rumor had it he made the Top 24. "Social media is the biggest opportunity to get people to know you personally," he says. "Hopefully, they will not only like my music, but they'll understand and like me as a person, so I'm more than just a song to them." That desire to connect with fans authentically is why he quit American Idol, the official press release states. "It was a very hard choice," Benson admits. "I didn't really know who I wanted to be as an artist yet, and I didn't want to show the world someone I'm not."