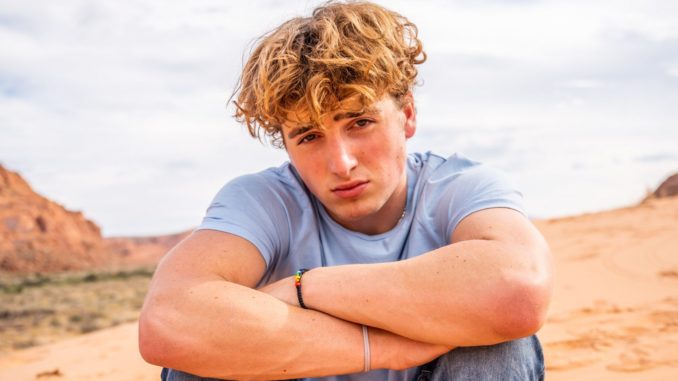 American Idol dropout, Benson Boone releases "Room For 2" his second single for Warner Brothers/Night Street records.
Ahead of the song's release this week, Benon wrote excitedly on social media, "I CAN'T TELL YOU HOW EXCITED I AM FOR ROOM FOR2!! I've spent a lot of time perfecting this one and it makes me so happy that it's not a sad song. This….ladies and gentlemen is the first BENSON BOONE LOVE SONG."
In the song, Benson promises he'll be there for his love, unconditionally, no matter what. "I'll be right there with you/every step of the way," the lyrics go. "When the world don't feel like home/I'm a place to call your own/You could stay forever through/When you're barely holding on/I'll be anything you want/Open up my heart for you/Baby I got room for 2."
In the video, Benson jumps out of the trunk of a vintage car, which chases him around a beach. Eventually, he accompanies himself on electric piano. Shots of him falling through the air are cut with more car chasing. Eventually, he blows his tormentor up while sitting in a four post bed. But then the car is back…and he opens the trunk… No, the thing in the trunk is not scary!
"LETS GET THIS PARTY STARTED BC ROOM FOR 2 THAT I WROTE WITH @jorgenodegard and @plested IS OUT NOW!!!!!!!!!," Benson wrote after the song's release. "GO STREAM IT EVERYWHERE ON LOUD SPEAKERS AND WAKE UR NEIGHBORS AND GET NOISE VIOLATIONS AND COMPLAINTS BC ITS FINALLY HERE!!!!! I love u cuties so much."
"Room for 2" follows Benson's viral hit "Ghost Town"
The new single comes on the heels of his debut viral hit, "Ghost Town," one of the very first songs the Tik Tok star ever wrote. "I was in an Uber on the way to my first recording session in Los Angeles," Benson recalls. After skimming through texts from his unlucky-in-love friend. "The melody and lyrics just popped into my head."
Watch Benson Boone Perform "Ghost Town" on Ellen (Video)
The song was his first single for Imagine Dragons' frontman, Dan Reynolds record label, Night Street. "I knew Benson was special when I met him, he just draws you in," Reynolds said of the young artist.
In 2021, Benson auditioned for American Idol season 19, and made it all the way to the Top 24. However, he dropped out of the show before the round started. His desire to connect with fans authentically is why he stepped away from the ABC competition. desire to connect with fans authentically is why he stepped away from the show. "It was a very hard choice," Benson admitted. "I didn't really know who I wanted to be as an artist yet, and I didn't want to show the world someone I'm not."
Watch Benson Boone's "Room for 2" Music Video