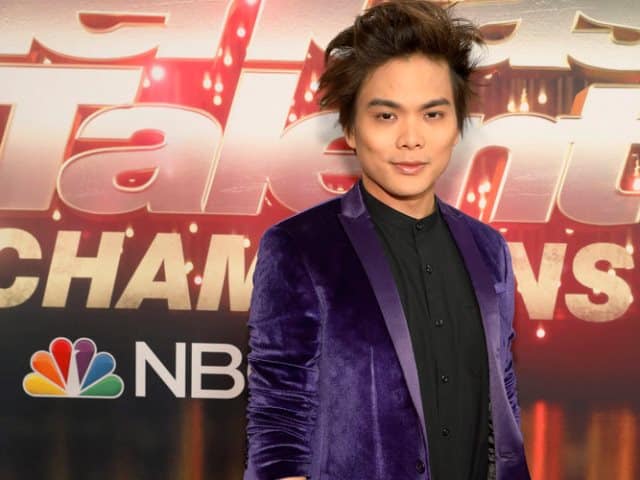 Tonight, America's Got Talent: The Champions comes to an end as the WINNER is revealed. Along with the results, contestants and fan-favorite acts will return to the stage to perform.
Also, it's the end of an era, as Mel B. and Heidi Klum appear on the America's Got Talent panel for the last time. Come summer, Simon Cowell and Howie Mandel will be joined on the panel by Gabrielle Union and Julianne Hough. Terry Crews will continue as host as we say goodbye to Tyra Banks.
America's Got Talent: The Champions Predictions and Polls
Twelve acts performed last week, but only ONE can win.
AGAIN: The results have been in for months. DO NOT POST SPOILERS IN COMMENTS!
It's a results show. So you know what that means. First we have to endure a long-azz recap of last week's show. And that recap took over 10 minutes. WHOO BOY TIME WASTERS. FYI: NBC does this thing where the first break is only 60 seconds long…
The acts are performing "duets" tonight. First a bit with comedian Preacher Lawson trying to find an act willing to partner with him. First Deadly Games (He can't throw a knife). Darci Lynne makes fun of his literal "sock puppet." Paul Potts looks at him like he has 3 heads. The singers want nothing to do with him. And forget magic. Even Terry turns him down. So that's Preacher's bit.
Next, it's last summer's kid's choir, Voices of Hope and musician AGT: Champions contestant Tokio Myers performing together. Simon says he was "drifting back down from heaven after that performance." Simon promises the show will crown "the best of the best of the best of the best."
Can you name all 5 AGT hosts? They are Regis Philbin, Jerry Springer, Nick Cannon Tyra Banks and Terry Cruz… After, there is a video retrospective of Terry on the show. ZZzzzz. C'mon show. We want some results!
Now, it's The Clairvoyants who first appeared on America's Got Talent in 2016. This performance was previewed earlier. A very entertaining duo indeed. 
Now it's time for some super cross promotion. Toothless a character from the kid's movie How to Train Your Dragon: The Hidden World COMING TO A THEATER NEAR YOU sits on the judges panel. He loves his big red buzzer.
Got Talent is in the Guiness Book of World Records as the MOST SUCCESSFUL REALITY SHOW ever. Or something. Simon soaks in the applause. Next, it's Simon chatting about the beginnings of the show. The was so happy to learn they would be working on the FAVORITE show, America's Got Talent. Simon acts as if becoming a judge was just a RANDOM THING rather than the obvious next step after his American jobs (X Factor) fizzling out…
AGT season 10 runner up Jackie Evancho is next. She performs "Somewhere" from West Side Story. The rendition is from her next album, The Debut, coming out soon. That was the shortest performance ever. And also pretty ordinary. Jackie was the youngest AGT contestant to go platinum. She was 10 on the show. 
https://www.youtube.com/watch?v=BOXdIBvBfcU
Now, it's a montage of joke acts, including the fat Japanese guys who make noise with their stomachs. No rules! Declares Simon. Ohh. It's the piano playing chicken. And the dude dressed in black wearing a pumpkin head. 
And now the Las Vegas act, Cirque Du Soleil perform. They are usually pretty entertaining! 
https://www.youtube.com/watch?v=Rwi-4TVnIlI
And next, it's a montage of danger/gross out acts. I won't be watching half of this clip. YUCK. The danger acts are fine. But the people who swallow swords, or do things with bodily fluids. BLECH BLECH BLECH.
Now, a TRIO of acts come together. Brian Justin Crum and Christina Ramos sing Queen's "The Show Must Go On" while Deadly Games do their deadly thing. IT'S SUPER DRAMATIC! Actually, putting Brian and Christina together is kind of genius. 
Next, it's some sort of emoji game where the judges guess the AGT: Champions contestant according to emojis or something. Hopefully this is a prelude to results, because I'm getting kind of antsy here people.
Oh well, back from break, no results. However it's magician Shin Lim joined by Brooklyn Nine Nine's Melissa Fumero doing some SUPER AMAZING card magic. I won't complain.
Next Darci Lynne is joined by Rowlf the Dog–one of the earliest Muppet characters. Before there was Kermit. Before there was Elmo, there was Rowlf the Dog. We're talking appearances on variety shows in the 1960s people.. Darci brings her old lady puppet Edna who is lovesick over Simon. That's the cue for Edna and Rowlf to sing "I Can't Smile Without You" by Barry Manilow. They get the whole audience to sing and clap along. Cute. "He makes my heart flutter," says Edna after Simon gives her a peck. 
https://www.youtube.com/watch?v=wME22xBFvnQ
Terry is PROMISING results after the break.
More clips Grr. We see the contestants watch their very first auditions ever. Each act talks about how much they want to win. Ha ha. Susan Boyle gets cringy watching her talk to the judges before her first ever performance. 
AND FINALLY. Terry is on stage with the AGT: Champions Top 12. The winner will be declared BEST IN THE WORLD. The fans from the 50 states of America WATCHED and Listened!
RESULTS:
Three acts step forward: Brian Justin Crum, Kechi and Christina Ramos. The act taking the FIRST spot in the Top 5 is…Cristina Ramos. SERIOUSLY? I don't get it. Brian and Kechi are eliminated. Darci Lynne, Susan Boyle and Jon Dorenbos are called to the stage. The act taking the next spot in the Top 5 is…Darci Lynne. Susan and Jon are ELIMINATED. Welp. My early predictions are trash. I thought Susan Boyle could win and she didn't even make the Top 5. Paul Potts, Angelica Hale and Preacher Lawson are next.  The next act going into the Top 5 is….COMMERCIAL WTF. Back. Preacher Lawson advances to the Top 5! Paul and Angelica are eliminated. 3 acts remain: Deadly Games, Shin Lim and Kseniya Simonova. The first act going into the Top 5 is…Sand Lady! Next, it's Shin Lim. Deadly Games is eliminated.
Next, Terry announces the Top 5 in order one by one. Preacher Lawson in the 5 spot. Next, it's Cristina Ramos at 4.  Kseniya Simonova takes 3rd place. Darci Lynn Farmer AGT 2017 winner and Shin Lim AGT 2018 winner remain. Before the big announcement, it's time for ONE MORE commercial break.
And finally–who have the voters chosen as the WINNER? Is it Darci or Shin? The panel of fans from 50 states has voted. THE WINNER OF America's Got Talent: Champions BEST IN THE WORLD IS….SHIN LIM!!!! He is awarded a HUGE trophy.  No really, that's it–bragging rights and a huge trophy. AGT champs on the summer show win a million dollars.
Next time, Simon should figure out a way to make AGT: Champions at least partially live. There was a week between the final performances and the results announcement. Couldn't AGT pull a Survivor–have the 50 states vote for the winner, but announce the winner on a LIVE finale?
Because, as I mentioned before, although I did not seek out spoilers, it was obvious–to me anyway–from polling results that Shin Lim PROBABLY won, I did say he had a shot (while predicting Susan Boyle the winner OOF). Shin nabbing the title wasn't a complete shock. It makes sense–he's the current AGT winner. Also, he delivers a terrific act and he's super-likable. 
Additional thought: Over half the Top 12 were singers/singing adjacent acts while only TWO singing acts (yes, I'm counting Darci. She sings!) made the Top 5…
Here's how the Top 5 ranked:
Top 5
5. Preacher Lawson
4. Cristina Ramos
3. Kseniya Simonova (Sand Lady)
2. Darci Lynne
1. Shin Lim – WINNER!!!
ELIMINATED:
Brian Justin Crum
Kechi
Susan Boyle
Jon Dorenbos
Paul Potts
Angelica Hale
Deadly Games
Preacher Lawson
Cristina Ramos
Kseniya Simonova (Sand Lady)
Darci Lynne