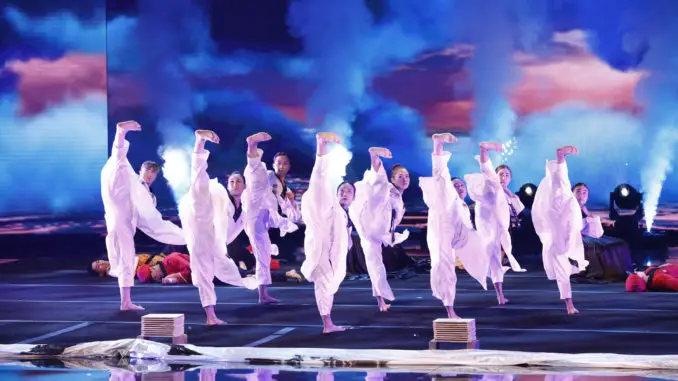 The America's Got Talent 2021 Live Shows continued at the Dolby Theater in Los Angeles with the FINAL set of 12 acts of the Top 36 on Tuesday (Aug 24). The acts performed live for America's Got Talent judges Simon Cowell, Howie Mandel, Heidi Klum and Sofia Vergara and host Terry Crews.
Plus, America's Wildcard will be revealed.
The acts also performed for America's Vote and a chance to win a $1 million prize. Additionally, the winner will perform at the AGT residency at the Luxor in Las Vegas this fall. Only 7 acts will advance by the end of tomorrow night's (Aug 18) LIVE RESULTS.
America's Got Talent 2021: Quarterfinal 3 Contestants Ranked!
America's Got Talent 2021: VOTE in the Wildcard POLL
TO VOTE: Go to NBC.com/AGTVote and/or via the "AGT" App (available through Google Play and on the App Store). Limit is 10 votes per act per email per each voting method. How to Vote Voting Faqs
America's Got Talent 2021 Quarterfinals 3 POLLS: VOTE for Your Favs
And the winner of America's Wildcard is….Storm Large! Hooray. She deserved it. 
Unicircle Flow – Unicycle group
The group is from Japan. They eat, breath and sleep Unicycle. Their thing is to combine it with dance. Only four members could come to the US to audition. Tonight, it will be 12. Oh no. One of the younger members fell off her bike. Otherwise it's a graceful, flowing performance. Not that exciting though. Still, the judges are on their feet. Howie mentions the mistakes, but he still loved the choreography and the routine. Heidi said they were so graceful, she forgot about the unicycles. Sofia calls it "memorizing" and "unique." Simon loves how unique what they do is. He says the mistake actually made the performance more exciting. "You've given yourselves a real shot."
ANICA – Rock singer
She's a rock singer by night, a realtor by day. Her package includes a fake bit of a client asking if she's the singer from television. She belts out Bishop Briggs "River." She can sing, for sure, but she's not unique, as she channels Janis Joplin. Compared to Brooke Simpson and Storm Large, who will sing later, she's closer to karaoke. Simon NOT on his feet like the rest of the judges! Heidi calls her "one of my favorites." She loves the Janis Joplin vibes. Howie loves her hard core style. Sophia calls her a rock star, and likes this performance better than her audition. Simon agrees that she improved, but calls out her fake video package. Simon still isn't convinced. Anica tears up talking about how much she wants the dream. 
Lea Kyle – Quick Change Magic – Heidi's Golden Buzzer
Heidi is rooting for her fav. She's sewing all of her own clothes! Lea promises to have a "surprise" up her "sleeve!" Get it? Ha. Her quick change is SO quick, it's like something out of Bewitched. All that's missing is the twitching nose. The changes are that fast! Wow. Heidi is on her feet. "I loved it…It's vibrant, it's colorful, perfect for Vegas! You made me proud." Sofia is impressed, especially with the outfits. Simon thought her audition was better. "It wasn't amazing," he says. He's wrong. Howie calls her amazing and jokes that Heidi had three hours to get ready, and she didn't even put pants on."
The Curtis Family C-Notes – Family band
This San Francisco family band hearkens back to the funky 70's They would love to have their own Curtis Family Vegas act. They sing the classic 70's hit "Love Train." Mom is a pretty good singer! Plus the entire ensemble are impressive musicians. They change up the arrangement, but still keep the song's retro flavor. However, the harmonies sound a bit off. Ohh. Howie looks GRUMPY. He loves the idea, but he calls it a 70s cover band found at a wedding. The crowd boos. Simon loves the family, he loved the first audition. He suggests that mom and dad not pick the next songs. "It was a bit wedding band." He thinks the next song should be current. Heidi was on the love train with them. Sofia wonders where the show could go after AGT. She's not sure it's a Vegas show. Welp BYE CURTIS FAMILY.
Keith Apicary – Dancer (Joke act) 
He currently lives at home with his parents. SURE HE DOES. He's a comic playing a gamer living in his mother's basement. It's not that funny, though. He starts with a guillotine joke. Making fun of AGT danger acts, I suppose. Next, is the stupid dancing. Simon buzzes him pretty fast. Squiggling sharks dance on the screen behind him. Balloons and so much confetti.  I don't see the point. Howie thinks he's hilarious. "You are lovable…you put a smile on America's face." Heidi calls it "dynamite." Sofia calls the whole thing a mess, yet she thinks he's amazing. Simon says, "I don't know what's happening tonight." He's wrapped himself up in confetti, "This was terrible."
Michael Winslow – Already Famous Voice Artist
He starred in the Police Academy movies. Yet, here he is on America's Got Talent. Tonight, he recreates noises heard on Hollywood Boulevard, including street bikes, crosswalk signs and more. Hm. He seems to be a little off his game tonight? These sound effects aren't all that exciting. Can a guy who imitates ordinary sounds turn it into a stage act? Maybe with some clever writing. This routine feels aimless. Simon looks bored. Sofia calls him a "unique human being" and "entertaining." Simon thinks he didn't do better than his audition. He doesn't think anybody so far has done better this time. Michael says, "My job is to help everyone forget about the rent." Howie admits he's known Michael for years. He thinks he deserves to go through, and asks fans to vote for him.
Brooke Simpson – Singer
She previously competed on The Voice and finished in the Top 4. In her video package, she continues to lean into her indigenous  roots in North Carolina. Her tribe supports her. She doesn't mention AGAIN. Heh. Brooke looks fantastic, in a lavender outfit. Really pretty! She sings Billie Eilish's "Lost Cause" and sounds fantastic. She brings an attitude! She really gives it her all on the second half. Sofia thought she sang even better than the first time. She mentions there are tons of good singers this season, but nevertheless, Brooke could win.  Simon says he doesn't agree….and then declares I'M KIDDING. "I really felt your hunger. You come into the Dolby theater giving yourself a real shot. It was a great performance!" Heidi loves the way Brooke honors her tribe. Howie begs America to vote for Brooke. She's literally in tears. Aw Brooke! 
Rialcris – Hand balancers 
The three brothers are from Columbia. Mom divorced their father and they all "ran away to the circus." They call  her a hero. These dudes are strong AF. And the balancing is unbelievable. They'd be a GREAT Vegas act. Fellow Colombian, Sofia, looks totally entranced! "It kept getting better and better and better…and then the shirt came off!" Simon says, "It looks like we have a competition now. This is a Vegas act," he says. Heidi says too many amazing moments. "And then there are the muscles." Howie calls their tricks "unique." It's true. Hand balancing can be ho hum. Their tricks are difficult AND creative. 
ChapKidz – Kid Dancers
The group is from San Francisco. The older Chap group auditioned for season 10. The group is SO BIG, I find it distracting. So much going on at once. The judges are up on their feet! Heidi compliments their energy and precision. Sofia calls it beautiful and unbelievable. She'd really like a dancer to win. Simon calls them "sensational." He calls them the best act so far tonight.
Storm Large – Singer – Wildcard Winner
We see Simon calling Storm to give her the good news that she's won the Wildcard spot. She's been singing for 20 years. She's come close to breaking in, but not quite. Storm competing on Rockstar: Supernova in the aughts could be considered a close shot. She performs a ballady version of "Take on Me" by A-HA. She's really good at flipping classic songs. It's her jam. Her voice is beautiful. It's bizarre that she had to fight for a wildcard spot. She's so good. This is her best performance yet. Heidi says, "You are a force of nature. I'm so happy people voted for you." Sofia calls her a "perfect package." But Sofia liked her first song better. The audience boos. Simon really likes her, but he agrees with Sofia. "Everything was too soft tonight." Howie says, "I don't know that was the best song choice." OUUUUCHHHH. She looks so disappointed.
Klek Entos – Scary Magician 
Ehhhh. He reminds me of that scary chick, The Sacred Riana, from Season 13. The show pushed her so hard, yet America rejected her. This feels so contrived. Klek sticks his hand in  fire. Of course his hand is covered in flame retardant. Duh. He tells a story of a hotel that burned to the ground and killed a bunch of people. And somebody set the fire. Or something. This is like bad haunted house schtick. Simon buzzed it because it took to long to get to the point. "It wasn't a great ending." Howie disagrees. "You're like a horror film mixed with Darci Lynne." Heidi thinks people enjoy being scared. Sofia felt the beginning was bumpy, but it got better. 
World Taekwondo Demonstration Team – Martial Arts – Terry's Golden Buzzer
The group has 24 members from South Korea and America. This group will not only advance, but will make it to the finals and THEY COULD WIN. At the end they hold up a sign. "Peace is more precious than triumph." They missed the last super high kick. But still very impressive. "We'll be seeing you in Vegas!" says Simon. "You are going to make America go crazy for you," says Sofia. Heidi calls it "controlled chaos." Howie compares them to a Marvel movie. He calls it the "best act of the night."