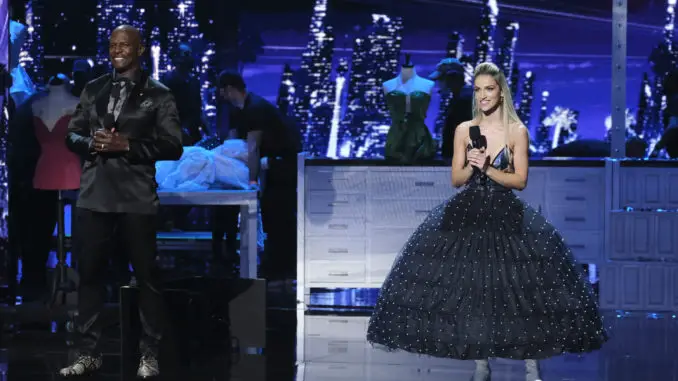 In the final week of the Quarterfinals, America's Got Talent finally came alive (Read recap HERE). I actually voted for the first time this season. Hopefully, Storm Large and Lea Kyle make it though. I threw Rialcris the creative hand balancing act, Realcris a few votes too. Of course, I voted for The Voice alum Brooke Simpson.
Speaking of which, Brooke Simpson won't win it all, but she has a very good chance to compete in the finale. Who COULD actually take it all? Terry's Golden Buzzer, World Taekwondo Demonstration Team. 
The judges were too hard on Lea Kyle and Storm Large. While I think Lea will probably advance, Storm will either be eliminated, or wind up in danger. Fighting her way into the semifinals would be a hell of a contestant arc. 
Klek Entos, ANICA, Curtis Family C-Notes are probably going home. Michael Winslow is probably leaving the competition as well. There's something sad about a washed up former famous person competing on a TV talent show. In any case, hopefully it will boost his career. His sound effects are incredible, but he needs to work on his storytelling.
On Wednesday (Aug 25), 7 acts will move on to the semi-finals. Five will go home. America will have the chance to save an act on the bubble via the Instant Save. Plus, performances from Season 13 winner & America's Got Talent: The Champions winner magician Shin Lim with season 5 violinist Lindsey Stirling. It sounds like a great combo!
Vote in the polls, and I'll post the results before tomorrow's results show. 
Wildcard Poll Results
By the way, here are the results of the Wildcard poll: Which Wildcard SHOULD advance: Storm Large 47.86%, Matt Mauser 17.95%, Patrick Kun 17.09%, Dylan Zangwill 12.82%, Mike Goodwin 4.27%. Which Wildcard WILL advance? Matt Mauser 40.63%, Storm Large 34.38%, Patrick Kun 13.54%, Dylan Zangwill 9.38%, Mike Goodwin 2.07%. I thought backstory would win over talent. I wish Matt and his family well, but I'm glad it didn't.
America's Got Talent Quarterfinals 3 POLLS – VOTE For Your Favorites
Favorite Performance
Which FIVE acts SHOULD Go Home (Choose 5)
Which FIVE acts WILL Go Home (Choose 5)