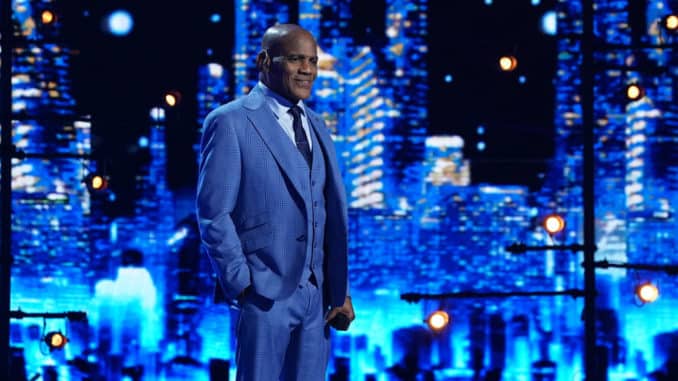 America's Got Talent Live Shows begin tonight. Due to the COVID-12 pandemic, acts will perform on the Universal studios lot. But hold the line! Simon Cowell broke his back over the weekend, and is recovering in the hospital. But fear not. American Idol OG winner and The Voice coach Kelly Clarkson is sitting in for him. She'll take a seat next to Howie Mandel, Sofia Vergara and Heidi Klum. Hosted by Terry Crews.
Voting begins TONIGHT. Here's how:
America's Got Talent 2020: How to Vote for Your Favorite Acts
How the show will proceed amid COVID-19 regulations. Keeping everyone safe is key!
America's Got Talent 2020 Preview: How Will the Live Shows Work?
Performing tonight: Daredevils Bello & Annaliese Nock, Singer Archie Williams; sword swallower Brett Loudermilk; sister singing duo Double Dragon; Ukulele player, Feng E, contortionist dancer FrenchieBabyy; comedian Michael Yo; pig act Pork Chop Revue; young singer and Sofia's Golden Buzzer Roberta Battaglia; singer Shaquira McGrath; kid ballroom dancers Simon & Maria.  Only FIVE will survive after tomorrow. 
The show kicks off inside Universal studios with Terry and the judges. The walls are COVERED with a virtual audience, clapping and whooping. So, while the studio may be empty, it's not silent.  Terry explains that acts will perform all over the Universal lots and around the world. 
Terry sends best wishes to poor Simon, before introducing KELLY CLARKSON sitting in for Mr. bike disaster. "I have waited years for this," jokes Kelly. She hopes he feels better. 
Pork Chop Review – Pig Act – Ha I LOVE THIS ACT. The pigs are SO DANG CUTE. Apparently the little oinkers have become "divas." Despite COVID protocols, the crew shot professional video packages. The pigs are outside on the Western lot. "I'm Here for the Party" blares on the soundtrack. The last little piggie takes his time making its way back to its stool. Howie calls it a "very lethargic dog act." Heidi misses the audience booing. She loves the pigs. Sofia also loved it. "I could not love it." says Sofia, a little mixed up on her English. Kelly liked that the pigs didn't always do what they ware supposed to do. After a commercial break, the acts join Terry on stage for the critiques. 
Feng-E – Ukulele master – His first love was Lego. But his fingers weren't flexible. So he learned Ukulele, which he didn't love at first. His dad inspired him to continue. Due to travel restrictions, Feng is performing on an elaborate stage in Taiwan. His fingers move fast as he segues into a rendition of a rock classic, "Smoke on the Water," followed by "7 National Army." Feng literally plays that electric ukulele like a rock musician. THOSE FINGERS ARE FLYING. He even ends with some feedback. Howie is on his feet. He calls Feng "Hendrix of ukulele." Heidi calls it amazing. She loves his vibe. "You look like a star up there…I hate the ukulele, but you make it sound unbelievable." Kelly calls him insanely gifted. "You could control an entire arena."
Shaquira McGrath – Singer – Shaquira explains that she's wanted to be a singer for as long as she remembers, but she's been her own worst enemy. She's allowed her insecurities to get in the way. But she's finally ready to show her stuff. OH. First act to perform in the studio with the judges. Taking Heidi's advice from the Judge Cuts, she's back to singing country music, "What Hurts the Most" by Rascal Flatts. Actually, it's smart picking an unexpected genre. It sets herself apart from the other big voiced singers on the show. The judges give her a standing ovation. Sofia calls it "breathtaking…you put your soul in every song you sing." Kelly loves the song, and mentions it's a hard one to sing. "Overall you have such a powerful voice." She mentions that it wasn't perfect, but doesn't think it matters. Howie still prefers her first performance. Heidi disagrees. "You're voice is so big, but I feel this vulnerability inside of you." Shaquira gushes "Kelly Clarkson is talking to me! I feel good!"
Simon & Maria – Kid ballroom dancers – In their video package, the young dancers go on a tour of the closed Universal Studios. That's before they perform in the park's "Mel's Diner" from Happy Days. The location is super fun, and almost makes me forget that Simon, in particular, is a mediocre dancer. It's dark, which proves these location performances are taped ahead–It's only 5:30 in Los Angeles. Nevertheless, there is a commercial break after the performance to make it seem like the acts need time to dash on to stage.  Kelly says, "I thought that was amazing!" She thinks it's cool that they had the opportunity to use the lot. Howie agrees, "You're doing exactly what needs to be done." He thinks the duo have improved each time. Heidi calls them cute and talented. "You guys sparkle." Sofia gushes, "My favorite Colombians…the third time is even better than the first time."
FrenchieBabyy – Contortionist/Dancer – In his package, he talks about how his super religious parents didn't like his dancing. He lost contact with his whole family. But now, they are beginning to connect. He chats with them on Zoom. Aw. Heartwarming. But the dancing. Do. Not. Like. the bone breaking dance moves. So hard to look at. Heidi acknowledges that it's hard to watch but "you can't look away…super cool." Sofia calls it "Unbelievable…it was amazing." Kelly has "never in my life" seen anything like that. She liked the song selections. Howie loved the family coming together, and thinks he'll be one of the five going through.
Bello and Annaliese Nock – Uh oh. Something went wrong this week. Don't their acts always have problems? The father/daughter duo plotted to perform on the "wheel of death" with no safety measures. "One wrong move could be devastating." And indeed, Bello injured himself in rehearsal. He can't perform. He and Simon in the same boat. His son Pete will step in. But the trick is different. Probably not as dangerous. The two swing around on a big seesaw type thing. The judges are outside to observe. But not Kelly, because she wasn't available, or something. "portions pre-recorded" a sign says. Hm. While brother jumps off, sister jump ropes on the contraption. The final and best bit involves a blindfold and FIRE. Heidi says, "It's always spectacular." Sofia can't believe Bello can watch his kids do dangerous stuff. Howie jokes that somebody needed to call child services.
Roberta Battaglia – Kid singer – She's Sofia's Golden Buzzer. In her video package, Roberta reminds her parents that she's only 11. Very self aware kid. This time, she sings Lauren Daigle's "You Say." The verses are a little low for her–she's having trouble staying on pitch there. Sofia, of course, is full of praise. "I think the world is going to open up for you." Kelly says, "You are incredible." Roberta freaks. It's fun to watch the singers wig out over Queen Kelly compliments. Howie has kind words for his fellow Toronto native. He thinks she could win. Heidi has "so much respect" for her. I don't know if she'll win, but she's definitely moving on to the semi-finals.
Michael Yo – Comedian – He recovered from Covid-19. And could have given the crew the virus to be honest, because he got sick right after his audition. Michael is tearful describing the terrifying experience. "I fought hard," he says, for his kids. He and his wife just had a baby. So baby jokes and women can do things men can't. "Men are useless in the delivery room." A bit contrived. He was funnier the first time. Kelly loves comedy, she says "I've known you for years." Oh. Interesting. She used to work at comedy clubs, before Idol. Howie says, "Comedy and tragedy go together, you delivered." Heidi calls him a lot of fun." She compares him to a smiley emoji. Sofia thinks this time was better than the last time.
Double Dragon – Singing sister duo – The video package stars the boyfriend of one of the sisters, which the two drive crazy. It's like a sitcom! The two sing "Bang Bang" on the Western stage dressed in sparkly cowboy outfits. This is better than their audition. They do the rap parts, which is kind of impressive. They slip into Spanish. There's a lot going on here. There is even pyro, as they move to a Spanish language song. The big crazy backdrop definitely enhanced whatever was going on out there. Howie loves their personalities, really more than their singing. Heidi wants to be their triplet." Sofia says, "The only one who can be their triplet it me!" She adds, "You deserve a reality show at least." Kelly loved them singing in Spanish. (Voice fans aren't surprised!)
Brett Loudermilk – Danger act – I usually hate icky sword swallowers and danger acts, but Brett is so humorous, I can deal. Currently, Brett's video package features him in Las Vegas waiting for the pandemic to end. Heidi helps this time. He starts off with a deck of cards. Oh no. Sofia joins him on stage. She was the perfect foil last time, refusing to pull the swords out of his throat. Sofia is to aim a crossbow at Brett's mouth. "Why me?" she asks. The act is a little confusing, but the result is pretty wild. Sofia shoots the bow, and it seems to misfire. Brett grabs the bow and sticks it down his own throat…to pull out a card Heidi singed! Super clever way to use the judges, but also keep 6 feet apart. I'm voting for him tonight. Howie thought this time was even greater than last. Kelly is all freaked out. "I don't understand how that happened." She wants to see a full show of him.
Archie Williams – Singer – He's the man who was wrongfully incarcerated for 37 years, so no surprise he gets the pimp spot. Archie is not the best singer. His pitch is not perfect. But he infuses his performance with so much feeling. He's like a folksinger, telling a soulful story. There's definitely something compelling about him. Sofia calls his performance "spectacular." Heidi says, "I can feel all the pain you've gone through." Kelly says he has a "beautiful gift." She calls him a storyteller. Howie calls him an inspiration.
Matt Franco and Kodi Lee perform on tomorrow night's results show.
AGT has taken everything shows like American Idol and The Voice have done so far, and built on it. Now that COVID regulations are set, these types of shows are becoming easier and easier to shoot. I really appreciate that the acts were able to interact with the judges in person. 
The virtual audience is a little weird. The clapping is obviously enhanced. but it is better than silence. As far as who will advance tomorrow. Look for a few polls. Simon must be going crazy. During the live shows, his critiques are carefully crafted to get the results he wants. Tonight, it was Heidi, Sofia and Kelly dispensing positive critiques all around, with only Howie dispensing a critique or two…