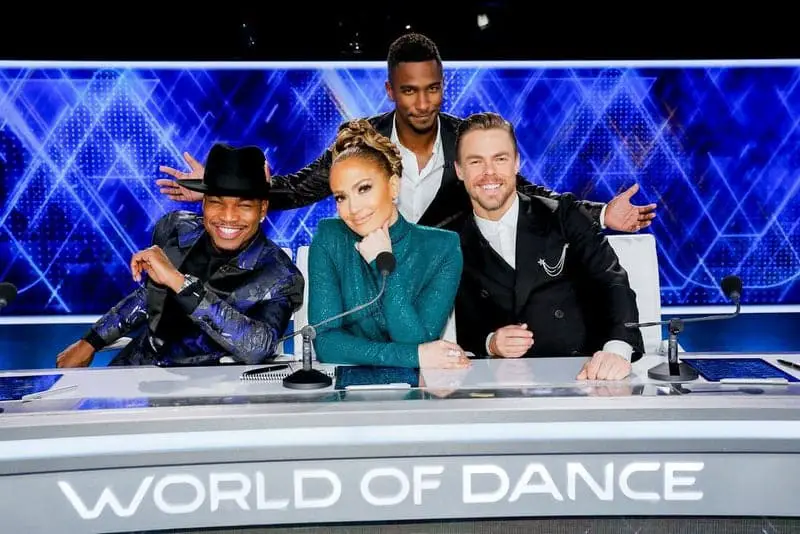 Hey All :)
Welcome to the final week of this season's edition of World Of Dance. We have two exciting back-to-back nights of competition ahead of us. Tonight, the semi-finals conclude as the second group of six acts compete and the top two scoring acts move on to the world final.
Judges Jennifer Lopez, Ne-Yo, and Derek Hough will score each act just like last week. So far, we have two finalists- Jefferson & Adrianita and Geometrie Variable. Will a contemporary act be able to sneak into the finale? More hip-hop instead? This is the final chance to prove you have what it takes to go for that million dollar prize.
Keagan Capps – She's planning on bringing a different side tonight. The piece is about a tornado that happened in her hometown. She wants the judges to feel like they are in the storm. Keagan says she is taking a risk here. An explosively powerful performance. Love the song choice and even more, the choices in movement she picked to coincide with the song. Very strong visuals throughout that. Was it totally amazing to the point where we haven't seen similar? No. But it was well danced and very well conveyed and that earns major points. A solid start.
Jennifer felt Keagan was the tornado. Derek still calls her an alien. He felt the choreography didn't entirely match. Ne-Yo agrees with that. He calls her an amazing dancer. Score- Ne-Yo- 90, Jennifer- 90, Derek- 92 = 90.7
https://www.youtube.com/watch?v=dvy1VYS_cQo
UPEEPZ – They are feeling good about the next performance because it features their culture. Jennifer calls them an act to beat. They say winning the show means so much and they are going to give everything. Interesting costumes. That was…a lot. I'm afraid a bit too much. They crammed so much into that to where it looked a tad bit on the chaotic side. I get the gist- honoring their cultural, showing their strengths, etc…I just wish it was dialed down a little. As expected, they are wonderfully in-sync dancers.
Derek says they ooze passion. Derek feels it started slow and he wasn't into the bamboo section. Ne-Yo agrees.Jennifer calls them a strong group. For her, it didn't all come together. Score- Ne-Yo- 89, Jennifer- 88, Derek- 90 = 89
Jake & Chau – They are stoked to be dancing on the main stage. Derek feels they create beautiful routines that are emotional and creative. The storyline is different this time- it is romantic. That was so pretty. What a gorgeous routine. The fluidity is absolutely unreal. So many wonderful pictures pained there. So much emotion too. I especially loved the chemistry. These two are not an official item but one would think they are after watching that. Just gorgeous.
Jennifer has GOOSIES. She says performances like that make you a champion. She says that might be the best semi-final performance so far. Derek calls them consistent. He felt it was exceptional. He mentions how one trick moves into the next. Ne-Yo says it felt like love. Score- Ne-Yo- 96, Jennifer- 95, Derek- 95 = 95.3
Upeepz has sadly been eliminated from the competition.
Bailey & Kida – They know they need to built the chemistry. Ne-Yo says the bar is super high for them. They want to show they have grown. So cool to watch. The costumes and background visual was so groovy- like a kaleidoscope. And these two are amazing hip-hop dancers. But I expected that. With all we have heard about how much the industry knows them, I expected something great. That being said, I guess those expectations resulted in a small amount of me feeling underwhelmed. I guess the bar really is super high with them. Don't get me wrong- stellar but… it was supposed to be.
Ne-Yo feels the prop might have worked a bit against them. Derek disagreed. He loved them showing risks and doing something different. Jennifer calls it a tough routine. Score- Ne-Yo- 92, Jennifer- 95, Derek- 92 = 93
With that, Keagan has been eliminated.
Oxygen – They are thrilled not to be in the warehouse anymore. They mention they changed styles and that didn't work out so well. But Twitch gave them a shot at redemption- and they made it through. Ne-Yo wants them to continue to do what they do best. WOW. That was so cool. The first thirty seconds of that was probably my favorite group moment on this show this season. What clever choreography and executed brilliantly. They definitely brought back what they are known for but they kicked it up a notch and made it even better. Stunning stuff.
Ne-Yo called it moving art. Jennifer could feel everything they were feeling. She loved that the lead was the maestro of the orchestra. She does nitpick one part that didn't click. Derek agrees with that but he loved the different styles and textures. Ne-Yo wants to throw something at them. LOL. Score- Ne-Yo- 98, Jennifer- 97, Derek- 94 = 96.3
They are automatically in the world final but Bailey & Kida are now eliminated.
Damn, this is going to be tough. MDC 3 are next- a fantastic trio. Since Oxygen is in no matter what, we are either going to lose this trio or Jake & Chau. A shame but considering both are contemporary, it does make sense. Again like last week, the later performers are super lucky.
MDC 3 – They know they are worthy. This specific story is about a cancer journey- one of the dancers moms went through it. They are telling her story. Jennifer calls dance an emotional art form. She feels MDC 3 creates magic. DAMN. See, I kind of wish I didn't know the story behind the dance before seeing it because had I been unaware, I would just be marveling at how brilliantly danced that was. How gorgeous those lines and fluid movements were. How breathtaking some of those intertwining arms and legs were. Now that I know the story, I get the emotional resonance of it. But if you take that away, this was still one of the best danced piece I have seen in a very long time.
Jennifer calls them the most incredible dancers. She doesn't have the words to describe it. Derek calls them stunning individually. He could just watch one and be impressed but seeing three, he calls it a gift. Ne-Yo GOT GOOSIES. Score- 94, Jennifer- 98, Derek- 98 = 96.7
Sadly, Jake & Chau are heading home.
This means- the top two moving forward to the world final are MDC 3 and Oxygen.
And that concludes a very competitive semi-final. Tomorrow night, the final four will do battle to determine who will become season four champion and win the million dollar prize. Join me as this season comes to a close. Thanks for watching with me tonight and see y'all tomorrow.