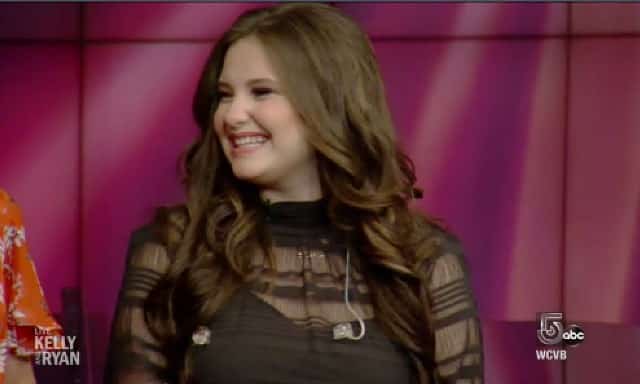 America voted, and the Kelly & Ryan show listened!
American Idol 2nd runner up Madison VanDenburg visited Live with Kelly & Ryan on Thursday (May 23) as the winner of the American Idol Encore contest. The 17 year old singer from upstate New York performed Alicia Keys "Fallin."  Currently the young singer is in the middle of getting ready for prom. "They feed me really well on American Idol," Madison told host Kelly Ripa. She had tried her dress on before the live shows, "now I'm afraid to put it back on!" Madison joked. Kelly and her guest co-host, husband Mark Consuelos, assured her that she looked gorgeous.
On American Idol, Madison said: "The show moves so fast that you really have to pick things up real quick. You sing every single day, so you're bound to get better in your technique…the show has showed me how to be a better stage performer."
The day after Sunday's (May 19) American Idol finale, fans were able to vote for the Top 10 contestants they wanted to perform on the show.  Madison won the competition–congratulations to her. Sadly, there was no reunion with Idol host Ryan Seacrest, as he was off beginning a long holiday weekend. 
Check out American Idol's Madison VanDenburg on Live with Kelly & Ryan.