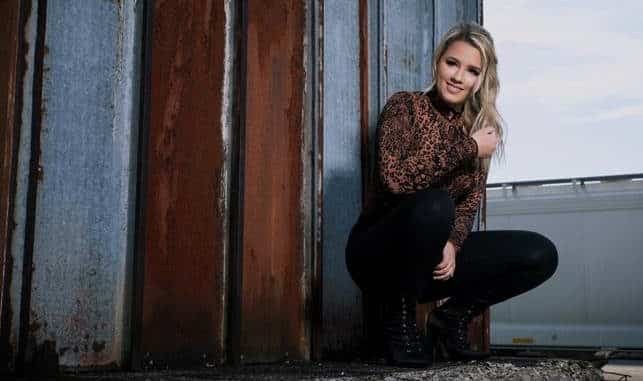 Gabby Barrett releases her debut album Goldmine on Warner Music Nashville today (June 19). The set is available to stream and download now.
"It feels like a dream that this day is here," says Gabby. "I've wanted to put out an album since I was 11 years old and decided that country music was what I would aspire to do for the rest of my life, so to see it come to life today just the way I dreamed is such a huge blessing. Thank you to everyone who inspired, worked on and supported this album from beginning to now – I really do feel like it's my own little 'goldmine,' and I am so grateful. I hope you love it as much as I do!"
Cade Foehner Proud Wife Gabby Barrett Hit #1 But Still Cooks & Cleans
American Idol's Gabby Barrett Reveals Goldmine Debut, Tracklist
The American Idol season 16 second runner up touts writing credits on 12 of 13 songs on her debut. The tracks include  – her history-making No. 1 "I Hope," which set her apart as the youngest artist with a debut single to hit the country radio charts' summit in over two decades.
Goldmine boasts co-production by Ross Copperman and Zach Kale with additional production by Jimmy Robbins, Sam Martin and Bryan Fowler on select tracks. Additionally,  Gabby co-wrote with the likes of Nashville mainstay songwriters Nicolle Gaylon, Emily Weisband, Jon Nite and Josh Osborne, as well as Copperman, Kale and Robbins.
Celebrates with Fans Worldwide in Special Livestream Performance, LIVE FROM THE GOLDMINE, on June 23
Promoting the album with Covid-19 restrictions, Gabby is shifting gears with innovative approaches. On June 23, the singer will perform select tracks LIVE FROM THE GOLDMINE, a fan-facing livestream performance event on her YouTube channel, Facebook and Twitter at 6pm CT/7pm ET. Accompanied by a full band, Gabby will share the inspiration behind the project and debut a handful of album cuts for the very first time live from Franklin, TN. SiriusXM will re-air the audio from LIVE FROM THE GOLDMINE as a nationwide radio special later this month.
Gabby is also teaming up with adventure and tour company Let's Roam in support of St. Jude Children's Research Hospital. The event will create a free, original 5-day digital series of indoor scavenger hunts to uncover the joy of her Goldmine.  Let's Roam's first-ever collaboration in music launches tomorrow (6/20). Fans will have a chance to win a private Zoom call with Gabby by answering trivia questions, completing photo and video challenges, watching/listening to new songs on the album, and sharing tasks on social media. Download Let's Roam here to play.
Listen to the full album below.