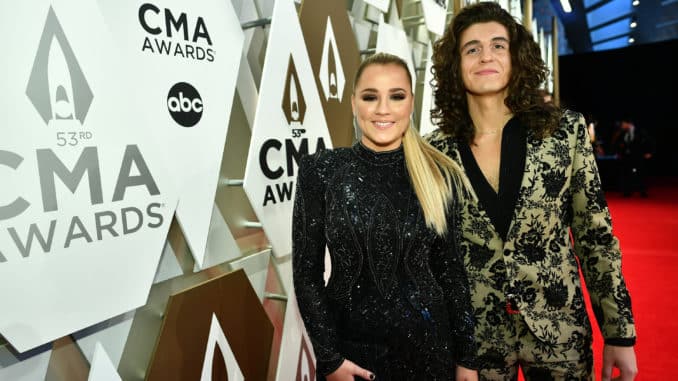 Congratulations to Gabby Barrett who notched her first No. 1 country radio hit this week. The American Idol 2018 second runner-up tops the mediabase country airplay chart with her single "I Hope."
Monday Morning Mediabase 04/20/2020
Her husband  and fellow American Idol alum Cade Foehner is really proud of her. He wants fans to know that she can promote a number one hit on the road, night after night, while ALSO CONDUCTING HER WIFELY DUTIES such as cooking and cleaning, just as a good Christian wife is bound by God to do. Uhm. From Cade's Instagram
I've said it before and I'll say it again one of the best feelings in the world is to see your Wife honored. Just a little peek into just how amazing this woman is – we go out and do shows night after night, early flights and late nights ect. But during all of this her priority is still her home. She still, in all joy does the duties of a wife and does not complain that she has "too much to do to cook supper and clean clothes." THIS is a woman. And I can't toot your horn enough my darlin' wife for all that you do that goes seemingly unnoticed. "but woman is the glory of man." (1 Corinthians 11:7)
Before he auditioned for American Idol, Cade was studying to be a Christian preacher. Since then, he's made no secret that he practices a strict fundamentalist version of Christianity. Indeed, the couples wedding vows included Gabby vowing to look to Cade "as head of our home, as I have looked to Christ as head of his church."
American Idol: Maddie Poppe Angry at Cade Foehner Gabby Barrett Brag (UPDATED)
It's the couple's business how they conduct their homelife. But I'm curious about whether, at some point, Cade will decide that Gabby's place truly is in the home and insist that she quit her career. I hope not. She's way more talented than him.
UPDATE FROM CADE:
Hey y'all, I am talking about her biblical duties as a wife. Just as I have biblical duties as a husband. These are dictated by The Lord, NOT by me. God lays out the duties of woman and men in His Word. We love Him and are eager to serve Him! Titus 2:3-51 Corinthians 11:2-4
So, God said in the bible: Thou shalt cook and clean even whilst earning all the bread? Hm. Interesting! /sarcasm.
A few of the Instagram comments:
puzzle.green: "the duties of a wife"? Wow
meghanlevine0209: Yes her song is great and she is doing well. HOWEVER, "the duties of a woman"? Are you for real? This is 2020 and not 1900. There are no duties of a woman. You seriously need to rethink marriage. Its 100% you and 100% her. This duties of woman and this is what makes her a woman is really offensive dude.
vee_bia: I absolutely love the light yall share outside of the limelight. It's beautiful and pure and you've done such a beautiful job in carrying it All!! Congrats to you both!