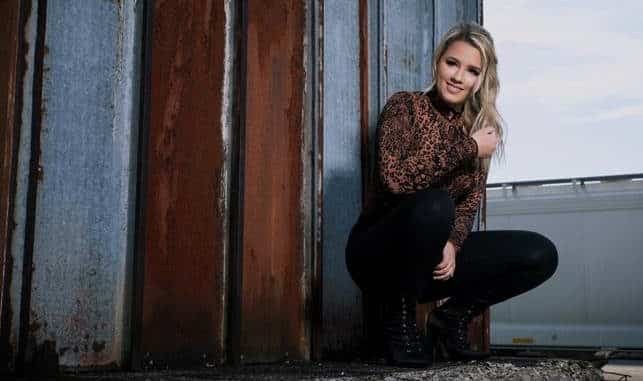 American Idol's Gabby Barrett Announces Debut Album Goldmine
Recently, American Idol 2018 alum Gabby Barrett scored her first No. 1 country hit with her song "I Hope," which made her the first solo female performer since 2017 to reach the top of the country charts with a debut single.
Now, the singer announced her debut album, Goldmine will drop June 19 on Warner Music Nashville.
Gabby Barrett: It was Hard to Get a Record Deal After American Idol
Gabby co-wrote nearly every song on Goldmine, which also includes the Charlie Puth remix of "I Hope." In addition, the new set features an appearance by Shane & Shane on the song "Got Me," which is available now. Ross Copperman and Zach Kale co-produced the album, with additional production work from Jimmy Robbins, Sam Martin, and Bryan Fowler.
"I've been working on music for a year and a half now," she recently told Billboard, "I've written a few songs with [Nashville super producer] Ross Copperman that will potentially be on the album, and he's co-produced and produced "I Hope." I don't want to give anything away yet, but it's not one genre. We've got some cool collaborations coming up. This album's going to be something worth listening to."
Gabby Barrett – Goldmine tracklist:
I Hope –  (Gabby Barrett, Zach Kale, Jon Nite)
Thank God – (Gabby Barrett, Nicolle Galyon, Jon Nite, Jimmy Robbins)
Write It on My Heart –  (Gabby Barrett, Ross Copperman, Josh Osborne)
Footprints on the Moon – (Gabby Barrett, Zach Kale, Jon Nite)
You're the Only Reason – (Gabby Barrett, Ross Copperman, Josh Kear)
Goldmine – (Nicolle Galyon, Caitlyn Smith, Liz Rose)
The Good Ones – (Gabby Barrett, Zach Kale, Emily Landis, Jim McCormick)
Jesus & My Mama – (Gabby Barrett, Zach Kale, Cliff Downs, Marti Dodson)
Hall of Fame – (Gabby Barrett, Adam Doleac, Trannie Anderson, Zach Kale)
Got Me – feat. Shane & Shane (Gabby Barrett, Zach Kale, Shane Barnard, Cade Foehner, Bryan Fowler)
Rose Needs a Jack – (Gabby Barrett, Zach Kale, Joe Clemmons)
Strong – (Gabby Barrett, Emily Weisband, Ross Copperman)
I Hope feat. Charlie Puth – (Gabby Barrett, Zach Kale, Jon Nite, Charlie Puth)