On his poppy and infectious new single "Two Step," out Friday (March 17) on all digital platforms, the indie-rock/pop artist and American Idol alum Fritz Hager couches a "satirical commentary on the often-ridiculous male fantasy in a dynamic pop anthem, mixing Katy Perry-level hooks and boyish bossa nova highlights." The song finds the Nashville-based artist "offering a rom-com in a song; a catchy critique about fantasy versus reality, and the romantic hopeful that stands in between."
"I wrote 'Two Step' with Lucky West, and we really just tried to have as much fun as possible throughout the song," Fritz shared in a press statement. "On its surface, it's a fun happy-go-lucky love song, but the lyrics are more of a satirical observation of the male fantasy, and what love is expected to feel like because of its portrayal in the media we consume." 
"Two Step" follows Fritz's January single "Caroline," co-written by the multi-platinum producer/songwriter Drew Pearson and fellow American Idol alum and pop/alternative songwriter Francisco Martin. "Caroline" tells the fictitious tale of a one-night-stand gone wrong, in which the main male character forgets the name of his heroine acquaintance.
In the run-up to releasing "Caroline," Fritz spent weeks begging his fans to pre-save the song, or the "faceless old white dudes" would refuse to release it. This second single, "Two Step," came pretty quick after "Caroline," which has over 271K streams on Spotify.
"I like finding the balance"
Fritz picked up his first guitar in sixth grade and started writing, influenced by his heroes AC/DC, The Killers, Oasis, Ed Sheeran, James Bay, and John Mayer. He took a mental health hiatus after dropping out of college, which proved to be a period of growth and creativity. This led to his audition for American Idol, where he became a fan favorite, leaving the show at Top 5.
"I write for two reasons," Fritz says, "to bring sincerity into the mainstream—making observations about the world, personal struggles, universal struggles—and escapism, which is to simply zone out and have fun. There's a need for both, and I like finding the balance."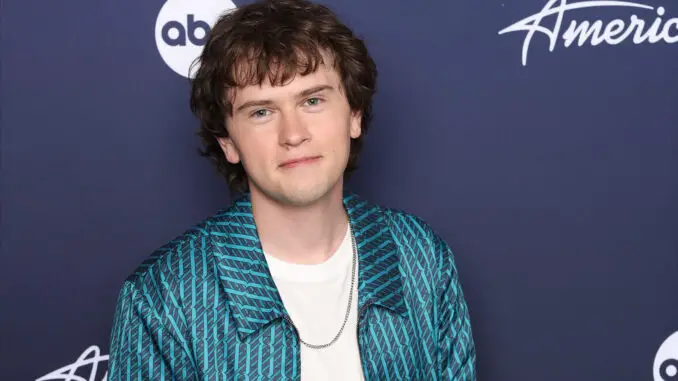 During his time on American Idol, Fritz released tracks from his debut EP, which topped the iTunes Charts. The self-titled project was entirely crowd-funded. Next, the singer released his American Idol "winners" single, "Hearts Align," which reached #5 on the Alternative Charts. After the show wrapped, he performed the song on Live with Kelly and Ryan.
Since then, Fritz has been touring, performing alongside Maddie Poppe and Leah Marlene, and embarking on the all-Idol "Don't Blink Tour." He's also been hard at work in the studio, and plans to release several other tracks this year.