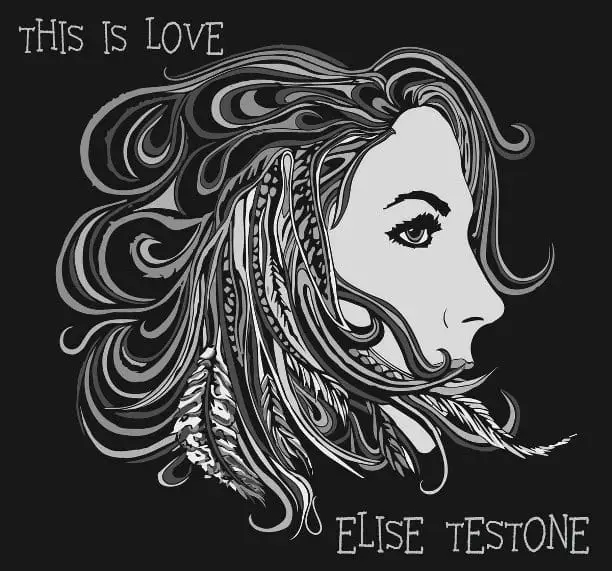 American Idol season 11 finalist Elise Testone is releasing her long-awaited sophomore album, This Is Love, on April 17. The singer is also mounting an east coast tour that includes special performances during the New Orleans Jazz and Heritage Festival.
A press release was posted at BroadwayWorld.com:
"Love has come in and out of our lives in many different ways," says the New Jersey native, now living in Brooklyn after establishing deep career roots in Charleston, SC. "Sometimes the love is real and sometimes we are bound together by an unhealthy passion or aggression and become trapped under the illusion that what we have is true, when in fact it is the opposite. This Is Love is an artistic expression of those experiences, starting with 'Flying High,' a composition focused on the most important love ? self-love."
Co-written with guitarist Adam Fallen (Clay Aiken, Eric Benet) and Brooklyn jazz, hip-hop, and electronica multi-instrumentalist Jesse Fischer, and featuring Daru Jones (Jack White, Pete Rock) on drums, "Flying High," starts the album floating joyously through a jazz-flavored, flute-enhanced classic soul orchestral groove. Other players on the album include Broadway's School of Rock teen guitar phenom Brandon "Taz" Niederauer (also co-writer of album closer, "Tell Me Now"), drummer Robert "Sput" Searight (Snarky Puppy, Ghost Note) and bassist and experimental musician MonoNeon (Prince).
Of special note on This Is Love is "Holly," written to honor the memory of Elise's best friend and Charleston roommate, who committed suicide in 2015, two years after surviving life-threatening brain surgery.
"Two years after her surgery, I moved to New York and she moved to Texas. She was very unhappy and ended up shooting herself in the head, or at least that is the story I was told. I know if I was near her that never would have happened. I felt like I mourned her twice in a way. And in no way did I think I would lose her that soon after I almost already did. This song took me three years to write because it was so important, but also because I had a real tough grieving process and felt stuck. I am so happy with how it turned out. I am so confident that every lyric was the right lyric, and I am so grateful to have had the time with her that I did. Hopefully this song can convey the positive mark she has left on me and the world."
"I never know what I might do with my voice, and sometimes I'm personally shocked in a positive way when the notes bend unexpectedly," she says. "I am also so grateful to a have a strong, passionate, talented and soulful group of musicians, who I call friends, available to play on stage with me in any situation. You never know what special guest may come through either. Always good energy and musicality!"
The tracks have a 60/70s retro feel. Elise is apparently part of the jam band scene in Brooklyn and has a host of talented musicians supporting her. The cuts are well worth checking out.
Track List – Click on the links for song streams. 
1. Flying High
3. Holly
6. Tell Me Now
Tour Schedule
Wed, April 17th – Charleston Pour House, Charleston, SC (Southeast Album Release)
Thu, April 18th – Dead Dog Saloon, Murrells Inlet, SC (Southeast Album Release)
Sat, April 27th – Howlin' Wolf, New Orleans w/Bonerama Brass Band
Mon, April 29th – Blue Nile, New Orleans, LA (Wimbash, with Doug Wimbish of Living Colour)
Fri, May 3rd – New Orleans Jazz and Heritage Festival w/ Leo Nocentelli
Sat, May 4th – One Eyed Jax w/Ghost Note
Fri, May 17th – Camp Jam, Hammonton, NJ
Sat, May 18th – Rhythm & Brews Festival, Haddon Heights, NJ w/Philthy
Sun, May 19th – Nublu, NYC , Album Release Show co-bill w/Philthy
Whole Lotta Love – American Idol
Flying High Live