American Idol 2023 Post Oscars Auditions Features Daughter of the Late Nolan Neal
It was a short and late night of American Idol Season 21 auditions, as for a second year in a row, the ABC decided to air an episode post-Oscars. The show featured some talented singers, and a few backstories that hit home. One truly heart-tugging backstory featured Dandridge, Tennessee singer-songwriter Cay Aliese, daughter of the late Nolan Neal, who competed on America's Got Talent and The Voice.
As Cay walked into the room, Katy Perry said goodnight to her daughter Daisy on a Facetime call. The singer could relate, explaining that she has a 1 and 2 year old daughter. When asked about her music background, she shared how she and her father did music together. He passed away two months prior to her audition due to a drug overdose. She said, "my whole life he was struggling with addiction. He kind of had record deal after record deal, opportunity after opportunity, and kind of kept blowing it which is sad too."
"He was a light to other people, but he couldn't find that for himself"
Cay's father wasn't always in her life, she said, but they connected through music. His passing inspired her to return to music, after not really wanting to pursue it after to seeing him struggle in the industry. She said, "It makes me miss it more, makes me miss him more, and it also makes me feel closer to him in a way" when talking about music.
"He was a light to other people, but he couldn't find that for himself," she said, adding, "closing his chapter, but starting my own."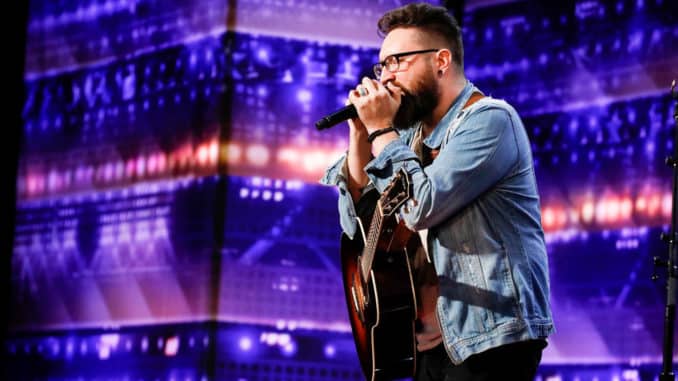 After her performance Cay revealed that her dad was Nolan Neal who competed The Voice and America's Got Talent. The judges asked why she didn't audition for those shows, and she answered, "American Idol has my heart." Prior to trying out for these shows, Nolan had a record deal with Virgin Records in 2006 and played shows as the new lead singer of rock band Hinder.
Nolan turned 4 chairs on The Voice
Nolan turned 4 chairs on The Voice Season 11 with a cover of "Tiny Dancer," but was ultimately cut in the knockouts from Team Adam Levine. The singer-songwriter returned to America's screens on AGT Season 15, where he made the Quarterfinals where he sang his original, "Send Me a Butterfly." But after his fate landed in the judges hands, he only received a vote from Sofia Vergara. He was sent packing. Nolan was an incredible talent, so it's no shock that his daughter is also very talented.
Cay sang an original song, dedicated to her father
Cay sings, "City of Nashville," an original about journeying to Nashville to see her father. The verses are well-written, but the chorus felt redundant, as the line "City of Nashville" repeated. With some editing the song could have been a standout original. Otherwise, Cay has a strong pop ballad voice that could be even better if she let loose. Her tone is pleasing, but this audition didn't showcase her full range. Overall, Cay showcased potential on the verses. I hope the next time we see her that she can put together a more complete performance as her tone is very pleasing.
Katy admits that she is "on the fence." She "didn't feel emotionally connected." Lionel Richie agreed, saying "you've got a voice, but I gotta get it to sound like you care that you're going to do this." Luke Bryan said, "don't be afraid to soar. Don't be afraid to push." The judges decide to send her to Hollywood, but want her to push more emotionally and connect. "Send Me A Butterfly" plays as the audition wraps up, and she celebrates with her husband and daughter via remote. She said, "doing this, gives me an opportunity to honor my dad, and walk a path that my dad didn't get to walk." A clip of Nolan singing plays as the episode wraps up.
Watch Cay and Nolan's last performance together
Cay has posted about leading worship groups with recovering addicts. She also has posted videos about her dad. In one video, Cay said, "I think the saddest part of loving an addict is knowing who they are without the drugs. My dad was literally the most incredible person when he wasn't on them." She continues to carry his music with her, and also is very open about her faith journey. Here is one last video with Cay and Nolan singing together. It was the last time they performed together.
Other than Cay, the voices that stood out on Oscar's night included throw back crooner Tripp Taylor, and former college volleyball player Hannah Nicolaisen, who had a gorgeous tone with her take on Bob Dylan's "Make You Feel My Love."