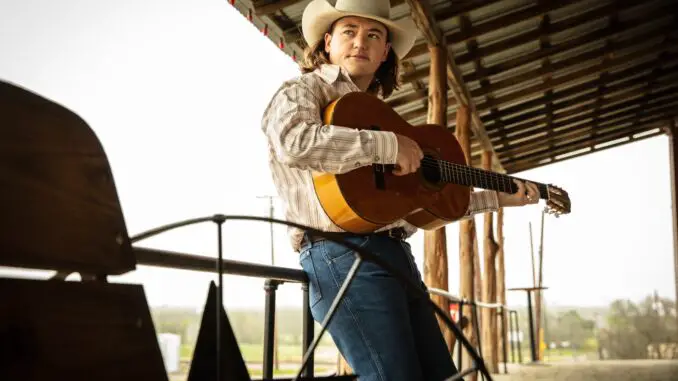 Big Loud Records' Jake Worthington will release of his full-length, self-titled debut April 7, 2023.
Raised in La Porte, Texas on a steady diet of classic country music, from Ray Price to Merle Haggard to the Georges (Jones and Strait), Worthington's grandfather is to credit for planting a seed that would eventually anchor his musical efforts. The first-hand education he passed down were symptoms of a familial, multi-generational passion for honky-tonk, dance hall ditties that infuses the 27 year old's music.
At 17 years old, Jake competed on The Voice in 2014 as a member of Team Blake Shelton. He finished  the season in second place behind winner Josh Kaufman. During the summer of 2014, Jake embarked on The Voice official tour with fellow season 5 and 6 alums. 
Jake joined the Big Loud roster in 2021 alongside fellow The Voice alums, including fellow season 6 alum Morgan Wallen and season Ashland Craft from season 13.  
Jake began honing his craft as a performer and a songwriter in his mid-teens, graduating to writing rooms alongside Roger Springer, Monty Holmes, Nick Walsh, Robert Arthur, David Lee Murphy, Wyatt McCubbin, Jake Doucet, Jessi Alexander, and many more.
"I don't mind being a dark horse," Jake said, welcoming his role as keeper of the honky-tonk flame. "Blame it on my raising, but I think there ought to be room for country in country music."
Produced by diamond-certified studio wizard Joey Moi and featuring a collaboration with labelmate ERNEST, the collection "perfectly marries traditional twang with an electric punch."
Jake Worthington Tracklist:
State You Left Me In (Jake Worthington, Timothy Baker, Roger Springer)
Single At The Same Time (Jake Worthington, Robert Arthur, Kim Penz, Jacob Boyd Weinschenk)
Without You (Jake Worthington, Jody Booth, Roger Springer)
Pop Goes The Whiskey (feat. ERNEST) (Rocky Block, Seth Ennis, Kyle Fishman, Ernest Keith Smith)
Ain't Got You To Hold (Jake Worthington, Joe Denim, Roger Springer)
She Ain't You (Jake Worthington, Jake Doucet, Roger Springer)
Next New Thing (Jake Worthington, Steve Leslie, Roger Springer)
Honky Tonk Crowd (Jake Worthington, Clint Daniels, Jeff Hyde, Roger Springer)
I Ain't Goin Anywhere (Jake Worthington, Wyatt McCubbin, Roger Springer)
Night Time Is My Time (Jake Worthington, Monty Holmes, Roger Springer)
Only One Way To Find Out (Jake Worthington, Jessi Alexander, Dave Cohen, David Lee Murphy)
Heaven Can't Be Found (Jake Worthington, Will Jones, Kim Penz, Roger Springer)
Closing Time (Jake Worthington, Nick Walsh)
All songs Produced by Joey Moi
Mixed by Joey Moi and Josh Ditty
This Friday (3/17), Jake will release two of his singles, including the emotional ballad "State You Left Me In" and the up-tempo anthem "Next New Thing." 
Touring hard and hitting "every VFW hall and Moose lodge from Mississippi to Maine," Jake previously opened shows for Cody Johnson, Riley Green, Pat Green, Hank Williams Jr., ERNEST, and more. Looking down the road at 2023, the country singer will tour as a headliner and an opener for Randy Rogers Band, Jon Pardi, and Gary Allan.
"Like my grandpa always says, you'll know you have a hit song if the dance floor's full," Jake said. "A lot of people have told me it's hard to sell (our) kind of music, but I don't care. I've always taken the long way around."