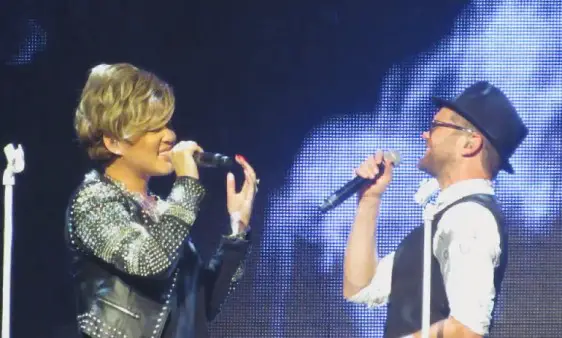 The Voice Tour rolled into Lowell, MA Thursday night (July 3), and I was there! The 2800 seat venue wasn't full. There were empty pockets of seats all over the auditorium, including the back right floor section. Nevertheless, the crowd was very enthusiastic, standing during upbeat numbers and giving some singers standing ovations. It prompted a few of the cast to declare the stop one of the best yest.
The Voice tour brings together the Top 3 from Season 5–Tessanne Chin, Jacquie Lee and Will Champlin. The Top 4 from Season 6–Josh Kaufman, Jake Worthington. Christina Grimmie and Kristen Merlin (Chosen by fans in a poll). Plus, Season 6 alum, Jake Barber is part of the crew, and I'm still not really clear why, except that maybe he was chosen to fill the "hot boy" slot. It doesn't hurt! Season 1 runner-up, Dia Frampton rounds out the group.
Additionally, several tour stops feature a "bring back" singer, and ours was Berklee School of Music student, Grey, cut from the semi-finals in Season 5.
The venue, Lowell Memorial Auditorium, is old, with beautifully crafted interiors made for great acoustics. There isn't a bad seat in the house! I could have purchased a floor seat, but opted for the front row in the loge section, which is just slightly elevated from the floor.  My view was never blocked, even when concert goers on the floor were standing.  Perfect for videoing, as my powerful camera lens could handle the distance.
A super-friendly and laid back staff paid no mind as I proceeded to video nearly the entire show! Hooray!
What I liked:  Performances were scattered throughout the show, rather than grouped in separate sets. This was great for pacing. And if you liked a particular contestant, you saw them A LOT. There were several group numbers involving the entire cast, satisfying the pointy pose lover in me. There were some pretty awesome duets.  It was cool to see alums from different seasons come together for the first time to perform.  Skimming the best contestants from several seasons meant the singing overall was TERRIFIC.   The 13 minute finale was spectacular!
What I didn't like: Too much video filler featuring the coaches. I don't care about them. Get back to the singing. The second half was dragged down by a "blind audition" bit featuring audience members. Within about 30 seconds I was checking my twitter feed.
Here are all the performances, in order, with my thoughts!
Pompeii by Bastille/We Found Love by Rihanna – Group Number
The show opens with a fun group number that, for the most part, featured the boys on Pompeii and the girls taking on "We Found Love."
Stay with Me by Sam Smith – Josh Kaufman
STUNNING performance of Sam Smith's emotion-packed tour de force. SO GOOD.  Sorry about the extraneous voices. There was a couple next to me trying to find their seats. I wanted to hit them. SHUT UP SHUT UP JOSH IS SINGING!
Every Breath You Take by The Police – Josh Kaufman with Virtual Usher
Eh.  Josh duetted with a "virtual" Usher, represented as a video flashed on the big screen. There's no avoiding a HUGE disconnect in a setup like this. Josh's talents were wasted here. Also, not a big fan of the "stalker song."
Eye of the Pyramid by Will Champlin
This is Will's single–loved the middle eastern touches in the arrangement.
Broken Ones by Jacquie Lee
The cast all had the opportunity to pimp their latest singles. The audience really loved Ms Jacquie!
Everything Reminds Me Of You – By Tessanne Chin
This lady is the epitome of poise and class. She was enlisted, quite often, to MC or play host. She's definitely a leader, and a mama bear. Her beautiful phrasing and musicality were always on full display in her performances.
Never Getting Back Together by Taylor Swift – Tessanne, Jacquie, Christina, Dia and Kristen
The girls were simply adorable. Tess encouraged the audience to sing along as the lyrics flashed on the video screen.
Sweet Home Alabama – Group
Group number featuring the cast all wearing cowboy hats. Yee Haw. Jake was certainly in his element.
Two Black Cadillacs by Carrie Underwood – Kristen Merlin
The Lowell stop was Kristen's (Hanson, MA) hometown concert, and the audience just loved her! And she loved them right back.
Gone by Montgomery Gentry – Kristen Merlin and Jake Worthington
A fun duet, but I wouldn't say these two have a ton of chemistry.
Don't Close Your Eyes by Keith Whitley – Jake Worthington
For his solo numbers, Jake stuck to heartfelt ballads, which the audience loved.  I'm not a big fan of his voice, but his sincerity can be endearing.
Heartless by Kanye West – Dia Frampton
I forgot how REALLY FREAKING GREAT Dia's interpretation of Kanye's Classic was when she sang it on the show. I was happy to be reminded.
I Need You by Dia Frampton
Tuneful new single from Dia and her new band, Archis. I'm not really clear why this talented singer can't break through. Also: Dia looks gorgeous in red.
When I Was Your Man by Bruno Mars – Jake Barker
Jake put his lovely falsetto to good use in his only solo.
Wrecking Ball by Miley Cyrus – Christina Grimmie
Christina certainly knows how to take a song by the balls and rip right into it.  By the end of the number, she typically looks like she's going to hurl up her dinner…
Say Something by A Great Big World – Will Champlin and Christina Grimmie
…That's why I love when she sings with other performers. Duet partners tend to calm Christina down. This duet, with Will Champlin, was lovely.
Carry On by .Fun – Will Champlin
Will put his own twist on the hit from .Fun and, to quote a cliche, he made it his own.
Roar by Katy Perry – Grey (Special Guest)
Grey has one of those big voices that is perfect for Broadway, but not necessarily a Katy Perry song.  The reception to her performance was tepid. She had so little screen time, I wonder if many in the audience even remembered her.
Without You by David Guetta and Usher – Group
Grey stuck around to perform the big group number before intermission. The best thing about this is the interaction.  Tess and Grey's bonding moments were particularly heartwarming.
Intermission
Don't Stop Believing by Journey – Group
Did we really need another group rendition of "Don't Stop Believing"?  It's only been sung on Glee 6 times (not exaggerating) and it was the AI 8 tour group finale. To be honest, I didn't mind.
Heaven by Bryan Adams – Jake Worthington
Definitely a crowd favorite.
Hold On We're Going Home by Drake – Christina Grimmie
Christina turned Drake's hip hop tune into an emotional ballad. Her falsetto runs worked beautifully and were never overbearing.
Signed Sealed and Delivered by Stevie Wonder – Josh Kaufman
Stevie Wonder songs have been abused by singing show contestants over the years, but Josh has an uncanny ability to breath new life into classics we've heard many times before.  His ad-libs are always  fresh and full of surprises. Sorry for the edit at the end of the song. I thought for a second that he had finished! My bad.
I Put a Spell on You by Screamin Jay Hawkins – Jacquie Lee
It was the audience Jacquie put a spell on. Her passion-filled performance brought the room to their feet.
Too bad the show, at this point, came to a grinding halt.  A bit featuring The Voice blind auditions was next. Before the intermission, a message flashed on the screen urging concert goers to buy official The Voice blindfolds from the merch table. Right. I didn't notice anybody around me doing that, so these auditions weren't so blind.
Prior to the show, audience members were chosen to sing and be rated by audience applause. Tess was the host, and she did try to make it as fun as possible.  The singers chosen were barely passable. I hope they got a parting gift for participating.
After, the "contestants" were invited to join the group in a rendition of Cee Lo Green's "Forget You." I decided to give my arms a rest during this number.
Unconditionally by Katy Perry – Tessanne Chin
Tess gave this Katy Perry hit everything she had. One of my favorites from the night.
After, Tess introduced each member of the band by name, which I thought was a really nice touch. The 5 member group included keyboards, guitar, bass and drums. There was plenty of music and vocals on tracks, but allowing the singers to interact with live players made a big difference.
Stay by Rihanna – Tessanne Chin and Josh Kaufman
Next, Tess introduced her fellow The Voice winner,  Josh Kaufman and they proceeded to perform a perfect duet of Rihanna's "Stay."  Two incredible singers come together!
Finale – Group
Christina, Dia and Jacquie took the lead on Lorde's "Team." The boys tackled "Radioactive," by Imagine Dragons with Kristen joining in.  Tessane, Jacquie and the girls sang "Feel This Moment" by Pitbull and Christina Aguilera. That led into the boys singing a snip of "Turn Down For What" by DJ Snake and Lil Jon. The mega-medley ended in a joyous group romp, as the gang sang Pharrell's "Happy" while tossing giant red balls into the audience.. Clap along if you're happy! It was an epic, feel-good end to the show.
Verdict: If you love The Voice go to this show. If you're a fan of incredible vocals GO TO THIS SHOW. If you're looking for a fun night out. GO TO THIS SHOW. The end.