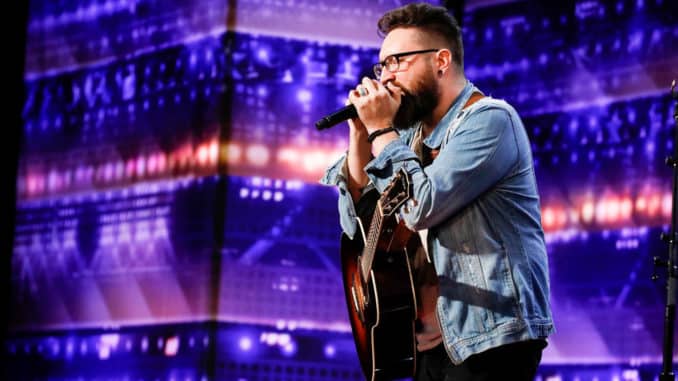 Nolan Neal who competed on both The Voice and America's Got Talent died at age 41 in July. Now, the cause of death is known after the completion of an autopsy.
Nolan died after ingesting a fatal combination of drugs, Page Six reports
A spokesperson at the Davidson County Medical Examiner's office in Nashville told the outlet on Thursday that the coroner concluded the singer suffered "acute combined drug toxicity."
The drugs found in his system that made up the deadly cocktail were morphine, methamphetamine, fentanyl and acetyl fentanyl. The manner of death was ruled an accident. The autopsy report was completed on Sept. 13.
On July 18, Nolan was found dead in his apartment. Officers said at the time that on the desk next to the singer's  bed was a guitar pick that "appeared to contain a powder residue." 
Because he died with "no money whatsoever" according to Nolan's daughter, Caylin Cate, she stared a Go Fund Me account to raise money for funeral expenses. The goal was $15,000 but she raised a total of $26,635.
Nolan Neal competed on both The Voice and America's Got Talent
The singer-songwriter first appeared on The Voice season 11 in 2016. He landed on Team Adam Levine before leaving the competition at the Knockouts. He still left his mark on that season by co-writing "Pick Any Small Town" the original song by finalist Josh Gallagher. He also co-wrote with season 10 runner-up Adam Wakefield, who released their "Blame it On Me" single in 2017.
Nolan auditioned for The Voice with a cover of Elton John's "Tiny Dancer" that garnered a 4-chair turn. He previously auditioned in season 10. Adam said then if he came back with a different song, they could win the show together.
Four years later, in 2020, Nolan auditioned for America's Got Talent with an original song titled "Lost."  During his audition, Nolan was frank about his substance abuse problems. At 26, Nolan's father, also a musician, took his own life. After signing a major record deal, Nolan began partying and became unmanageable. He lost his deal. "Lost" was the first song he wrote after leaving rehab.
For his quarterfinal final performance for the live shows, Nolan performed another original, "Send Me a Butterfly," after which voters eliminated him.