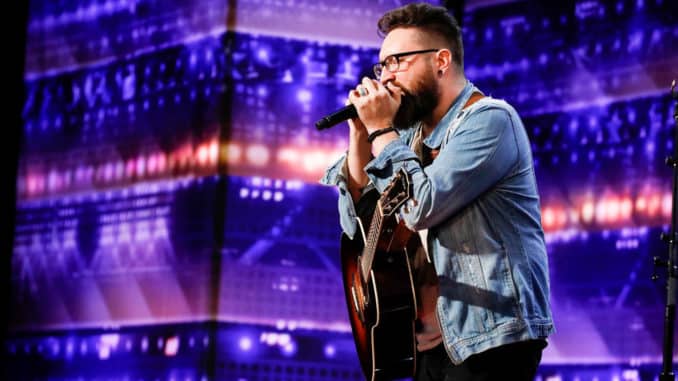 The Voice and America's Got Talent alum, Nolan Neal, died suddenly at age 41 earlier this week. And now, his daughter is asking for help to pay funeral expenses.
Nolan Neal's daughter is asking for money to help pay for funeral expenses after the "America's Got Talent" alum died suddenly Monday and did not leave "any money whatsoever."
Caylin Cate created a GoFundMe account on Wednesday, with the goal of raising $15,000. The fund has already surpassed that amount, raising, as of Friday July 22, over $21,500.
"He did not have any life insurance or any money whatsoever."
Nolan's daughter wrote that he died penniless–leaving no money whatsoever.
"As I'm sure you all have heard, my Dad passed away suddenly," Catlin wrote. "He did not have any life insurance or any money whatsoever."
"The expenses that come from this are extensive as we are trying to prepare for his funeral and fly in his son and loved ones," she continues. "If you want to help in anyway, you can donate here. Anything is appreciated and I am so grateful for the community rallying behind us."
Officers found Nolan dead in his bedroom alongside a pick containing "powder residue"
Nolan Neal Seals was found dead in an apartment in Nashville on Monday July 18. "Mr. Seals was located in the bedroom of the downstairs apartment by the upstairs roommate," a public information officer told Page Six the following day, also noting that on the desk next to the singer's bed was a "black guitar pick that appeared to contain a powder residue."
The singer-songwriter first appeared on The Voice season 11 in 2016. He landed on Team Adam Levine before leaving the competition at the Knockouts. He still left his mark on that season by co-writing "Pick Any Small Town" the original song by finalist Josh Gallagher. He also co-wrote with season 10 runner-up Adam Wakefield, who released their "Blame it On Me" single in 2017.
Nolan competed on both The Voice and America's Got Talent
Nolan auditioned for The Voice with a cover of Elton John's "Tiny Dancer" that garnered a 4-chair turn. He previously auditioned in season 10. Adam said then if he came back with a different song, they could win the show together.
Four years later, in 2020, Nolan auditioned for America's Got Talent with an original song titled "Lost."  During his audition, Nolan was frank about his substance abuse problems. At 26, Nolan's father, also a musician, took his own life. After signing a major record deal, Nolan began partying and became unmanageable. He lost his deal. "Lost" was the first song he wrote after leaving rehab.
One donator to the fundraiser wrote "Nolan had talent only God could give. My sincerest condolences to Nolan's family. He produced many of my songs and some have not been released yet. He texted me last week to encourage me to get them out there. He had a good soul."