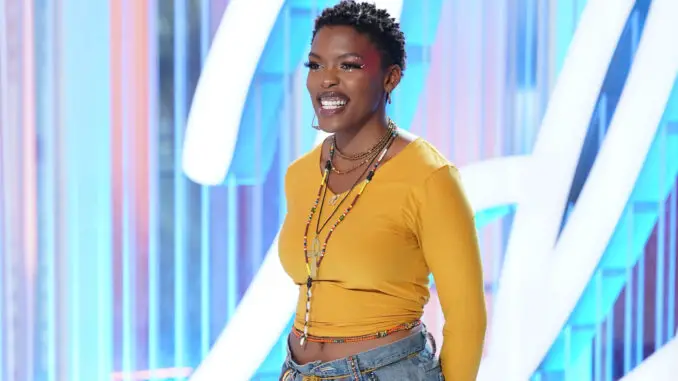 American Idol 2023 Recap Auditions 4 – We're Live Blogging More Season 21 Performances!
American Idol 2023 Recap Auditions 4 – Season 21 continues tonight with MORE auditions from Las Vegas, New Orleans and Nashville. Judges Lionel Richie, Katy Perry and Luke Bryan along with host Ryan Seacrest will introduce a new crop young hopefuls. Who will snag that golden ticket to Hollywood? Or better yet, will a hopeful earn a Platinum Ticket!
American Idol 2023: Full Season 21 Schedule
American Idol 2023 Auditions 4: Meet The Contestants (Photos)
American Idol 2023 Spoilers: Top 26 Season 21 Contestant List
American Idol 2023 Top 55 Contestants Guide (Videos, Photos)
Reminder: Comments on this post are a SPOILER FREE ZONE. Do not spoil outcomes. Keep spoiler discussion confined to specific spoiler posts.
The show opens with the judges driving around Las Vegas gawking at their Las Vegas Residency billboards.
Mariah Faith – 21 – Conway, SC – Whenever You Come Around by Vince Gill, I Can't Make You Love Me by Bonnie Raitt
She was born in Baltimore, but moved to Conway after her mom married her stepfather. She calls him an "amazing man." Sadly he died after a heart attack in 2019. In December, she posted about her 10 months of sobriety. Mariah has 47.3K followers on Tik Tok and a viral video of her hair that has 3.6 million views to date.
Her voice is really pretty. But Katy stops her Vince Gill cover saying that she's playing it safe. She switches to "I Can't Make You Love Me" and Katy warns her not to back away from it. At least give her a chance to build the song a little before stopping her!.She has pitch problems, and on the chorus where she could let loose, she's still holding back. Katy wants her to adlib, and she does a little.
Luke had chills, "You've just got it all," he says. Lionel thinks her potential could take her all the way. Katy notes her "natural cry," adding, "You are a star, you've got it. One of the most interesting voices this season. She gets 3 yeses and is on her way to Hollywood.
SURPRISE. They announce that Mariah will open for Noah Thompson and HunterGirl, the American Idol winner and runner-up respectively, who are playing a gig in Las Vegas the following night. Back from commercial, and we're at the concert. The two introduce her. Man, they are hyping this singer, big time. We see a bit of her performing, with way more confidence than she had during her audition. For the first time, I see her potential.
3 yeses.
Nailyah Serenity – 22 – Charlotte NC – My Man from Funny Girl (Barbra Streisand)
She's an only child of a mother who influenced her in so many ways. She accompanies Nailyah to her audition. She's not only a singer, but an astrologer as well. Katy is really into it. (Sorry. Astrology is grifting gobbledygook.) According to Nailyah, Katy and Luke's signs are compatible, and they are delighted.
I can't with this song pick. It's a bold choice, considering how the show did a whole segment recently mocking show tunes and the vocalists who sing them. But her rendition is more jazz than Broadway. Her phrasing is exquisite, in an old school jazz kinda way. She hits a clean high note at the end. Risky, but it paid off.
Lionel called it "Heavy navigation…totally thoroughly enjoyed it. "You straddled it with your own flair, you gave it a contemporary vibe," says Katy. "You got it girl." Luke appreciated her approach, "I'm going to make people watch me." 3 yeses from the panel. Mom, who looks like Nailyah's sister, joins her in audition room.
3 yeses
Kayleigh Clark – 17 – Summerall MS – The Dance by Garth Brooks, I Surrender by Hillsong Worship.
She's a country girl who lives on a chicken farm in Mississippi. People have compared her look to Dolly Parton and HunterGirl. She also hunts and fish. She killed her first buck with a crossbow last year.
She sings without any accompaniment. She has a nice tone, but her sound is generic, and lacks a unique style. At 17, she'd probably benefit from more experience.
Katy asks for another song. The panel is always looking for the big notes. "Sing it from your gut!" Katy instructs. The panel thinks she has potential. "Top 10 contender," says Luke. Katy thinks she needs to develop more "dominance." Lionel and Luke say yes. Katy says no. "She's got to find the next gear," Katy states.
Luke and Lionel yes, Katy No
Tori Green – 20 – Corona CA – Cry Pretty by Carrie Underwood
We join Tori during her big belty rendition of "'Cry Pretty." Luke calls her rendition "stiff." However Katy disagrees, saying perfection isn't necessary. Lionel agrees with Katy. With 2 yeses, Tori is going to Hollywood. She has a few viral videos on Tik Tok, including a cover of "Hurt" by Christina Aguilera that has 3 million views and over 530K likes.
Katy and Lionel say yes, Luke says no.
Next, it's a montage of Luke saying "no" to contestants, and Katy acting annoyed about it. Luke claims that in season 21, he's turning out to be the toughest judge to please.
PJAE – 23 – Lawton OK – Mirror by Madison Ryann Ward
Ah yes. ABC previewed PJAE's audition last week, and it was obvious that a set-up between Katy and Luke happened before the clip started. So now we know. Also not shown in the clip, but referenced in the caption: PJAE (Peter Gomez) shares his weight loss journey with the judges. He grew up watching Idol. He loved to perform. But he was bullied at school for being flamboyant. Food was a coping mechanism. After graduation he lost 150 pounds.
PJAE's rendition is both tender and powerful. He brings soul and emotion to his performance. But the judges want their big note! And on the chorus, he deliver ALL the big notes. His phrasing and dynamics are impressively sophisticated.
Ryan Seacrest is outside the audition room with PJAE's mother calming her down. She gushes, "I've watched American Idol, all 21 seasons." Luke explains that he delivers nos to singers who don't connect emotionally. But PJAE does NOT have that problem. "You just slayed all of that," Luke says. Katy adds, "It was so beautiful, so effortless, so angelic and emotional, sad and painful. I felt like you were telling that story, and it was your story."
"Personally as a judge," says Lionel, "I'd like to thank you for healing our family! Because up until this point, they have agreed on nothing!" The judges give PJAE 3 yeses and he's on to Hollywood.
3 yeses
Warren Peay – 23 – Bamberg SC – To the Table by Zach Williams
He works as an appliance repairman. He likes his job, living in a small town, going to church every Sunday. He's also a worship leader at the local Baptist Church. Despite being relatively content, he wants to make music his career.
Katy compares Warren's look to Chris Stapleton. And actually, his style is also very similar–he sings country music with a soulful emotion. "It cuts through," says Lionel. He brings on the rasp on the chorus. He's good, but maybe too much of a Stapleton knockoff. But his study vocals certainly command attention.
The panel gives him a standing ovation. Luke calls it "bad-a**." Katy calls him "authentic" and a "Christian Chris Stapleton. Katy wants to hear more anger paired with "that texture in your voice." Lionel calls Warren "strong" and possibly "Top 10." Luke agrees. Warren is going to Hollywood.
3 yeses
Carina Deangelo – 25 – Kailua, Hawaii
She and her mother run a company called "My Balls." They make meatballs. They bring some into the audition room for the judges to try. The judges seem more interested in chowing down the meatballs than in her shouty vocals.
Johnny Knox – 26 – Huntsville AL
It appears that he brought in some sour dough bread for the panel to eat. Not explained why, because he's not a baker!
Nevertheless, both singers are GOING TO HOLLYWOOD
3 yeses
Paige Anne – 16 – Idaho Falls ID – What About Us by Pink
Paige brings snow cones for the panel. It's her signature flavor, sour patch. I guess she works at the local shop. She's only a high school student, so a perfect after school job.
He vocals are surprisingly mature sounding. She can only get better with more experience. She's been watching Idol since 6 years old. AWWW. It's DAVID ARCHULETA! He zooms in to wish her good luck. She had a poster of him on her wall as a kid. Hope she's cool that David is now an out and proud queer man. She wants advice on how to calm her nerves. Basically, he says, "fake it until you make it," which is actually good advice.
Katy loved the end more than the beginning. "The finishing touch that made it you." Lionel agrees. "Your nerves calmed out a bit." Luke isn't sure how to vote. "You're young…but you're talented." Katy says no. She's not ready yet, she says. Lionel says yes, and Mr. Grumpy Pants Luke delivers the deciding nod.
Lionel and Luke say yes, Katy says no.
Next, it's a montage of NOS. It's mostly artists oversinging and playing the trombone badly.
Ophrah Kablan – 20 – Clio, SC – Baby I Love You by Aretha Franklin
ABC dropped a preview of this audition over the weekend. Currently working as a nail tech, she aims to take the judges to church.
The singer covers the 60s classic as if she were leading a revival. "I'm trying to get y'all outta your seats today," Ophrah declares before launching into a spirited and soulful version of the song. "Hallelujah," Ophrah shouts as she finishes her confident and effortless rendition, tearing up as Lionel jumps out of his seat. The judges panel begins reacting to Ophrah as if they were a church congregation, waving their hands and shouting.
Pianist Phredley Brown, gets in on the act, immediately launching into some church riffs as Ophrah dances around the circle. Luke sings in a southern revival style as Katy dances around the panel. The room has broken out into chaos. Lionel. Katy and Luke jump out of their seats, "You are going to Hollywood."
3 yeses
Kamron Lawson – 21 – Beckley WV – Take on Me by A-ha, Truly by Lionel Richie
He works as a cashier at a big box store. Namely, it's Walmart. He often sings on the job, performing in his uniform. His first clip went viral. But here is the video that landed him the audition in New Orleans. The producers game him the good news at work, which was blasted over the intercom to customers.
His trip to Hollywood was his first outside of West Virginia. He didn't fly. He said it was too overwhelming. But he probably couldn't afford it. He sings a ballady version of the 80's classic "Take on Me." His voice is very sweet, but he doesn't have much power behind it. It's an interesting arrangement, but falls flat, ultimately. He does have a pretty falsetto!
Katy thinks he has a big instrument, but doesn't know how to use it. Luke calls the performance "tame" and "safe." The panel thinks he has more in his tank. Kameron confesses that he also planned to sing Lionel's "Truly." He wants to hear it. The piano intro begins, and Kameron looks like he might faint. "I'm sorry,' he says. "I choked." The coaches console him, urging him to sing. This poor kid. Now along with being a dull performer, he's also off pitch. He's very very very nervous and in over his head. He improves toward the end, belting out the chorus.
Lionel notes that the song is hard. "You have moments of complete control," he says. He thinks Kameron needs more time. Luke agrees. "Gotta have more confidence." Katy thinks being around other singers would help him. They all should say no. But Katy says yes, calling him "special." Lionel and Luke also say yes. As if Hollywood will be any easier for this kid.
3 yeses
Owen Eckhardt – 19 – Broken Arrow OK – Something in the Orange by Zach Bryan.
A student in Animal Science at Oklahoma State, Owen strums guitar and plays the harmonica. He has a great tone, but hasn't developed his own style yet. It's a solid rendition, though. The harmonica brings unique flavor.
Lionel suggests that he not throw away the endings. Luke thinks he has a cool voice, even though he does a lot of things wrong. Katy agrees, She wants to give him a chance. Katy and Lionel's puppies are in the room. She claims it'll be his last animal exam before he becomes a star. The dogs peed on the rug. Poor assistant who has to clean that up.
3 yeses
Fire Willmore – 22 – Lawton OK – Talking to the Moon by Bruno Mars
Fire brings her four year old daughter to the audition. At 18, she unexpectedly became pregnant. Oh hey. She works as a stripper in Virginia. American Idol has come a long way. Back in the aughts, it's the kind of info the producers would have known, but saved to leak to TMZ. She was born in a big family to a mom with a drug problem. She became a foster kid. She dances because right now, it's the best way to take care of her daughter.
She has a pretty tone, but not a ton of range. She uses her head voice on the high notes, which sounds weak. Katy catches on to that and asks her to sing the falsetto in full voice. She coaches the young singer to use her chest voice. But she's pitchy on the high notes. However, it's not anything good vocal coaching couldn't fix.
"You need to be pushed," says Lionel. "I wanted your voice to be more," says Luke. "There wasn't enough fire there," says Katy. They say no. But are so upset and unwilling to send Fire back to her stripper job, they send her to Nashville to try again.
…to be continued…