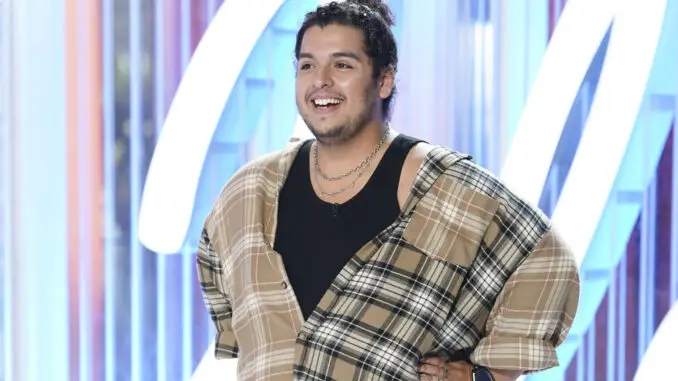 PJAE used to hate looking in the mirror; now he's singing Madison Ryann Ward's "Mirror" in front of the American Idol judges–Lionel Richie, Katy Perry and Luke Bryan.
The preview clip begins with PJAE's soulful performance, and it seems like it came after the judges were arguing. Nevertheless, the panel gives him a standing ovation. "I want to start crying, PJAE says afterward. "Put that down, the kid can sing. Hallelujah," says Lionel.
Meanwhile, host Ryan Seacrest is outside the audition room with PJAE's mother calming her down. She gushes, "I've watched American Idol, all 21 seasons." And she adds, "I love your suits!" She's pretty excited!
Luke claims that he's been delivering many nos to singers who don't make an emotional connection to the songs they are singing. But PJAE isn't one of those singers. "You just slayed all of that," Luke says. "Even toward the end, we saw how talented you are."
"I think it was the first time today that I have felt a wave of chills so naturally…when they win, we win." Katy says. "There's never a sympathy vote," she insists, glaring at Luke. "It was so beautiful, so effortless, so angelic and emotional, sad and painful. I felt like you were telling that story, and it was your story."
"Personally as a judge," says Lionel, "I'd like to thank you for healing our family! Because up until this point, they have agreed on nothing!" He adds, "That performance was something to talk about. Your journey has started. I agree with them. I think this is the beginning of something really amazing for you."
Katy predicts PJAE will make the Top 24 at least
All three judges say yes. Katy predicts that PJAE will at least make the Top 24. The singer is going to Hollywood!
The caption under the clip explains that growing up, the PJAE was constantly bullied for being overweight and flamboyant, but once he graduated high school, he became more confident and found his saving grace in music. He recently lost 150 pounds.
The full audition will air on American Idol auditions 4 on ABC, Sunday March 19 at 8 pm.