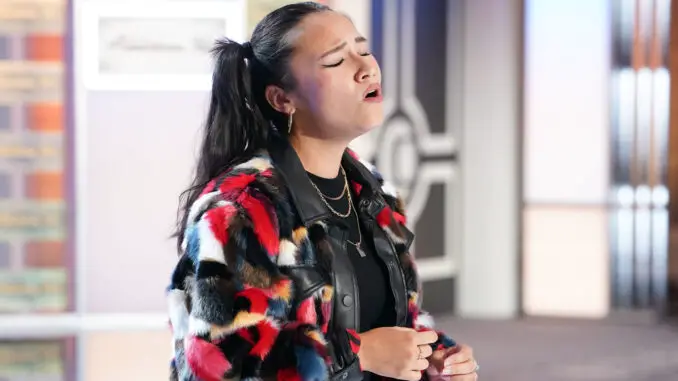 For out polls, we're combining last week's Oscar special with this week's Auditions 4. Despite airing after midnight, last week's special 1 hour Oscar episode garnered a .60 rating in the key demo, which is pretty impressive, and explains why ABC has scheduled the after-Oscars episode for two years in a row. (Oscar Recap, Auditions 4 Recap)
This week, the show returns to 2 hour episodes, and finds the judges–Lionel Richie, Katy Perry and Luke Bryan–coaching several not ready for prime-time singers before advancing them to Hollywood. It makes sense to toss a few inexperienced singers into the mix. But tonight included teens Kayleigh Clark and Paige Anne, deer-in-the-headlights big-box worker Kameron Lawson, country singer Mariah Faith and stripper Fire Willmore.
Weirdly, Mariah turned in an uneven audition, which prompted the judges to push and coach her. And then they invited her to open for Noah Thompson and HunterGirl the following night in Las Vegas? Admittedly, on the concert stage she seemed more relaxed and showed her real potential. Did the judges expect that she would struggle during her audition, after the producers obviously pegged her as a front runner? It shows how producers make decisions about contestants earlier in the process than they let on.
In Fire's case, producers decided to pull a gimmick seen often on America's Got Talent (and earlier seasons of Idol). Send the singer away to prepare better and then come back. Usually a singer's return is within a few days of the first audition, at most. Here, Fire is instructed to come back to Nashville in a month's time. Considering the show allows iffy singers to advance on the regular (Kameron Lawson should have been sent home), the whole bit felt set up–too dramatic and unnecessary.
Next week, Fire will audition again and advance. That is NOT A SPOILER. No way would producers go to all the trouble of a cliffhanger and double audition, just to ultimately send a singer home without a golden ticket. According to photos from next week's show, Fire comes back sporting quite the glow-up, so good for her. With more experience and voice lessons, she'll be a solid vocalist.
Kudos to American Idol for casting an exotic dancer and displaying compassion for her. Back in the aughts, rumor had it that former producer Nigel Lythgoe had a literal gossip pipeline from Idol to Harvey Levin, leaking "salacious" details about certain contestants to the gossip rag. For instance, when season 7 finalist David Hernandez' past as a gay dancer turned up in the press, it was treated like a scandal.
The best singers from tonight were Nailyah Serenity, PJAE and Ophrah Kablan. Last week it was Hannah Nicolaisen.
VOTE!
Favorite Performance
*Auditions from Oscar night
Grade the episode