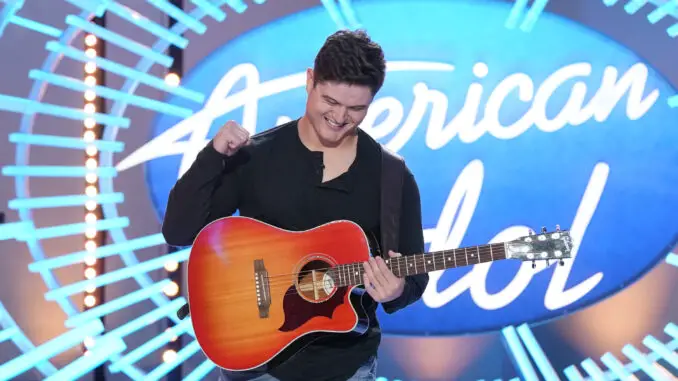 American Idol 2022 Recap – Season 20 Auditions 4
The landmark American Idol season 20 continues tonight with week 4 auditions from Austin, Los Angeles and Nashville. Judges Lionel Richie, Katy Perry and Luke Bryan along with host Ryan Seacrest will introduce a new crop young hopefuls. Who will snag that golden ticket to Hollywood?
In a new twist, one contestant from each city will be awarded the supercharged Platinum Ticket, which allows the artist to sit out the first round of Hollywood Week. 
American Idol 2022: Full Season 20 Schedule
American Idol 2022 Auditions 4: Meet The Contestants (Photos)
Spoilers: Top 24 Season 20 Contestant List
What Did Top 24 Sing in Hawaii? (Spoilers)
Showcase Contestant List and Song Choices (Spoilers)
Reminder: Comments on this post are a SPOILER FREE ZONE. Do not spoil outcomes. Keep spoiler discussion confined to specific spoiler posts.
The episode opens with Motley Crue member Nikki Sixx in Los Angeles. As the judges enter the room, Nikki fakes playing guitar on the Seal. Not much happened there.
Zareh –  21 – Los Angeles
Bust the Windows by Jazmine Sullivan – Zareh is the 21 year old daughter of season 4 finalist. Nadia Turner. We previewed this audition HERE. She was only 4 years old when her mom was on the show. The young singer decides to surprise her mother, bringing her to the auditions blind folded. Poor Nadia looks terrified as Ryan helps her out of the car "WHO ARE YOU?" she asks. Ryan had to repeat a few catch phrases before she recognized his voice. In the end, she is pleasantly surprised that her daughter is following in her footsteps. Zareh even wears her mother's old audition outfit. Seems like that would be an early tip off, no?
Nadia tears up as her daughter sings. Her tone is lovely and deep. But she doesn't have a well-developed range. It's interesting that Zareh refers to herself as a "stylist" and never really expresses any interest in a music career. It's obvious she doesn't sing much. Lionel notes mama's pride. Katy is emotional at the mother/daughter moment, being a new mom herself. Luke says "In your own zone, you are tremendous," adding, "When you start getting to the top levels of your range…put some stank on it." Katy thinks she has the beginnings of a real artist. Of course, the judges aren't going to deny mama – 3 yeses
Thomas Moran – 24 – Denver CO
Chain of Fools by Aretha/River by Bishop Briggs – Thomas's five older siblings were born in Ireland. His mom loves Irish step dancing. The audition turns into a step off with mama and the judges. Is this dude going to sing? He's not married but has a ton of nieces and nephews. He's super hyper and coming off as a joke. Oh. He's going to sing "Chain of Fools." Definitely a joke. This is terrible. He sings another song "River" and it's better after he calmed down. But it's still not great. 
Luke calls him a "big personality." Lionel thinks he's somebody's host, but not a singer. Katy does not agree with her fellow judges. At a younger age, she hyper/failed auditions too. She says yes. Luke says no (Correct). Lionel thinks he'll be hilarious in Hollywood. Wait. Isn't this show about singing? He says yes – 2 yeses 1 no.
Katy is big mad when Luke and Lionel send bad singers away
Next, it's a segment about how Katy wants to send bad singers through to Hollywood. Actually, she talks about arguing over contestants with Lionel and Luke. For instance she wanted send through the underbaked Grace Franklin, the niece of Aretha, and the others said no. There is a short clip of Lydia Samuels who hits bad notes. Nevertheless, Katy wants to send her to Hollywood. Sam Moss accompanies herself on the white piano. She's not too bad. Too many notes though! Lionel and Luke say no. Katy is furious. She brandishes a t shirt that says "Sam, Lydia and Grace." The segment leads to the return of Sam…in a different city! What?
Sam Moss – 25 – Winterset IO
Original Song – I'm confused. Sam got two nos in Austin, and the producers are allowing her to re-audition in front of the judges in a different city? Lionel told her to come back, but he didn't mean the same season. In Austin she sang "My Mind" by Yeba. She claims her nerves got the best of her last time. Now, she's coming in with an original song. Man, there's gotta be rejected auditioners who are kinda mad right about now.
She's hitting fewer notes, and they're all good. Maybe she was a producer favorite and they wanted to bring her in again. Or they used Sam for a TV Moment. She is really good this time. Katy is going to gloat forever after this. "Thank God you got so much better in such a short amount of time," says Luke. Katy wonders why she didn't sing the original song the first time. "You are a great songwriter!" – 3 yeses
The judges play "scaryoke." Katy doesn't recognize Luke's song when it comes up on the wheel. Katy sings, country, Luke sings pop. And the bit ends with the two duetting on "Endless Love."
Kenzie Elizabeth – 20 – Rosedale CA
I'm With You by Avril Lavigne – She started ventriloquism at 12 years old. Hey, this is the wrong show for that. Her Italian grandmother came to her audition. Nona took her to her first American Idol Live! concert, which celebrated the show' 10th anniversary. She graduated high school at 15, and has been pursuing a performing caeeer ever since. 
Kenzie's presentation is very, uhm. DRAMATIC. She performs like she's in a musical. It's a very bad interpretation of the song. Her high notes probably got some dogs barking. She makes…faces. The effect is very weird. Katy says she's never heard the song delivered with such ACTING. She bandies the "Broadway" word. Lionel loved it. But he doesn't think it's pop. The judges say no, but encourage her to pursue musical theater. She's happy that the judges complimented her voice. But even for Broadway like belting, that was not good. She overacted the entire performance.
Fritz Hager – 21 – Tyler TX
Before You Go by Lewis Capaldi – We previewed this audition HERE. Fritz, a security officer, is a big fan of season 11 winner, Phillip Phillips.  He's been singing almost his entire life. He's so excited to listen to a good luck message from his favorite "Do what you do and have fun," Phillip.  advises. 
Fritz seems a little nervous, hitting a few clunkers and rushing the tempo. His interpretation isn't original. Katy says she wasn't into the song until the chorus. "I need you to find who your are as an artist…from the first note." Lionel agreed that the chorus was strong. Katy believes he will sharpen around other singers. Really? How did she deduce that. Luke thinks he needs to develop more and says no. But Lionel says yes. Luke has turned into MR. NO and I like it. Fritz cries, sharing how he doubts himself a lot. Nevertheless, he announces that he's quitting his job as soon as he returns home. Oh dear. – 2 yeses and 1 no. 
Hopefuls reveal their American Idol inspirations. It's another excuse to namecheck favorites like Kelly Clarkson, Carrie Underwood, Gabby Barrett, Scotty McCreery, David Cook, Adam Lambert. etc.
Kevin Gullage – 23 – New Orleans
That's How Strong My Love Is by Otis Redding/Jambalaya (On the Bayou) – And then a guy with a serious face says his inspiration is season 3 joke contestant, William Hung.  His reasoning: He came out to audition with all the confidence despite having no formal training. 
Kevin takes a seat behind the piano and proves that unlike William, he most definitely has had some formal training. The singer delivers a soulful, jazzy cover of the Otis Redding classic. He's got a pleasing rasp and lovely phrasing. It's a terrific performance. By the end of Kevin's audition, Lionel is losing his mind. "That song required exactly what you gave it," says Lionel. Katy loved his adlibs. Luke compliments his smile, calling him relatable. "You have so much flavor," says Lionel. They ask him for more. They all play rhythm instrument while Kevin sings "Jambalaya (On the Bayou)." – 3 yeses
Charvonay – 27 – Dunwoody GA
In The Air Tonight by Phil Collins – She's a terrible singer. But one look at her socials, and it's obvious she's just promoting herself and her Only Fans account that she likely has. And yup. After her rejection, she recites her social addresses at the camera. She doesn't even look mad. Her Instagram goes as far as it possibly can without violating the site's nudity guidelines. She screams her way through the song. She can't possible believe she can sing. – 3 nos.
Jacob Moran – 27 – Danville MI
Rise by Katy Perry – Jacob auditioned with Ariana Grande's "Into You" back in 2019 (watch here), but was cut in Hollywood. Back then, his backstory was about being a nurse and singing to his patients. In three years, he lost 60 pounds and cleared up his skin. Jacob shares how scared he was back then. He lacked confidence.  The person he befriended in the holding room gets eliminated. But he's determined! The judges remember him when he walks into the room.
He sings in a high tenor. It's a little grating at times, but he does his own thing with it. Eventually, he hits a few impressive notes in his upper range. Katy gives him a standing ovation. "You chose the right song. And you did it justice," she declares, about Jacob covering her song. "Those words were your words." – 3 yeses
Next it's a montage of hopefuls with bad habits like growling and weird phrasing. The judges mock their own early career bad habits. 
Haley Slaton Myles – 23 – Cedar Rapids IA
The Climb by Miley Cyrus/One and Only by Adele – She's 5 1/2 months pregnant, but not worried about being pregnant on the show. She's having a boy. Her mom, also a single mother, came along as support. 
Her phrasing is languid. "The Climb" is a song that needs passion. But her tone is low and rich. Katy asks her to hit a higher note. The first rendition lacked drama, Katy is correct to question her approach. Luke felt Haley displayed both real and amateur moments during her performance. Lionel thinks holding notes might be hard. Katy agrees, having been pregnant herself. The judges request her second song, One and Only by Adele before a COMMERCIAL BREAK. Katy urges the singer to "Fight for it." The second song is better because it highlights Haley's bluesy style. She sings with more urgency. The judges give her a chance – 3 yeses
THERE IS A POSTSCRIPT TO THIS STORY! Haley met fellow hopeful Jordan Myles at her Austin audition, and after a whirlwind romance THEY GOT MARRIED. She had her baby in the meantime, as well. Check out the couple's Tik Tok wedding announcement HERE.
Elli Rowe – 19 – Nashville TN
Give You Blue by Allen Stone – Elli grew up around music as her parents had a bluegrass band. Currently she's a college student in Nashville.
She takes her place behind the piano to sing a breezy, lovely version of the song. Her tone and phrasing are gorgeous. She performs with a soft but deft touch. She doesn't do too much. That's a big mistake many hopefuls make. Katy calls her voice sweet and commercial. Katy thinks she needs to do more. I disagree. "Pick the right songs," she says. However, Lionel likes her simplicity (me too). Luke thinks she's staying in a "safe space." He advises that she dig in a little more. But he says yes – 3 yeses
Dan Marshall – 24 – Chesapeake VA
The Dance by Garth Brooks – Producers found Dan on Tik Tok, like so many others. He was a linebacker on the Virginia Tech football team for 4 years. And he looks it. He declares himself a country music singer. He only started playing in front of people 5 months ago and has played only4 or 5 gigs. But he's been singing since he was a kid. Now that football is over, he's pursuing music. 
His tone is classic and sturdy, a naturally good singer. Really effortless. Lionel calls him a storyteller. Katy is already thinking about how to market him. "Natural born talent," she says. "The foundation is secure." Luke thinks he should ditch the guitar, but likes his tone. However, Luke doesn't believe Dan is "doing all the emotion properly." He advises him to listen to advice – 3 yeses
Douglas Mills Jr. – 18 – Houston TX
Strange Fruit by Billie Holiday –  Douglas shows off his affiliate ticket pass. The ABC station in Houston surprised him on camera with a "silver ticket." He's never left the state or been on an airplane. He needed the nudge to audition. He's been bullied and has "doubters and haters." He chose the song "Strange Fruit" about a lynching to honor Black people and the struggle.  
His rendition is very intense. But he sings with his eyes closed through the entire performance. Douglas' raw vocals are unique and interesting, but he needs to work on his stage presence. The judges give him a standing ovation. Lionel calls it "superb." Douglas admits he was too scared to audition for Idol. Katy calls him a "superstar" calling his voice "iconic." Luke says, "You took us on a journey." After sending him to Hollywood, the judges give him a big group hug. – 3 yeses