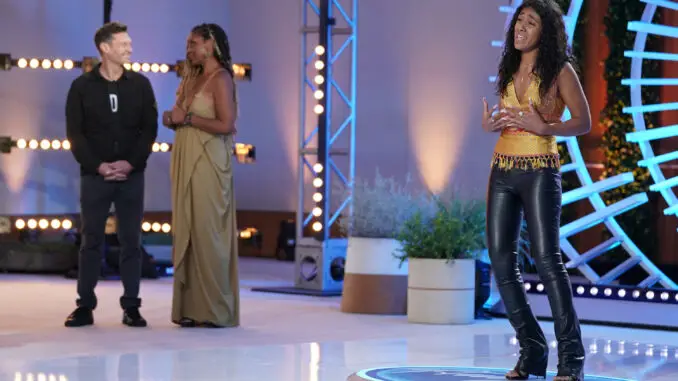 It's a full circle moment as Zareh surprises her mother Season 4 alum Nadia Turner with her American Idol audition. Zareh was only four years old when her mom competed on the show, leaving in 8th place. Today, Zareh is 21 years old, lives in Los Angeles and works as a stylist.
She asks host Ryan Seacrest for his help surprising her mother, as she auditions in front of judges Lionel Richie, Katy Perry and Luke Bryan. Zareh suggests blindfolding her (!!!). "My mom has no idea what's about to go down," says Zareh. "She thinks we're doing a mother/daughter spa day," adding, "She's either going to be super disappointed or super thrilled!"
Zareh surprises her mother, season 4 alum Nadia Turner
The car pulls up to the audition location in Los Angeles. And indeed, Nadia is blindfolded as Ryan helps her out of the vehicle."Do you have any idea where you are?" Ryan asks. Nadia, clearly disoriented, answers "No." Ryan replies, "What about if we say 'Coming up after the break! This is American Idol!'" At this point, Nadia pulls off her blindfold." She's not mad!
And adding to the full-circle throwback vibe: Zareh is wearing the same gold sparkly top her mother wore for her audition back in the summer of 2004. We've got some vintage aughts fashion going on right here.
The judges are blown away by generations of American Idol. "That's incredible," says Lionel.
Nadia Turner released two new songs this week
Zareh sings Jazmine Sullivan's "Bust the Windows" as her mom tears up.  Zareh bit off a little more than she could chew attempting to cover Jazmine, but she sings with an interesting, deep tone, even if she doesn't always finish her phrases. She makes it clear that she loves fashion first. "Fashion is my passion," she says. The American Idol audition appears to be a little side trip to promote herself.
Zaheh isn't alone promoting herself. Nadia has released two self-penned songs this week inspired by her mother daughter bond. "I'm Not Ready for Love" and ""You Do Something to Me" are available to stream on spotify. 
Lionel notes Nadia's reaction as he hands her his handkerchief. "There's a word called pride," he said. "Mama's blowing up over there."  Katy, mom to her daughter herself, wipes away tears. "This is the best mother/daughter date ever!" she says.
"You killed that song," says Luke. But he notes correctly that she has issues in her upper range. He suggests that she gritty it up and dig in. Katy says "I think you've got a lot of things going for you. You've got a cool vibe through and through. You have the beginnings of what could be a real artist."
"It's such a wonderful heartfelt story on our twentieth season here on American Idol," Lionel says. It's 3 yeses from the judges. As if they were gonna deny mama Turner's daughter a trip to Hollywood!
American Idol did the parent/kid full circle moment before
It's worth mentioning that American Idol has done the alum/kid thing before. Back on season 13 in 2014 the late Nikki McKibbin from season 1 accompanied her son Tristen Langley to his audition.  The judges, Jennifer Lopez, Keith Urban and Harry Connick Jr. sent him to Hollywood. Oh wait. Not Harry. Not swayed by nostalgia whatsoever, Harry said no. Tristen left the competition during Hollywood Week.
Watch Zareh surprise her mother Nadia Turner on American Idol