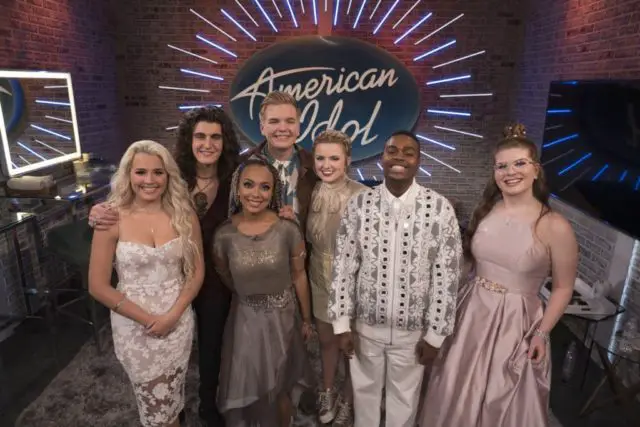 The American Idol 2018 Top 7 will perform TWO songs on Sunday (May 6) songs from the Prince catalog and also that old Idol chestnut "Songs From the Year They Were Born". This, according to Billboard magazine.
Update: According to the official press release Sheila E. will perform with the American Idol band.
The Top 7 will take on the legendary Prince catalogue, paying homage to the late icon in a historic first-time tribute episode by a singing competition series. The tribute continues "American Idol"'s longstanding relationship with the Prince family, following Prince's live performance on the show in 2006. Iconic musician Sheila E., who toured with Prince earlier in her career, will perform with "American Idol" music director, Kris Pooley, and the house band for this special tribute.
Prince Theme:
Cade Foehner – Jungle Love by The Time (written, produced by Prince)
Caleb Lee Hutchinson – When Doves Cry
Catie Turner – Manic Monday by The Bangles (written by Prince)
Gabby Barrett – How Come U Don't Call Me Anymore
Jurnee – Kiss
Maddie Poppe – Nothing Compares 2 U by Sinéad O'Connor (written by Prince, recorded on side project)
Michael J. Woodard – I Would Die 4 U
You may have noticed nobody is singing "Purple Rain." I heard that, for whatever reason, the song was not cleared to be performed on the show.
American Idol will probably spoil the second theme later in the week on social media, so watch this space (and speculate away, of course) ("Songs From the Year They Were Born" via American Idol official press release
Cade Foehner – 1996 – Who Will Save Your Soul by Jewel
Caleb Lee Hutchinson 1999 – Amazed by Lonestar
Catie Turner – 2000 – Oops! … I Did It Again by Britney Spears –
Gabby Barrett – 2000 – I Hope You Dance by Lee Ann Womack
Jurnee – 2000 – Back At One by Brian McKnight
Maddie Poppe – 1997 – If It Makes You Happy by Sheryl Crow
Michael J. Woodard – 1997 – My Heart Will Go On by Celine Dion
Ha ha. Cade is grandpa at age 21.
American Idol will air on ABC on Sunday live coast-to-coast at 8 p.m. ET.