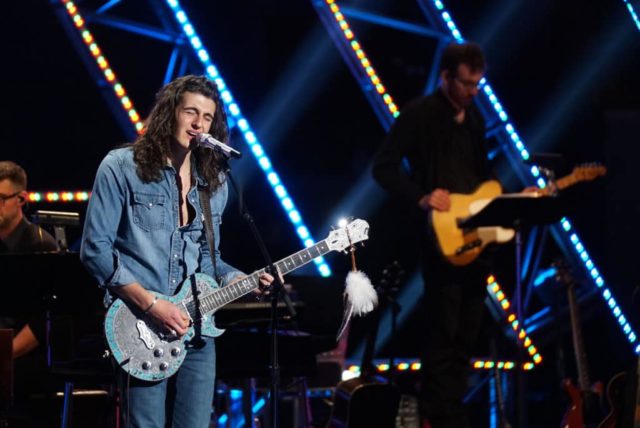 American Idol Recap – Hollywood Week 3 Live Blog with VIDEOS
American Idol 2018 Hollywood Week ends tonight on ABC at 8 pm ET (April 1). After surviving the Group Round, the remaining contestants will sing one last solo hoping to advance to the Top 50. The episode ends with the judges delivering good and bad news–depending on which of three rooms the contestants are divided up into. OH THE DRAMA. On Monday (April 2) The Top 5o perform in front of the judges and a live audience before the Top 24 is revealed in the Final Judgement aka the Green Mile.
Featured on the panel are veteran R&B master, Lionel Richie, pop star Katy Perry and country singer Luke Bryan. Ryan Seacrest returns to host.
We've got a TON of Spoiler posts linked on the menu above. Gonna link a few below. NO SPOILER DISCUSSION ON THE LIVE BLOG. Keep spoiler chatter confined to spoilers posts' comment sections. Giving results away during the live blog will result in an instant banning. Thank you for your cooperation.
American Idol 2018 Spoilers – Top 14 Contestant List
American Idol 2018 Spoilers – Top 24 Contestant List

American Idol 2018 Spoilers: Top 50 Contestants Revealed (Top 50 PLUS Song Spoilers)
The show starts off with a little April Fools joke, Chris Harrison does the introduction Bachelor style. Nooo. Ryan Seacrest has not been replaced. Yet.
Each contestant performs a solo without comment from the judges. Although the panel members do whisper among themselves…
Gabby Barrett – Ain't No Way – Gabby's dad is in the audience cryin' his eyes out. She performs a very soulful version of the Aretha Franklin classic. Here she presents herself as a credible R&B singer, while her auditioned positioned her as a country gal. That's the kind of versatility that can propel a singer deep into the competition.
Marcio Donaldson – You Make Me Feel (Like a Natural Woman) – We continue with Aretha. And that's a very unusual song choice. I don't think I've every heard this song performed by a man. Marcio's son is sitting in the audience. His Idol journey is about making his life better.
"They better sing like it's their last time singing" warns Katy. She tough.
Effie Passaro – Alone by Heart – Effie talks about finding her confidence. She delivers a full throated–albeit a bit shrill–version of the 80's classic. Everybody remembers when Carrie Underwood sang this on season 4. The song requires heavy duty pipes to pull off and Effie is just shy of fully delivering.
Oh. We get a first look at The Voice season 7 alum Taylor John Williams as he chats with his GIRLFRIEND Amelia Hammer Harris (Yes…they really are dating!)
Amelia Hammer Harris – Feel it Still by Portugal the Man – She talks about the musical connection she has with her late father, who wrote "Great Balls of Fire." She sings a super-soulful version of "Feel it Still."
Cade Foehner – Feel it Still by Portugal the Man – He's from a small town in Texas. It's interesting to hear these different versions of the same song side by side. Cade puts a completely different twist on it. As if he understands 1966 in a way that Portugal the Man could only hope. Heh. His rock and bluesed out performance of "Feel Still It" brings on the Led Zepplin feels. Dude can play guitar too.
That's a crap load of singers, all before the first commercial break!
Harper Grace – R.I.P (Original Song) – She's the young singer who earned redemption from a very unfortunate performance of the National Anthem at 11 years of age. As she did for her audition, Harper performs another original song. She's a talented songwriter, a real natural. She says the dude this song is about is gonna know it's him when he hears it. Oops.
Catie and Noah are fast friends. It was meant to be!
Noah Davis – Piece by Piece by Kelly Clarkson – American Idol is milking the alpaca schtick way past its sell date. It's a good thing Noah can sing. His rendition of "Piece By Piece" is beautifully phrased but he's REAL nervous. The judges whisper about his lack of confidence.
Catie Turner – Catie sings another original. This one is about GIRL POWER. and a dude who tells her to get back in the kitchen. She sings a line about how his ways won't get a woman "to lay with him." Original Catie continues to be original.
Ohhh. We get a little glimpse of THE ROOMS
Dennis Lorenzo – Home by Daughtry – For Dennis, the song gives him strength. He wants to be able to provide a "home" for his family. The action cuts between the two versions. Dennis has the smoother, and more confident voice.
Brandon Elder – Home by Daughtry – He dedicates the song to his adoptive mom who died of breast cancer. Brandon's growly version in not unlike the original. He's a rocker like Chris–but Dennis really managed to put his own twist on the song.
Maddie Poppe – Don't Ever Let Your Children Grow Up (Original) – Her dad suggested she perform an original for this final solo. She used to play in her dad's bluegrass band. Maddie has an effortless style and pleasing tone. The song's lyrics are a bit trite, but she has potential as a songwriter.
Next…a montage of contestants freaking out. "This week has chewed them up a little bit," says Luke. Katy calls it a "stress test and a psychological test…it's a real crash course in what show business feels like."
Michelle Sussette – I'm Coming Out by Diana Ross – She lost her voice. Uh oh. She can't hit the high notes. Oh she can dance. She does a little moonwalk. She goes for the high note and she makes it sorta. You'd never know it from her joke of an audition (When Katy fell and had a wardrobe malfunction) but she can sing. The judges compare her to Gloria Estefan
Ron Bultongez – Home by Phillip Phillips – He's the singer Lionel brought back after changing his vote. Not only does he have a little baby, but he's the guardian of his younger brothers. Heavy responsibility for such a young man. "This song I think is pretty dope," he says. His voice sounds a little strained on the high notes. Not a perfect vocal. But he's making the song his own. Lack of a clear identity is why Lionel said no in the first place. The performance makes him very emotional.
Jonny Brenns – I Lived by OneRepublic – His dad does not approve of his musical aspirations, and it makes Jonny sad. All he wants is pappa's approval. Aw. Sis is crying in the audience. Whoa. Maybe it's better that dad stayed home. His voice shot. Jonny struggled for those high notes for sure. He knows he kinda blew it.
Crystal Alicia – Fire to the Rain by Adele – She's the contestant with Karaoke only experience. She volunteered to leave the competition when Katy punked her group last week, asking for a volunteer to give up their spot. This performance was pretty lackluster. Katy thinks she lost her confidence. I'm sure that little prank production pulled didn't help.
Deonte Baker – Too Good at Goodbyes by Sam Smith – Now Deonte is just FULL of confidence–and maybe something else. "When I get on the stage, I think they are going to forget the other contestants," he says before referring to himself in the third person. Pretty obnoxious. And his singing isn't all that either. His voice cracks all over the place. He's totally sure he did awesome, though. Hm.
Jurnee – One Last Time by Ariana Grande – Jurnee is sure the judges loved her performance. She felt a great vibe off of Katy. But then we hear the judge say it was totally the wrong song for the singer. I dunno–I thought the snip we heard was pretty solid.
Trevor Holmes – Home by Phillip Phillips – Katy says she's over her crush, but she still plays along. He also got a good vibe from the judges and is totally confident going forward.
Maddie Zahm – Up to the Mountain by Patty Griffin- This was definitely her best performance to date, although Katy feels she was holding back. Maddie has a big ole soulful voice that has lots of potential. She was happy to hit an extra octave in her performance.
Shannon O'Hara – Up to the Mountain by Patty Griffin – She had a little trouble setting up her mic. Oop. She has dreamed of going to Hollywood her entire childhood, she says. It's so funny to hear the newbies talk about Idol as if they never experienced a world without it. Her vocal is not perfect, but the rendition is full of emotion.
Genavieve Linkowski – Praying by Kesha – She has nine siblings. Eh. This is a very odd performance. She does this really weird distracting thing with her arm as she performs. Also, walking right up into the judges faces during the performance may not be the smartest move. Also, she's pitchy on the high notes. And a little delusional, as she gives her own performance high marks.
Garrett Jacobs – Wicked Game by Chris Isaak – Oh. These are the type of contestants ABC brass dreamed of when the network renewed Idol hoping to appeal to Trump country. Garrett not only sings, but he plays football in a small town. His voice is tired. He's a little worried. Even his speaking voice sounds bad. He manages to get through the song without a major mishap.
Brittany Holmes – Dive by Ed Sheeran – She's the gal who the public voted through to Hollywood. And it turns out, she's gone pretty far. She feels responsibility to the viewers who voted for her. Think of that! She's the only fan voted singer in the competition right now. She's a good singer. I like her husky tone. I don't understand why she didn't get a golden ticket in the first place. It makes me wonder if the vote-off was a setup all along. Katy brags that she actually said yes.
Gabbi Jones – A Million Reasons by Lady Gaga – Her father gave her 30 days to make her dreams viable. Hoo boy. Based on this screachy, pitchy performance–maybe dad was right. Go back to school, girl.
Thaddeus Johnson – Rise by Katy Perry – He decides to take a risk on the song, because it's literally been his life. He dumps his entire heart and soul into the performance. The judges are feeling it. Katy gives him a standing ovation, "That's how you do my song!" Thaddeus is so thrilled that Katy loved his rendition, he's in tears.
Todrick Hall is this week's "American Icon" Hey how about that! He was kind of robbed when he left season 9 at the Top 16.
Kay Kay – Fire to the Rain by Adele – We got a little snip of that. She delivered a solid rendition.
Laine Hardy – Fire Away by Chris Stapleton – He was super unhappy to sing Justin Beiber with a bunch of girls in the group rounds. He performs 'Fire Away' with a very VERY raspy voice. Lionel notes that it's important for an artist to be able to make it through a tour. The judges can't believe there are so many shot vocals. Working these kids 24/7 might be a factor.
Caleb Lee Hutchinson – Your Man by Josh Turner – He's doing his best Scotty McCreery impersonation here. He throws in a shaky falsetto which impresses the judges.
Michael J. Woodard – Maybe This Time from Cabaret – He works at a bowling alley working lots of kids birthday parties. Well, this is an unusual song choice. Wow. He just. His version of this song is really something. It's soul but with a shot of diva. He's got a big voice. Broadway could be a thing. His audition was so different. Versatile dude. The judges are completely beside themselves. "Where the heck did he come from!" Katy says over and over. Really. Outasite, this dude is.
Seventy six contestants must be whittled down to 50. The singers are divided into three groups. OH. They pull Thaddeus out of Room 1 and move him to Room 3. People in his new room are crying like its bad news.
OH BOY. Room 1 is first. And Katy goes for the fake out. "I don't like this part…we hate delivering bad news. BUT YOU AREN'T GOING TO HEAR IT TONIGHT." Room 1 is through. The kids in the other rooms can hear the celebration. Gulp. And now Room 2. Papa Lionel delivers bad news with a story about how he was turned down for a record deal. "It's just timing," he says. "The answer for you guys is no." TEARS TEARS TEARS. Perfect way to let them down, though.
And now Room 3. Luke delivers the news…"When I signed up for this part, I didn't realize I would have to do stuff like this…because you're going through!" So Room 1 and Room 3 advance. The singers in Room 2 are eliminated. The two rooms that advanced meet in the hall and celebrate together. By the way, Thaddeus was moved from one yes room to another. Of course, that little stunt was all about rattling the kids. Oh, reality.
Anyhoo. These results are not a surprise to us, because we have spoilers. The Top 50 is linked above with all the Showcase round song choices. Or CLICK THIS LINK FOR THE TOP 50 with Song Spoilers.
And from American Idol, a montage of Top 50 Faces:
Ladies and gentlemen, #AmericanIdol presents this season's Top 50 finalists! pic.twitter.com/Nr0QMUP2eq

— American Idol (@AmericanIdol) April 2, 2018