It's April 1st. At 10pm UK time, The Sun's Dan Wootton reports the judging panel of X Factor UK will get at least one if not three new faces.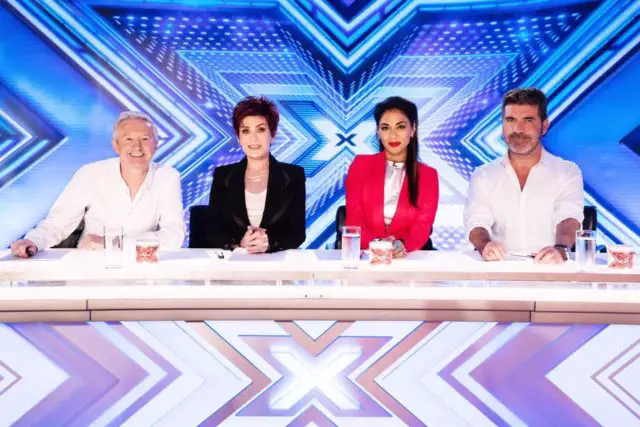 Dan Wootton, The Sun's Executive Editor, reports that Nicole Scherzinger has been axed from the judging panel of X Factor UK once again and Louis Walsh and Sharon Osbourne are also unlikely to return. Both originals already have contracts to return for season 15, but TPTB are considering terminating them.
AXE FACTOR Nicole Scherzinger is axed from the X Factor – with Louis Walsh and Sharon Osbourne to follow
Cheryl, Alesha Dixon and Kylie Minogue have been named as potential judges

NICOLE Scherzinger has been axed from The X Factor — and Sharon Osbourne and Louis Walsh are also unlikely to return.

Simon Cowell has been secretly plotting a massive overhaul of the ITV talent show as it enters its 15th year, The Sun can reveal.

Original judges Louis and Sharon, both now 65, have contracts to return this year. But show bosses are looking at terminating these to inject fresh blood. Pop heart-throb Craig David and One Direction's Louis Tomlinson are in talks to become the new male judge.

Ex-judge Cheryl Tweedy, BGT panellist Alesha Dixon, Kylie Minogue and Mariah Carey are in contention to replace Nicole. An X Factor insider said: "Louis and Sharon are both contracted to return this year, but Simon and the producers have lost faith. They were both terrible on the panel last year. Louis has had a great run, but he's advertising hearing aids for God's sake. It's beyond a joke.

"And Sharon couldn't even remember some of her own contestants' names.

"Nicole was a passionate judge but has no contract and won't be back this year in order to bring in fresh blood."
The article also highlights possible replacements.
I'm not surprised to read that Nicole won't be returning. There are rumors of the Pussycat Dolls reunion being in the works. Also, as a judge she is fine for one season (9, 13), but gets annoying the year after that (10, 14).
Louis Walsh is now advertising hearing aids? That's news to me, but I can understand why that would be too uncool for the X Factor. The idea of Louis Walsh being fired again makes me cry, but hey, he might get his job back for season 16. Also, who cares if he has trouble hearing all the singing on the show? It's not like he really needs it to deliver his signature lines?
And yeah, Sharon struggled to remember her contestants' names last season. She also had some health problems during the audition rounds, plus she has a life and another job in Los Angeles.
I agree that X Factor's juding panel needs an update, but I can't believe they are getting rid of everyone but Simon.
Happy Easter, everyone.