We recently reported that the American Idol 2018 Showcase Round was happening on Thursday (Feb 8). The remaining contestants will perform live in front of an audience and the judges for a spot in the Top 24.
Now, American Idol spoilers @IdolPad is back with  a Top 50 Spoiler List. Reportedly, the list of contestants below will be performing at Thursday's live showcase at The Exchange in Los Angeles. There are a few notable returnees, including Adam Sanders the Adam Lambert look-a-like from Season 12 who goes by her drag name, Ada Vox. She auditioned in drag I hear.
Also, folks who signed up for for Thursday's showcase via On Camera Audiences received this letter. Note: Only 16-39 year olds need apply!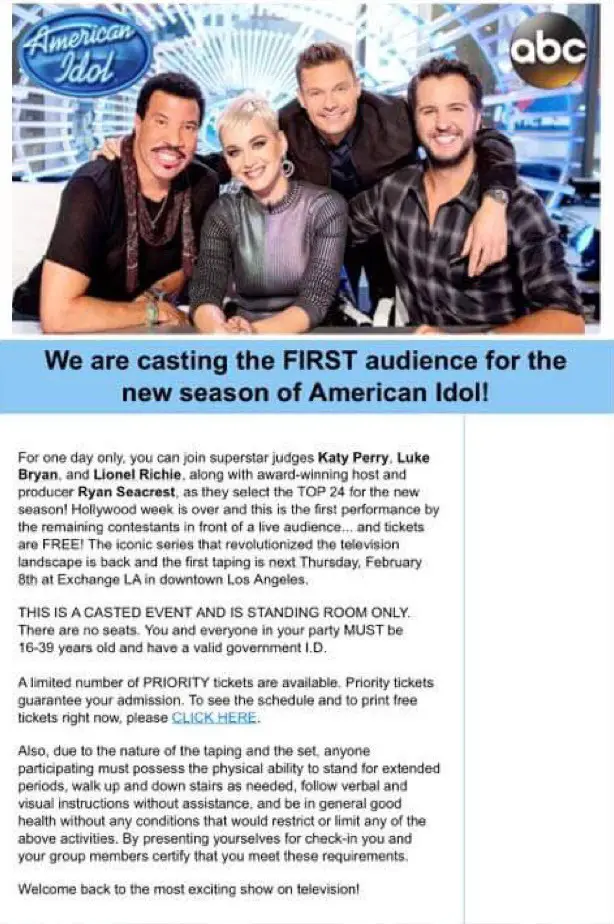 UPDATE: Additionally, yesterday was American Idol's "Reveal Day." Contestants are revealing on social media that they auditioned for American Idol. Local newspapers are picking up the news.
UPDATE: Check out the Venue!
Issa party y'all ? #AmericanIdol pic.twitter.com/2045lNy6Jm

— American Idol (@AmericanIdol) February 9, 2018
UPDATE: The Showcase was split into two tapings. @IdolPad posted song spoilers and performance order. The site also made a couple of minor corrections. A total of 50 contestants performed at the showcase
American Idol 2018 Showcase Round Spoilers
Top 50 Contestants
Ladies and gentlemen, #AmericanIdol presents this season's Top 50 finalists! pic.twitter.com/Nr0QMUP2eq

— American Idol (@AmericanIdol) April 2, 2018
Females
Alyssa Raghu
Amalia Watty
Amelia Harris
Britney Holmes
Carly Moffa
Catie Turner
Christina Jones
Effie Passero
Gabby Barrett
Harper Grace 
Julia Cole
Jurnee Siani
Kaitlann Runnels
Kassy Levels [AI15 Top 51]
Kay Kay Alexis
Kourtney Smith
Layla Spring
Lee Vasi*
Maddie Poppe (The Voice – No Turn S10)
Maddie Zahm
Mara Justine (America's Got Talent S9)
Michelle Sussett
Shannon O'Hara
Victoria McQueen
Males
Adam Sanders A.K.A. Ada Vox [AI12 Top 52]
Brandon Diaz (X Factor)
Cade Foehner
Caleb Hutchinson (The Voice No Turn S9)
Cody Martin
Dennis Lorenzo
Dominique Posey
Ephraim Bugumba (Storyteller)
Garrett Jacobs
Jonny Brenns
Justin Ray [AI9 Top 48]
Laine Hardy
Les Greene
Marcio Donaldson (AI15 Hollywood Week)
Michael J. Woodard
Milo Sposato
Noah Davis
Ricky Manning (The Voice Season 7)
Ron Bultongez
Samothias Sohmer
Stephen Quinn
Taylor Williams (Reportedly Taylor John Williams from The Voice Season 7)
Thaddeus Johnson [AI9 Top 48]
Trevor Holmes
Trevor McBane
William Casanova
Showcase Round Taping Song Spoilers, Performance Order
First Taping
1. Kaitlann Runnels – Only Girl in the World by Rihanna
2. Layla Spring – Proud Mary by Creedence Clearwater
3. Taylor Williams – One Way or Another by Blondie
4. Stephen Quinn – Somebody Else Will by Justin Moore
5. Harper Grace – ??
6. Catie Turner – Bad Romance by Lady Gaga
7. Milo Sposato – That's What I Like by Bruno Mars
8. Victoria McQueen – Turn the Beat Around by Vicki Sue Robinson
9. Maddie Zahm – What About Us by Pink
10. Cade Foehner – No Good by Kaleo (with Electric Guitar)
11. Laine Hardy – The Ballad of Curtis Loew by Lynyrd Skynyrd
12. Alyssa Raghu – ??
13. Justin Ray [AI9 Top 48] – Valerie by the Zutons
14. Garrett Jacobs – Knock on Wood by Eddie Floyd
15. Mara Justine – Something's Got a Hold on Me by Etta James
16. Ron Bultongez – All I Want by Kodaline
17. Shannon O'Hara – Unconditionally by Katy Perry (with Guitar)
18. Kassy Levels – American Boy by Estelle
19. Dominique Posey – Landslide by Fleetwood Mac
20. Gabby Barrett – Church Bells by Carrie Underwood
21. Effie Passero – The Dance by Garth Brooks
22. Britney Holmes – Grenade by Bruno Mars
23. Noah Davis – You & I by Lady Gaga (with Keyboard)
24. Jonny Brenns – Lay Me Down by Sam Smith
25. Christina Jones – Who's Lovin You by The Miracles
26. Trevor Holmes – Slow Hands by Niall Horan (with guitar)
27. Carly Moffa – Uptown Funk by Mark Bronson ft Bruno Mars
28. Lee Vasi – Let Me Love You by Mario
29. Ricky Manning – River by Bishop Briggs
Second Taping
30. Michael J. – You Oughta Know by Alanis Morissette
31. Amelia Harris – Paint it Black by The Rolling Stones
32. Michelle Sussett – 24K Magic by Bruno Mars
33. Caleb Hutchinson (The Voice No Turn S9) – I Was Wrong by Chris Stapleton
34. Kourtney Smith – Scars to Your Beautiful by Alessia Cara
35. Cody Martin – Tennessee Whiskey by David Allen Coe
36. Maddie Poppe – Me and Bobby McGee by Janis Joplin
37. Ephraim Bugumba (Storyteller) – I Got You (I Feel Good) by James Brown
38. Brandon Diaz – Let's Get it On by Marvin Gaye
39. Kay Kay Alexis – Brokenhearted by Karmin
40. Amalia Watty – Ain't No Sunshine by Bill Withers
41. Denis Lorenzo – A Song For You by Leon Russell
42. Trevor McBane – Wake Me Up! by Avicii and Aloe Blacc
43. William Casanova – I Feel it Coming by The Weeknd ft Daft Punk
44. Julia Cole – Days Go By by Keith Urban
45. Marcio Donaldson – If You Really Love Me by Stevie Wonder
46. Thaddeus Johnson – Hate on Me by Jill Scott
47. Samothias Sohmer – Untitled (How Does it Feel) by D'Angelo
48. Jurnee Siani – Never Enough by Loren Allred
49. Adam Sanders A.K.A. Ada Vox – Creep by Radiohead
50. Les Greene – Royals by Lorde