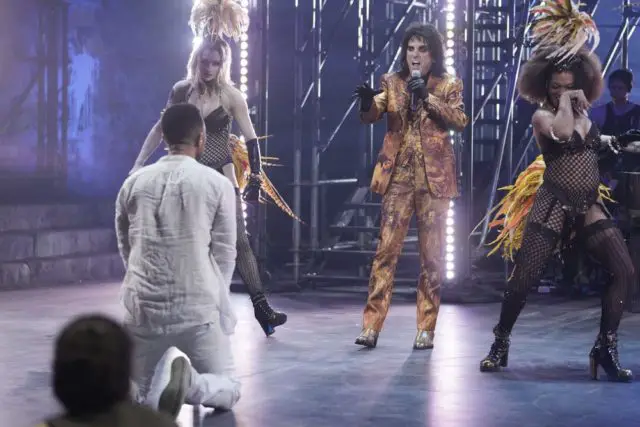 A live version of Jesus Christ Superstar aired on NBC Easter Sunday night (April 1) from the Marcy Armory in Williamsburg, Brooklyn, N.Y. The production starred John Legend as Jesus Christ, with Broadway star and recording artist Sara Bareilles as Mary Magdalene. In addition, rock icon Alice Cooper played the role of King Herod.
The Andrew Lloyd Webber/Tim Rice musical included additional cast members such as Hamilton star Brandon Victor Dixon as Judas, Tony nominee Ben Daniels as Pontius Pilate, Tony nominee Norm Lewis as Caiaphas, Broadway veteran Jason Tam as Peter, M. Butterfly star Jin Ha as Annas and Swedish rock star Erik Gronwall as Simon Zealotes.
Here are a few highlights from the NBC YouTube channel, where a playlist of all the performances can be found.
The show hashtag that trended hardest on twitter was "Herod." Alice Cooper as the egotistical king was a sight to behold.  The performer hasn't lost any of his rock star swagger. Watch out for that mic drop at the end of "King Herod's Song."
https://www.youtube.com/watch?v=mk9JZYSmmdw
Brandon Victor Dixon turned in a powerful performance of the big show stopper, "Superstar."
https://www.youtube.com/watch?v=yleuZbY8rKk
Fresh off her role as Jenna in Waitress the Musical, Here's Sara Bareilles as Mary Magdalene singing the hit song made famous by Yvonne Elliman, "I Don't Know How to Love Him."
https://www.youtube.com/watch?v=U3WRA0wSWDg
Sara Bareilles, Brandon Victor and John Legend as Jesus Christ perform "Everything's All Right"
https://youtu.be/_O8KWoGJcL4
John Legend performs the powerful "The Temple"
https://youtu.be/sIjkCNfburQ